Barnes & Noble has apparently come up with a new idea to help their sales. Krystallina examines if it's actually working.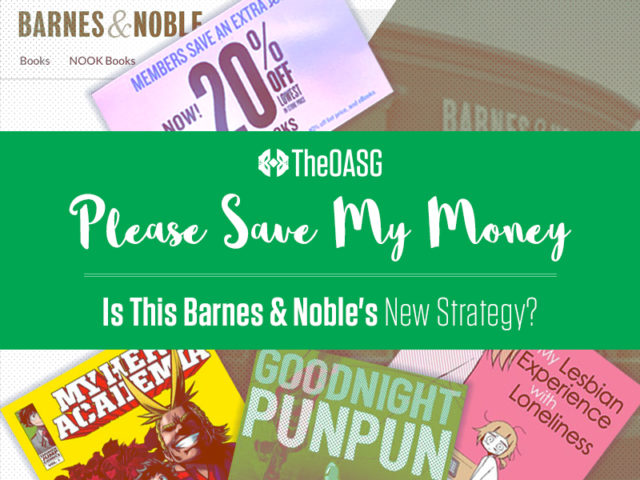 A while back, I wrote about Barnes & Noble's plan to shake up their declining sales. Well, select Barnes & Noble stores may be testing out their new marketing plan.
The occasional Barnes & Noble shopper may not realize some of the changes the chain has made. These altered approaches appear to line up with the arrival of a new CEO, and I don't think it's a coincidence. Their red dot clearance section has undergone a huge change, with the first level of discounts going to 30% instead of 50%. Coupons also seem to appear less often, and the days of coupons offering 25% off or more may be gone forever. (Seriously, a one-time use 10% off coupon on a single item for people who pay to join their Membership?!) Even the summer manga buy two, get one free sale was changed to two separate studio sales featuring VIZ Media and Yen Press. (BOOOOOO!!)
But a couple of weeks ago, I stopped by my local store and saw a big sign in the window. Then shortly thereafter, I got a matching ad in my mailbox:
Instead of 10% off on books for Members at the store, select Barnes & Noble stores are bumping it up to 20% off until October 23rd. (Hardcover bestsellers and eBooks are excluded.) Members still get 10% off most other merchandise. The stores participating in this offer are:
Ohio:
Michigan:
Allen Park
Ann Arbor
Fort Gratiot
Green Oak Township
Grosse Pointe
Northville
Rochester Hills
Shelby Township
Troy
Utah:
Although I did not see any advertisements at my local location, the full details online adds that most non-Members now get 10% off books, although discounted books are excluded along with hardcover bestsellers and eBooks.
Good Idea or Bad Idea?
So, is this change something customers should look forward to? After all, one of the biggest complaints is that books are usually full price at Barnes & Noble stores. This change will put a lot of pressure on other bookstores, and by luring people into the store, Barnes & Noble may be able to get customers to buy something else. Plus the store doesn't have to pay for shipping for Members and on orders $25+.
But in my mail flyer, there's one phrase that stands out:
"May not be combined with coupons unless noted."
Well, that's good news for people who tend to shop Barnes & Noble during the week. Most coupons the chain releases are good from Thursday to Sunday (and the occasional Monday holiday). For weekend shoppers, Barnes & Noble tends to release coupons every two weeks or so, and these offers have generally been 15% for non-Members and 20% for Members. Of course, these coupons are good on most merchandise. But for a single book, both Members and non-Members will actually be paying more during this promotion than with a coupon. For Members, a $10.99 volume will cost $8.79 at the above stores versus $8.41 with a 15% coupon, non-Members $9.89 versus $9.34.
Now, it is possible that the chain has removed this limitation. The online terms and conditions do not list this caveat. However, interestingly enough, I have suddenly stopped getting Barnes & Noble emails. Looking at my mail, I used to receive messages from them every day or two. Suddenly, starting July 21st, nothing. The only emails I have gotten from them was a shipping notification and an order confirmation.  In the screenshot below, you can even see a graph of how often they were emailing me in the past year.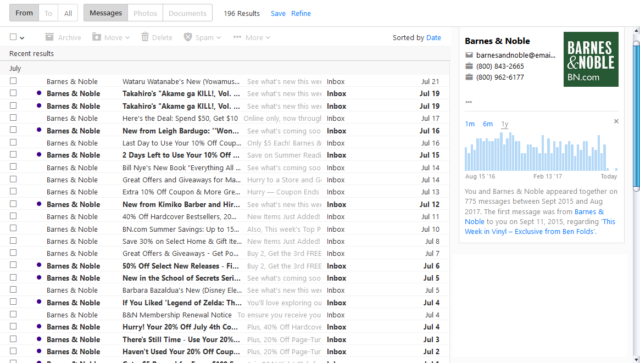 Notice the sudden dropoff? This corresponds to when the 20% promotion started, so I wonder if Barnes & Noble has temporarily suspended emails to customers in Northeastern Ohio, metro Detroit, and Utah so that we don't get coupons during this time period. It could be a weird coincidence or glitch. All I know is that email subscribers received a coupon in their email last weekend, and I did not get one.
The bonus discount is nice, and it's a way to help bridge the gap between Barnes & Noble brick-and-mortar stores and online retailers. Even though places like Amazon are known for their low prices, there are thousands of books that are at or near MSRP. The extra 10% off may end up making a lot of these books cheaper than at Amazon. However, if there are no coupons, I wonder if sales of merchandise — especially trend items, a category which has been growing — will suffer as a result. Why buy figures and board games if they're full price and have no additional discounts? When I had a good coupon, even if I didn't need any books, I might still pick up a Funko figure or something.
Final Thoughts
I appreciate Barnes & Noble's attempt to have an everyday discount for customers. But this 20%/10% doesn't address the issue of website pricing. And if the chain is going to be clamping down on coupons, this may end up making customers pay more for books and also make gifts and toys less appealing without any coupons.
Anybody else live near one of the stores listed? Would you be interested in 10% off books everyday (20% for Members), or would you prefer another marketing strategy? How often do you shop at Barnes & Noble, and how often do you use coupons? How do you think other chains like Books-a-Million will respond if Barnes & Noble had 10% off most books every day?