This week's Please Save My Money has Krystallina making six suggestions on how Barnes & Noble can make things a bit better for customers.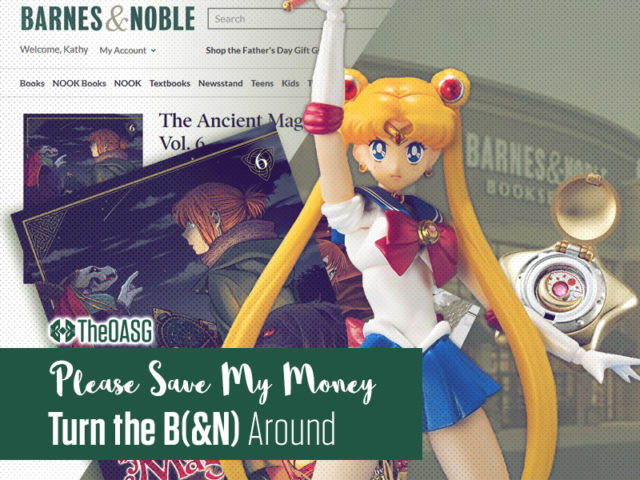 Barnes & Noble has been on a steady decline overall, and the upcoming financial year-end report is not likely to be very different from the previous years'. Just recently, they named a new CEO, Demos Parneros, the chain's recent COO who joined in November from Staples.
With a new CEO could come new changes. There are certainly some I'd like to see…
#1: Pricematch the site.
Oh, look, it's Manga Monday! Wow, 50% off select titles!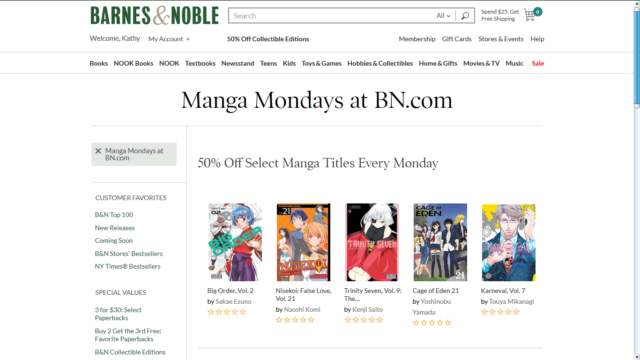 I'm just gonna swing by the store and pick–
Wait, what's that? I can't? I can buy at the store, just at full price?
Seriously, this shouldn't be an issue in 2017. I'm sure they're worried about losing profits, but guess what: they're either paying money to ship the item online or losing sales to stores like Amazon. I think I've mentioned this example before, but take a look at this Song of Ice and Fire aka Game of Thrones box set:
$54.06 at the time of this writing, 40% off. Now use the little in-store availability checker. See the price? $90.
Seriously?
Plus, there are always online coupons even when there are no in-store coupons, and sometimes these are even better than the in-store ones. A quick search online brings up a 15% off printable and a 20% off online. Here's the price breakdown:
Online: $43.24
In-store: $76.50 ($68.85 with membership)
Plus, online, they have to pay to ship you a heavy boxset. The chain is complaining about the lack of in-store traffic, but who would drive to a Barnes & Noble to pay $25 to $33 more? Do the stores think there are a lot of book emergencies that they couldn't wait two days to a week for delivery?
And if my experience is any indication, not everyone will take advantage of price matching. It provides a piece of mind for many customers, but there are many, many shoppers who never check prices elsewhere. You don't have to operate like the Amazon bookstores where the in-store and online price are always the same; just stop letting your stores be an Internet showroom.
#2: Bonuses for pick-ups or slower shipping.
Along those same lines, shipping is expensive. The chain surely could save some money by either going the Walmart or Amazon route. Walmart will often give you a small discount on items if you go to the store to get your item. Amazon gives various offers if Prime members choose slower shipping. The most common ones is $1 digital credit or free shipping on household products. Lure customers to come inside a store or save many by shipping books First Class or Media Mail instead of Priority Mail and UPS Mail Innovations.
#3: Consumer-friendly return policy.
Two weeks is not a great return policy. I can understand why they did this, but two weeks can go by really fast if you've found out what you've ordered wasn't what you expected. (You can't returned damaged merchandise to the store; you must contact customer service.) But stores also have the right to reject returns if they do not carry the item in the store. So if you've decided you didn't like the figure, game, or unusual book you've ordered, you have to pay return shipping. Yes, you often have to pay return shipping to stores like Amazon, but Barnes & Noble should be using their stores as an edge.
Exchanges also should be easy. If I ordered The Ancient Magus' Bride Volume 6 online and did not get the bonus book, why can't I just go to the store and swap it out with one that does have the bonus chapter? It's the same book being sold at the same price; why should a store refund my online order (which was marked down online plus had a coupon applied) and then charge me full price for the store copy? It's the same UPC!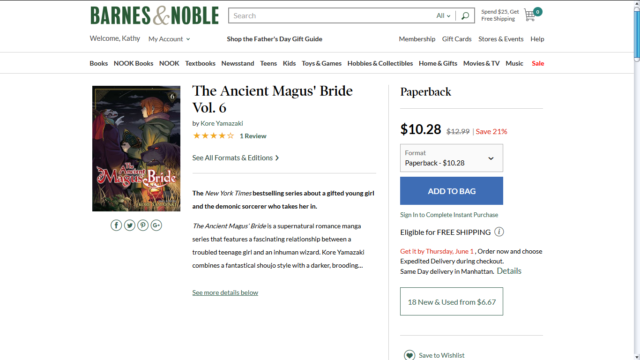 #4: Improve Site Search.
One thing I really hate about bn.com is that there isn't an "in-stock" or "sold by B&N" option. I hate clicking on an item and learning it's not available to ship or that it's a third-party item. Like when you are browsing the site and see this: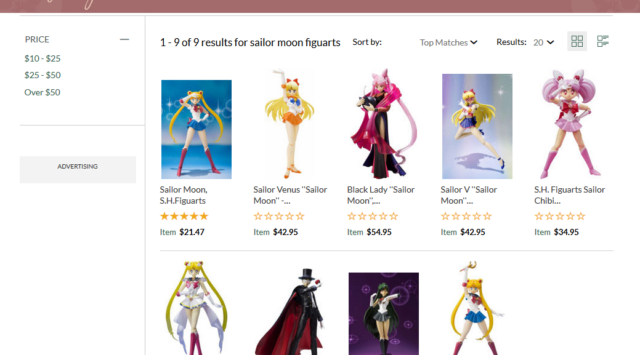 "Oh, look, that figure is cheaper here than anywhere else!"
But then you click on it and get this: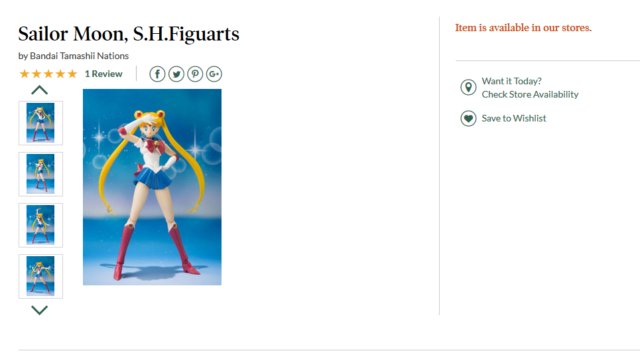 This happens all the time with other items. You think seeing $6.99 on a $9.99 manga sounds pretty good, but then you learn that that $6.99 is actually another seller's price and you have to pay $3.99 shipping. I wish I could filter out those results.
#5: Weekday Sales and Deals
According to Rather-Be-Shopping, Saturday is the best day to shop for books. Data suggests it's the day most likely for Amazon and Barnes and Noble to discount their books. Barnes & Noble usually sends out their in-store coupons usually on Friday so that customers can use them over the weekend, so it does seem like you should be a Barnes & Noble weekend shopper.
And according to some studies, the best day to shop online is Tuesday.
So if Tuesdays are good for online shoppers, perhaps Barnes & Noble should release more coupons that work during the week. Perhaps Barnes & Noble does well on the weekdays with their cafés, but perhaps they could switch up their coupon days once in a while? Otherwise, it seems like there isn't a lot of incentives to shop during the week. Sure, they have deals like Manga Monday, but that's online, not in stores.
#6: Fix the gift card glitch.
I place most of my orders at Barnes & Noble with gift cards. Unlike most sites, it seems B&N doesn't lock down funds for preorders placed with a gift card. Here's what I'm gathering the issue is: unlike most stores, if you place a $30 order with a $50 gift card, Barnes & Noble doesn't hold the $30 in reserve. So if you try to place an order later with that gift card you forgot about and found in the bottom of your purse, it will show as $50 available.
That would be annoying, but most stores will contact you and say your payment has been declined, the same as if you used an expired credit card. But Barnes & Noble doesn't contact you; they just cancel the items. Once or twice, okay, maybe I missed an email. But it's these types of situations that make me not empty my email because it's happened at least four times now in the last couple months. Not one warning! And how was I supposed to know there would be an issue considering they used that same card just a week beforehand?
Of course contacting customer service would seem to be logical solution, but all they have told me is to place a new order. Only one problem: the books have gone up in price! And in the latest situation, I also lost out on my buy two, get one free benefit.
Lock gift cards. Contact customer in case of payment problems. This should be obvious! Otherwise, you need to track your gift card purchases very carefully. Do not go over by a penny, but don't discard it completely in case your order is cancelled. What a pain…
Final Thoughts
Barnes & Noble has a wonderful manga section that's actually labeled "manga" both in-store and online, and they are stocking more and more anime-related collectibles. But in some aspects, they really don't help themselves. I'm not going out of my way to go to the store when I can get better prices from their own site online, let alone I can easily look elsewhere on the web.
So, what do you think this new CEO should do? What would make you shop at Barnes & Noble more?