Hastings is shutting down their business! What does this closure mean for anime and manga shoppers as well as the companies that work with them?
A week can go by in a flash. That's why I try to keep ideas for this column in mind. So when I got a huge box from GoHastings.com back in April, I took pictures for an eventual article about Hastings. Recently, though, there has been a lot of breaking news, so I was saving a piece on Hastings for when I couldn't think of anything else or if life was getting in my way. I had been planning on finally writing about Hastings when the Kodomo no Jikan Kickstarter came up. "Okay, fine. Next week then."
Well, then I heard the news: on June 13th, Hastings filed for bankruptcy.
About Hastings
Hastings Entertainment is a retail chain that focuses on selling entertainment products like books, movies, music, and video games. Their brick-and-mortar stores are mainly located in the South Central U.S. Their online store is found at http://www.gohastings.com/, called GoHastings. Besides selling new merchandise, Hastings also offers rentals and a buyback program. Used products can be bought in-store or online. Customers can also sign up for a Hastings Passport card for additional sales and discounts.
Hastings' parent is Draw Another Circle, LLC. a privately owned company. Draw Another Circle acquired Hastings in 2014. That same year, MovieStop, originally owned by GameStop, was also folded into Hastings. Draw Another Circle also owns SP Images, Inc., a sports merchandise distributor.
The Current Situation
MovieStop is already going through liquidation. All stores plan to close no later than July. Draw Another Circle wants to sell both Hastings and SP Images. Since Draw Another Circle has filed for Chapter 11 bankruptcy, Hastings will continue to operate. However, according to the company, if no buyer is found within 30 days, Hastings will most likely close stores or even shut down completely. Hastings has already stopped buying used and renting out merchandise, and all gift cards will expire July 13th.
When Hastings was sold in 2014, Draw Another Circle's owner was the only person interested in Hastings. With MovieStop already closing its doors, Hastings' 126 stores and its website could very well be next. They have already issued a mass layoff notice to its employees at its main distribution center and headquarters. They lost almost $17 million in 2015 and almost $11 million in 2014.
Why are they having such trouble? The company puts the blame on two familiar reasons: declining demand for physical media and increased competition. Amazon is an incredible force with their competitive prices. Meanwhile, as ICv2 points out, a lot of stores like GameStop, f.y.e., and Barnes & Noble have also been expanding their non-media sections, as these products can't be bought digitally. Hastings has remodeled about 20 stores, and sales at those stores have gone up. But the company can't remodel without money. Bleeding Cool adds:
However, the variety of Hastings stock may be its downfall as the company has ended up with a massive backlog of merchandise.  Each of the markets that Hastings caters toward has unique sales tactics and customer bases, and ordering tactics for one type of merchandise rarely translate well over to the other types.
Hastings and Anime/Manga
Within the last few years, Hastings has promoted a lot of geek and trend merchandise, including anime and manga. The chain sells anime discs and manga books but also products like shirts, keychains, plushies, and more. I personally have made several used manga purchases at their site. Here's a picture of most of my last haul from GoHastings: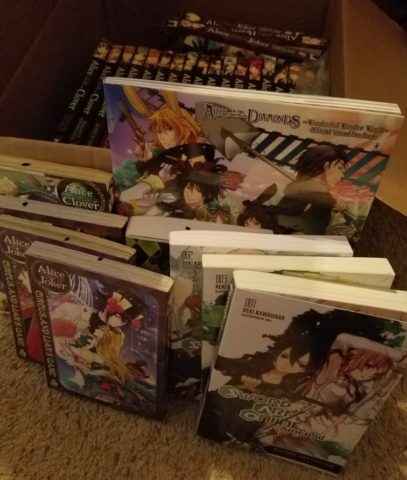 A lot of the books had a black dot on the top or bottom of the pages, which usually means it's a publisher buyback. This makes me believe a lot of their "used" manga books are actually new, never read overstock. Regardless, Hastings and GoHastings have sold manga titles for as low as about $1 a volume, a very good price. New books are often sold below retail or are a part of a "buy x number of volumes, get another free" promotion. Even the Attack on Titan lamp made their Black Friday ad last year.
The Impact for Companies and Fans
"So what?" you may ask. "I never shopped there anyway!" For better or for worse, companies don't operate in a vacuum. Whether Hastings continues or not, their creditors will likely have to settle for a portion of what they are owed.
According to ICv2, court documents show Hastings currently owes companies like Funko over $2.5 million and Diamond Book Distributors $1.6 million. Funko creates the popular POP! line of figures and has released figures from series like Attack on Titan, Dragon Ball Z, and Sailor Moon. Diamond Book Distributors ships titles from publishers like Digital Manga Publishing and Udon Entertainment. More significantly, Hastings' biggest creditor is Universal Studios Home Video. Universal Studios Home Video distributes discs for many companies; among them is FUNimation.
So even if Hastings manages to survive, a lot of anime and manga-related companies may take a huge financial hit. Even if, say, FUNimation and Digital Manga Publishing only make up a fraction of the debt, that could still mean thousands of dollars — even tens or hundreds of thousands. As this Comics Beat post points out:
However, one industry insider noted a lesson learned from the end of Borders and other store closings: when a store goes out of business, sales don't often transfer to another retailer, instead they just evaporate. Despite the existence of Amazon, Comixology and other online retailers, a significant number of casual readers aren't going to go out of their way to keep making purchases if it isn't easy for them. This is the real erosion of a chain going out of business like this. Most Hastings stores were located in "tertiary" markets that don't have a lot of resources, so a lot of readers could potentially go away and not come back.
Brick-and-mortar stores rely on a lot of impulse purchases. Customers may have no intention of buying more than just one title, but then they spot something else that catches their attention and add it to their cart. Many anime and manga fans are also teenagers and young adults without a credit card or a vehicle. They may not be able to buy online or travel to another store. Hastings was also one of the few retailers who bought back not only video games but movies and books as well. Many fans bought second-hand products to fill their collection, and others sold their old media to fund their next purchase. Selling a single manga volume on the Internet is not very cost-effective for individual buyers or sellers. Let's not forget to mention a lot of their employees could be anime and manga fans who can't buy any new titles while they are out job hunting.
In short, these companies not only could take a loss on their past products, but their future profits could also decrease.
Final Thoughts
I have never visited a Hastings store, but that's only because they don't have any stores in my region. I have gotten quite a few good deals over the years from GoHastings on used titles, but I would not shop without a good coupon (40% off or more). I probably would have bought more over the years if they had a free shipping threshold. When I first started shopping there, book orders shipped for $.96 per order. I wish I would have bought more back then!
GoHastings was one of my main sources for used manga, and while I have gripes about the site (items that are no longer available showing as in stock, individual items getting cancelled and raising my average per-item cost), prices can be very competitive. I hope they will continue to operate, and I also hope all their creditors don't end up taking a huge financial hit.
Have you ever shopped at Hastings (either in-store or online)? Will their closure affect you?