TheOASG sits down with Head Librarian Laura Mehaffey to talk about the traveling manga library.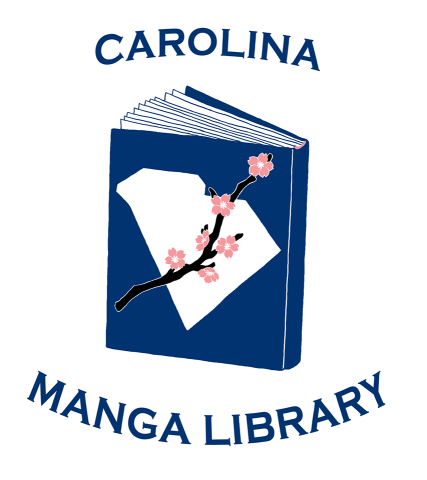 Formed in 2013, the Carolina Manga Library is a traveling manga library based out of South Carolina. Staffed by volunteers and enthusiastic manga fans, The Library takes thousands of manga on the road to various conventions in hopes of making manga available to fans all across the United States. I reached out via email to the Library's Head Librarian and founder, Laura Mehaffey, with a few questions.
TheOASG: First, I'm thrilled to see you guys are headed to Anime Central this year, especially since I missed you at Ohayocon! I know you all started at a significantly smaller South Carolina con, Nashicon, back in 2013. Back then, did you ever expect to take your "traveling library" all the way to Chicago? Was that a goal — eventually larger and larger conventions?
Laura Mehaffey: Our Library was formed with the intention of attending as many events as possible so that we could spread our message to as many people as possible. It was joked about in the very beginning that we wanted to someday do huge conventions like Dragon*Con and the San Diego Comic-Con. That's still our big dream. We knew that if we kept growing and forming the best collection of classic and new graphic novels and manga we would eventually be guests at any convention that we could possibly dream of.
However, when we formed we had a bucket list of conventions we wanted to be guests at. Anime Central was always at the top of that list. Aside from being a fabulous convention, it has sentimental value to me as Head Librarian. ACEN was the first convention I ever attended, waaaaaay back when I was growing up in Lake Zurich, IL. I haven't been back in more than ten years since relocating to South Carolina, but I can't wait to breathe some Chicago air!
TheOASG: Your website mentions a collection of over 3,000 items — manga, graphic novels and American comics combined. Does everything make the trip to every convention or do you all pick and choose what to take based on location, demographic, popularity, etc?
Mehaffey: Our collection has actually swelled to more than 4,000 books. We have finally reached the time where there is usually no room left in the panel rooms that events assign us. Until 2016 we took the entire collection to every single event because people loved the variety that we had. Now, we must be a little more choosey. The entire collection still goes with us, but at every show we have begun to weed out series that are not currently circulating very well at events. These books will be the start of our second collection. Our goal is to open manga cafes all over the U.S so that people have a permanent location to get their graphic novel fix.
TheOASG: I'm impressed that the entire Library can be set up in just two hours! Are there any major logistical challenges to the "traveling" aspect of the library?
Mehaffey: When we get invited to a convention the planning begins immediately. My wonderful PR Manager, Lauren Smith, handles all the contracts and negotiations/contact with the conventions that we attend. That leaves me free to plan the traveling aspect of our attendance. My tasks include signing up staff, arranging transport, arranging help loading the library into our traveling trailer, unloading plans, setup plans, and scheduling of staff.
At this point we have setup and breakdown narrowed down to a science. Everyone has their tasks, everyone who volunteers pitches in, and we always look fabulous. We have several volunteers who have disabilities, but that certainly doesn't stop them!
Our biggest challenge is always coming into a new city or a new venue. Convention-goers rarely understand how hard it is to find somewhere to unload 4,000 books, 30 shelves, boxes of decorations, plus tables and linens, into a convention center without getting in the way of the dealer's room or artist alley! I put in a lot of hard work and many phone calls ahead of time so that when I walk into any venue I can lead my staff through the entire building (if necessary) and show them the route to travel with our carts.
TheOASG: As manga collecting (and shelving!) experts, do you have any storage or shelving tips for other manga collectors? I'm assuming you need some pretty sturdy shelves! Any secrets?
Mehaffey: Ha! I've been collecting manga, graphic novels, and books for so long that we had to convert my spare bedroom into personal library! The Manga Library uses collapsible shelves that fold down flat. They are made of sturdy wood, and are manufactured by Winsome. At home I use basic Walmart shelving.
The best advice I can give for storing graphic novels and manga is DON'T OVERSTOCK YOUR SHELVES. You're not a Barnes & Noble, you don't need every single series you've ever read. If you don't absolutely love a series, don't keep it on your shelves to gather dust. If you'll never read it again, try donating it to an organization that needs it. You can donate to your local library, local artists, or the Carolina Manga Library!
My suggestion is to weed at least once every six months. Some series you will NEVER part with, no matter how long it's been since you've read it. I understand that. I even have a list pinned to my wall that says "NEVER WEED!" However, when a series is being re-issued or reprinted or consolidated into omnibuses, clean the series off your shelf and buy the new ones. Not only does this support the series and the industry, it makes room for more books down the road.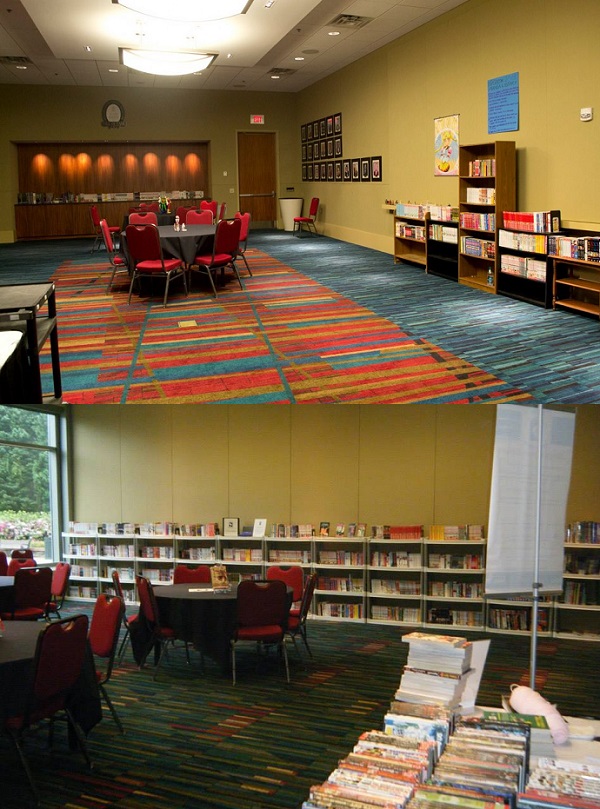 TheOASG: Are there any particular series that you would love to have for the library but just can't get your hands on? I know Berserk has been mentioned prior. That is a tough one!
Mehaffey: We take suggestions at every single show that we attend. I have an Excel spreadsheet that's over 1000 lines of series that we've been asked to find. The hardest part is deciding how MUCH of a series to collect. We have many complete series that we've either been donated or purchased in bulk at a show or online. However, most of the time, we won't try to collect the entire series unless it's very popular.
We have a wishlist of books that we keep online with Amazon. This is where we keep track of books that get suggested several times so that when we get a little extra donation we can purchase the books that people want.
The books we need the most are DC and Marvel trade paperbacks. We are trying so hard to grow our American graphic novel collection, but there's just so much to choose from and they are significantly more expensive than manga.
TheOASG: The "Head Librarian's Challenge" which challenges Library staff to find a new series for a reader, sounds like it could make for some interesting stories. Do you have a lot of people request the challenge? Have you ever been completely stumped for a recommendation?
Mehaffey: At a typical convention I will do about ten Head Librarian's Challenges a day. The Challenge consists of staff asking general questions to the challenger to determine their likes and dislikes when it comes to entertainment. As Head Librarian, I have read at least the first book of every single series that we shelve. I do this so that I can know what to recommend and to make sure a series is not a cleverly disguised hentai. After we determine the types of stories that they like we usually recommend at least five different series.
Since the inception of the Challenge in 2013, I have never once failed to suggest a series that a challenger ended up enjoying. I have come close several times, usually with avid manga readers who have read most of the popular choices. Luckily our collection is so eclectic that I always find them something.
TheOASG: What are the best ways for fans to help the Library grow? Are you looking to network with larger conventions, public libraries, regional festivals, etc?
Mehaffey: There are several ways people can help the Library. The first, obviously, is to donate to us in some form. If you have books you don't want, you can donate them to us at a convention or mail them to us in South Carolina. If you are inclined to donate funds, you can join our Heroes of the Library Program and get some great perks.
You can follow us on social media with Twitter and Facebook. This is a great way to help because you will encourage others to discover us. This can also help you suggest to your local convention that we attend their show. We do a lot of networking while we attend a convention. We actually got invited to Ohayocon and Anime Central because we ran into their convention chairs at other conventions and invited them down to the Library for a tour.
If you run a convention, please email Lauren Smith at pr@carolinamangalibrary.com for information on inviting us to your show!
TheOASG: Do you all have any overarching goals for 2016?
Mehaffey: Our goals for 2016 include an online fundraiser to help pay for our new vehicle. The fundraiser will go live in April and will include perks like donated artwork and personal Skype conversations with celebrities like Doug Walker, the Nostalgia Critic. We will be attempting to raise $30,000 to pay for the vehicle.
A personal goal, as Head Librarian, is to really build up our graphic novel collection. I'm planning on talking to public libraries in my area about donating used books to us and visiting as many garage sales and flea markets as possible. Those places are gold mines for parents selling off their college student's books without understanding what they are worth!
---
Further information on the Carolina Manga Library can be found on their website (including information on donations), and you can also follow them on Twitter and on Facebook.