Last time we had a list of all the shounen in the Big 3. This time, ALL the manga licensed in English from an assortment of publishers!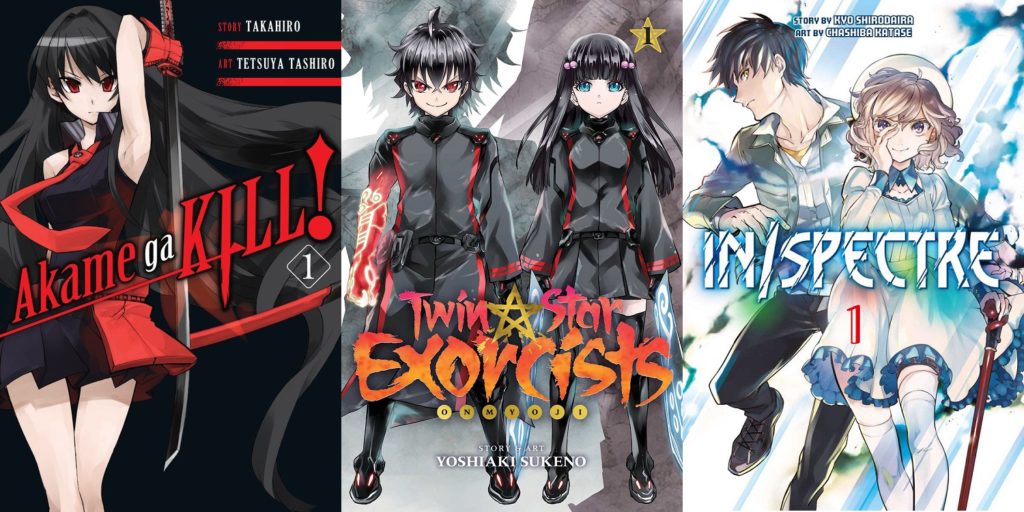 Already have to begin with an apology! This was supposed to be up the week after the Big Three Edition of this listing, but in the end today's the day it's going live. For that, we apologize.
Now, let's get onto to the list.
And what a list it is — there is a ton of shounen manga out there, and this will only get bigger and bigger each year. How about a place where you know where all the licensed shounen manga are at?
This should have most of the shounen manga as of this point, though conventions and regular announcements will definitely mean that there are some manga that aren't on the list. That will be updated when we can. Otherwise, again, you can only go so far with Wikipedia, Baka-Updates, ANN, etc.
Anyways, to make it easier everything is broken up by publisher, so you can click the table of content below and see what publisher's published what. Who knows, you may find out that a manga you never thought was licensed was…actually licensed! Though some actually end abruptly, for many reasons. Still have them listed just in case.
After this week, either starting next Sunday or the Sunday after that, expect opinions on any shounen we happen to reading, from current stuff to the classics. Hope you'll also share what shounen titles are making you happy (or making you angry)
Table of Contents
Viz Media
7th Garden by Mitsu Izumi
AiON by Yuna Kagesaki
Blue Exorcist by Kazue Kato
Claymore by Norihiro Yagi
D-Gray Man by Katsura Hoshino
Deadman Wonderland by Jinsei Kataoka, Kazuma Kondou
élDLIVE by Akira Amano
Eureka Seven by Jinsei Kataoka, Kazuma Kondou
Fate/Stay Night by Dat Nishiwaki, TYPE-MOON
Fullmetal Alchemist by Hiromu Arakawa
Future Diary by Sakae Esuno
Genkaku Picasso by Usamaru Furuya
Gestalt by Yun Kouga
Girls Bravo by Mario Kaneda
Grenadier by Sousuke Kaise
Guardian Hearts by Sae Amatsu
Hanako and the Terror of Allegory by Sakae Esuno
Judas by Suu Minazuki
Kamiyadori by Kei Sanbe
Legend of Zelda series by Akira Himekawa
Lucky Star by Kagami Yoshimizu
Monster Hunter: Flash Hunter by Keiichi Hikami, Shin Yamamoto
Neon Genesis Evangelion by Yoshiyuki Sadamoto
Nightmare Inspector: Yumekui Kenbun by Shin Mashiba
NORA: The Last Chronicle of Devildom by Kazunari Kakei
O-Parts Hunter by Seishi Kishimoto
Phoenix by Osamu Tezuka
Platinum End by Tsugumi Ohba, Takeshi Obata
Ratman by Sekihiko Inui
Rizelmine by Yukiru Sugisaki
Rosario + Vampire Series by Akihisa Ikeda
Saber Marionette J by Satoru Akahori, Yumisuke Kotoyoshi
Samurai Girl: Real Bout High School by Reiji Saiga, Sora Inoue
Saving Life by Mario Kaneda
Seraph of The End by Takaya Kagami, Yamato Yamamoto, Daisuke Furuya
Sgt. Frog by Mine Yoshizaki
Someday's Dreamers by Norie Yamada, Kumichi Yoshizuki
Switch by Naked Ape (Saki Otoh, Nakamura Tomomi)
Tegami Bachi by Hiroyuki Asada
The Emperor and I by mato
The Girl Who Leapt Through Time by Ranmaru Kotone, Yasutaka Tsusui, Yoshiyuki Sadamoto
The Third by Ryo Hoshino, Ariko Itou
Time Killers by Kazue Kato
Twin Star Exorcists by Yoshiaki Sukeno
Ultimo by Stan Lee, Hiroyuki Takei
Welcome to the N.H.K by Tatsuhiko Takimoto, Kendi Oiwa
Seven Seas
12 Beast by OKAYADO
A Certain Scientific Accelerator by Kazuma Kamachi, Yamaji Arata
A Certain Scientific Railgun by Kazuma Kamachi, Motoi Fuyukawa
Akashic Records of Bastard Magical Instructor by Tarou Hitsuji, Aosa Tsunemi
Amnesia Labyrinth by Nagaru Tanigawa, Natsumi Kohane
Crisis Girls by Hiraoki Yoshikawa
Deadline Summoner by OKAYADO
DNA Doesn't Tell Us by Mintarou
Dragon Half by Ryusuke Mita
Evergreen by Yuyuko Takemiya, Akira Caskabe
Franken Fran by Katsuhisa Kigitsu
Generation Witch by Isaki Uta
Ghost Diary by Seiju Natsumegu
Grimgar of Fantasy and Ash by Ao Jyumonji, Eiri Shirai
Haganai: I Don't Have Many Friends by Yomi Hirasaka, Itachi, Bomi, Kiurian, Shirabi, Chiruwo Kazehana
He Is My Master by Mattsu, Asu Tsubaki
I, Otaku by Jiro Suzuki
Inukami by Mamizu Arisawa, Mari Matsuzawa
Kokoro Connect by Sadanatsu Anda
Magia the Ninth by Ichiya Sazanami
Magical Girl Apocalypse by Kentaro Sato
Magical Girl Site by Kentaro Sato
MaMaMa: Magical Director Mako-chan's Magical Guidance by OKAYADO
Masamune Kun's Revenge by Hazuki Takeoka, Tiv
My Girlfriend is a T-Rex by Sanzo
My Monster Secret: Actually I Am… by Eiji Matsuda
Pandora in The Crimson Shell: Ghost Urn by Shirow Masamune, Rikudou Koushi
Please Tell Me! Galko-Chan by Kenya Suzuki
Shomin Sample by Takafumi Nanatsuki, Risumai
Species Domain by Noro Shunsuke
To Love Ru Darkness by Saki Hasemi, Kentaro Yabuki
Venus Versus Virus by Atsushi Suzumi
Yokai Rental Shop by Shin Mashiba
Yen Press
A Certain Magical Index by Kazuma Kamachi, Chuya Kogino
Accel World by Reki Kawahara, Hiroyuki Aigamo, HIMA
Akame ga KILL! by Takahiro, Tetsuya Tashiro
Aoharu x Machinegun by Naoe
Aphorism by Karuna Kujo
Azumanga Daioh by Kiyohiko Azuma
B.Ichi by Atsushi Ohkubo
Big Hero 6 by Haruki Ueno
Big Order by Sakae Esuno
Black Detective by Yen Hioka
Cat Paradise by Yuji Iwahara
Chaika: The Coffin Princess by Ichirou Sakaki, Shinta Sakayama
Corpse Princess by Yoshiichi Akahito
Death March to the Parallel World Rhapsody by Hiro Ainana, Megumu Aya
Demon King Ena-sama Goes to a Manga School by Tomoo Yokoyama
Demonizer Zilch by Milan Matra
Dragons Rioting by Tsuyoshi Watanabe
Final Fantasy Type-0 by Takatoshi Shiozawa, Hiroki Chiba, Tetsuya Nomura
Final Fantasy Type-0 Side Story by Takatoshi Shiozawa, Tetsuya Nomura
Fullmetal Alchemist by Hiromu Arakawa (eBook)
Hero Tales by Jin Zhou Huang, Hiromu Arakawa
High School DxD by Ichiei Ishibumi, Hiroichi, Zero Miyama
Highschool of the Dead by Daisuke Sato, Shouji Sato
Horimiya by HERO, Daisuke Hagiwara
How to Raise a Boring Girlfriend by Fumiaki Maruto, Takeshi Moriki, Kurehito Misaki
IM: The Great Priest Imhotep by Makoto Morishita
Inu x Boku SS by Cocoa Fujiwara
Is This a Zombie? by Shinichi Kimura, Kobuchi and Murinin, Sacchi
Kagerou Daze by Shidu Jin, Mahiro Satou
Kingdom Hearts by Shiro Amano
Kingdom Hearts 358/2 Days by Shiro Amano, Tetsuya Nomura
Kingdom Hearts II by Shiro Amano, Tetsuya Nomura
Kingdom Hearts: Chain of Memories by Shiro Amano
Konosuba – God's Blessing on This Wonderful World! by Natsume Akatsuki, Masahito Watari
Kuzumi-kun, Can't You Read the Room by Mosco
Log Horizon by Mamare Touno, Kazuhiro Hara
Monthly Girls Nozaki Kun by Izumi Tsubaki
My Monster Girl's Too Cool for You by Karino Takatsu
No Matter How I Look at It, It's You Guys' Fault I'm Not Popular! by Nico Tanigawa
Now Playing by Hifumi
O-Parts Hunter by Seishi Kishimoto (eBook)
Omamori Himari by Milan Matra
Pandora Hearts by Jun Mochizuki
Rust Blaster by Yana Toboso
Sasameke by Ryuji Gotsuba
Smokin' Parade by Jinsei Kataoka, Kazuma Kondou
Soul Eater by Atsushi Ohkubo
Soul Eater NOT! by Atsushi Ohkubo
Strike the Blood by Gakuto Mikumo, TATE, Manyako
Sword Art Online Manga Series, Original creator: Reki Kawahara
Sword Art Online: Girls Ops by Reki Kawahara, Neko Nekobyou
The Boy and The Beast by Mamoru Hosoda, Renji Asai
The Case Study of Vanitas by Jun Mochizuki
The Devil is a Part-Timer by Satoshi Wagahara, Akio Hiragi, 029 (Oniku)
The Honor Student at Magic High School by Tsutomu Sato, Yu Mori
The Melancholy of Haruhi Suzumiya by Nagaru Tanigawa, Noizi Ito, Gaku Tsugano
The Royal Tutor by Higasa Akai
Today's Cerberus by Ato Sakurai
Trinity Seven by Kenji Saitou, Nao Akinari
Yotsuba&! by Kiyohiko Azuma
Yowamushi Pedal by Wataru Watanabe
Zombie-Loan by Peach-Pit
Kodansha/Vertical
Altair: A Record of Battles by Kotono Kato
Amefurashi by Atsushi Suzumi
Animal Land by Raiku Makoto
Attack on Titan by Hajime Isayama
Attack on Titan: Before the Fall by Hajime Isayama, Ryo Suzukaze, Satoshi Shiki
Attack on Titan: Junior High by Hajime Isayama, Saki Nakagawa
Attack on Titan: Lost Girls by Hajime Isayama, Koji Seko, Ryosuke Fuji
Cells at Work by Akane Shimizu
Clockwork Planet by Yuu Kamiya, Tsubaki Himana, Kuro, Sino
Deltora Quest by Emily Rodda, Makoto Niwano
Devil Survivor by Satoru Matsuba
Fairy Tail: Ice Trail by Hiro Mashima, Yuusuke Shirato
Fairy Tail: Rhodonite by Hiro Mashima, Kyouta Shibano
Fairy Tail: ZERO by Hiro Mashima
Flying Witch by Chihiro Ishizuka (Vertical)
Fort of Apocalypse by Yuu Kurashi, Kazu Inabe
From The New World by Yusuke Kishi, Toru Oikawa (Vertical)
In/Spectre by Chashiba Katase
Love and Lies by Musawo
Magatsuki by Hoshino Taguchi
Monster Hunter Orage by Hiro Mashima
Monster Soul by Hiro Mashima
Negiho: Mahora Little Girls by Ken Akamatsu, YUI
Nekogahara by Hiroyuki Takei
Ninja Girls by Hosana Tanaka
Noragami by Adachitoka
Noragami: Stray Stories by Adachitoka
Persona Q: Shadow of the Labyrinth Side: P3 by Sou Tobita
Persona Q: Shadow of the Labyrinth Side: P4 by Mizunomoto
Princess Resurrection by Yasunori Mitsunaga
Pumpkin Scissors by Ryotaro Iwanaga
Real Account by Okushou, Shizumu Watanabe
Sankarea by Mitsuru Hattori
Sayonara, Football by Naoshi Arakawa
Spoof on Titan by Hajime Isayama, HOUNORI
That Time I Got Reincarnated as a Slime by Fuse, Taki Kawakami, Mitz Vah
The Flowers of Evil by Shuzo Oshimi (Vertical)
The Heroic Legend of Arslan by Yoshiki Tanaka, Hiromu Arakawa
To the Abandoned Sacred Beasts by Maybe (Vertical)
UQ Holder by Ken Akamatsu
Welcome to the Ballroom by Tomo Takeuchi
Your Lie in April by Naoshi Arakawa
Yozakura Quartet by Suzuhito Yasuda
Digital Manga
Age of Adventure by Osamu Tezuka
Atomcat by Osamu Tezuka
Blade Dance of Elementalers Volume 1 by Hanpen Sakura, Issei Hyouju, Yu Shimizu
Enchanter Volume 6 by Izumi Kawachi
Erementar Gerade by Mayumi Azuma
Erementar Gerade: Flag of Bluesky Volume 1 by Mayumi Azuma
Knights Volume 1 by Minoru Murao
Lemon Kid by Osamu Tezuka
Leo the Lion Cub by Osamu Tezuka
Mr. Cactus by Osamu Tezuka
New Treasure Island by Osamu Tezuka
The Castle of Dawn by Osamu Tezuka
Triton of The Sea by Osamu Tezuka
Dark Horse
Astro Boy by Osamu Tezuka
Blood Blockade Battlefront by Yasuhiro Nightow
Blood-C by CLAMP, Ranmaru Kotone
Blood+ by Asuka Katsura
Danganronpa: The Animation by Takashi Tsukumi
Gate 7 by CLAMP
Hatsune Miku: Future Delivery by Satoshi Oshio, Hugin Miyama
Hatsune Miku: Mikubon by Ontama
Hatsune Miku: Rin Chan Now! by Sezu, Hiro Tamura
Neon Genesis Evangelion: The Shinji Ikari Raising Project by Osamu Takahashi
Other
(Inevitably there will be titles from publishers you don't expect, or still needs to build a catalog of titles, especially in shounen manga. So thhy'll be listed here, along with the company they're published by.)
As The Gods Will – The Second Series by Muneyuki Kaneshiro, Akeji Fujimura (Crunchyroll)