Justin gets a sense of deja vu as he reads the comedic spinoff of Attack on Titan, Spoof on Titan. And he's not referring to the Junior High version!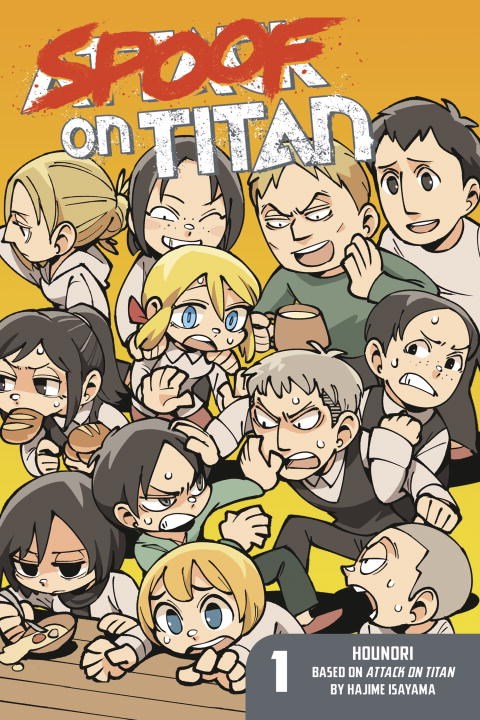 Compared to the other comedic spinoff Attack on Titan Junior High, Spoof on Titan is the comedic step-brother to the main series. This is also more satisfying to see and read than that version, though this is still a 4 panel series with good jokes and jokes that don't land. In other words, this is the more interesting version that still has titans and is very silly, and it's still more or less worth it to those already deep into the fandom.
After all, Spoof on Titan is a bit closer to the main series. Junior High dealt with our heroes doing schoolwork, attending clubs, and facing the titans in gym class; this one reflects a version where the titans are definitely around and everyone is serious about defeating them… eventually. For now everyone's keen on either building relationships with each other or being annoying. With over 20 stories in this volume, you can expect to know which character decides to become a genie in his sleep or who's brave enough to write their true pairings on the wall.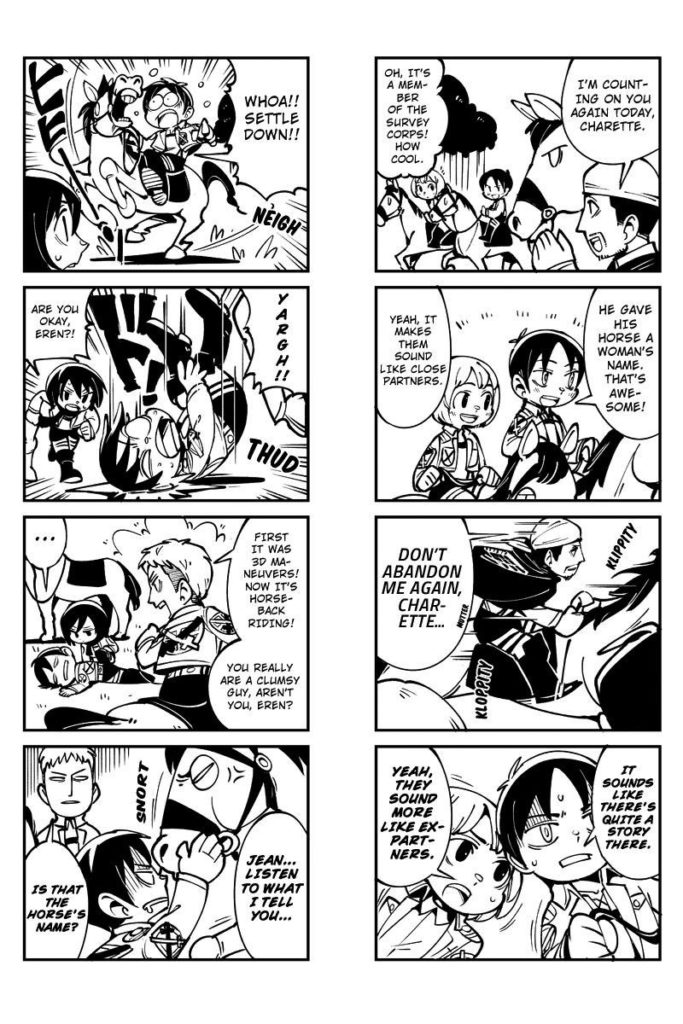 Spoof on Titan has actually been released before. DeNA released an English version of Mangabox a few years ago, with Spoof on Titan one of its inaugural manga title. The one question aside from others (chapters released for how long, how much manga, etc) was whether the manga on the app could ever be released in the States in volume format. Well, we've now Kodansha has licensed two: this and Love and Lies.
Personally, I'm super happy they did license this, even if it's not the best spoof ever. In essence, the jokes for the most part fall flat than most. Some even end abruptly, which either means I missed the joke or the joke didn't work. Then you immediately wonder if this is worth the $8.99 for 128 pages.
For me though, I'm amused at the concept of taking characters out of a super serious world and placing them into someplace lighthearted. This is definitely a case where the art by Hounori is cute and the absurdity of the characters being changed is fun for me at least.
If you're already knee deep into Titan and didn't check out the MangaBox version, this is worth a read. If not, you might want to see if your library has it in stock first, or skip it altogether.