"We say goodbye as well", says this anime short about goodbyes."
It all begins with a life full of regret.
Tabimachi Lateshow is a reminder of the times you live, the times where you get into a scuffle with someone close to you or you graduate from school, and yet, you still have to go forward. Whether it involves making pomodoro sauce, faking friendships, going to Lantern Festivals, or saying goodbye for 37 years, one constant remains: this may be the last time you've come across an event or met a person, but they're the ones who've shaped your experience.
If you have heard of Comix Wave Films, you may associate it with Makoto Shinkai and the films he's done. Tabimachi Lateshow, however, was done by Yuu Numata, and along with the studio, created 4 distinct stories that don't seem to complement each other well except with the idea that goodbye is ever present.
As we grow up, we have to deal with saying goodbye. The form of goodbyes are many–in this story, the goodbyes take shape starting with a cook who admires his teacher enough to the point that he's traveling to Milan to improve his skills, to a teacher who's finally gonna stop teaching elementary school kids since the Showa 53 era. They are unavoidable life occurrences that we all have to go through to move forward with life.
What makes Tabimachi Lateshow stand out in that respect is its length. Not all 4 episodes worked for me. The first two didn't seem up to my speed. The 4th is a good wrap up of the theme the anime wanted to present. The 3rd episode, however, is haunting. I'd also call it a troll episode, but even that's spoiling the episode–that's how well done it was. But it does all that in 7 minutes and 50 seconds.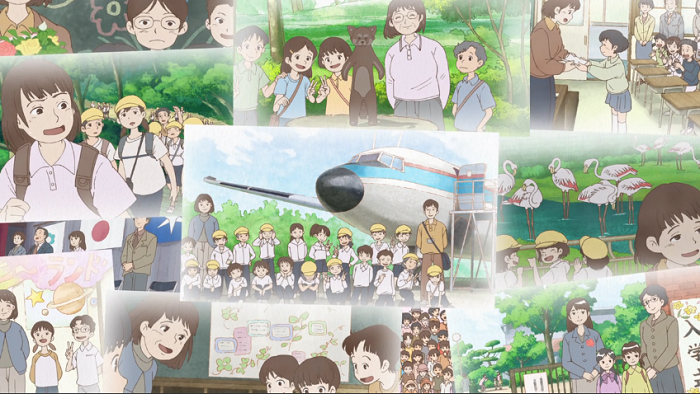 …What I'm saying is, if you have 30 minutes of some time, you should go check out Tabimachi Lateshow. It's not that special anime where you need to watch it immediately. But if you ever find yourself in a mood to reflect on your own experiences, then put this anime on your schedule and give it a shot.