In Sekirei's case, being earnest is actually a good thing for this series.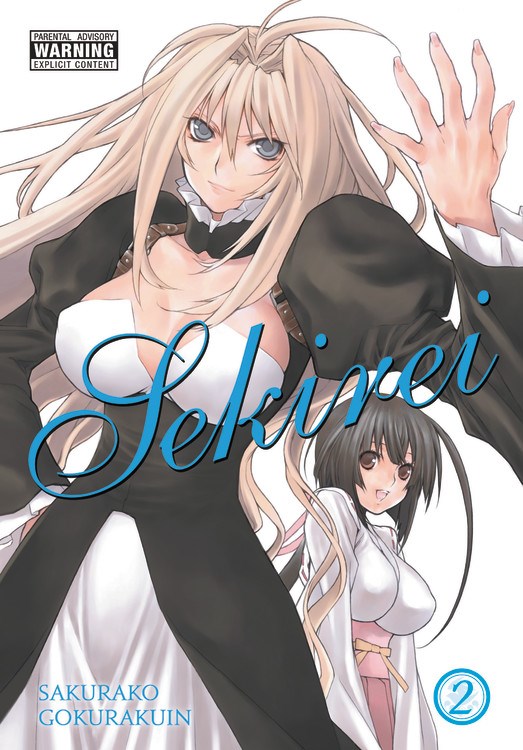 Title: Sekirei
Genre: Harem, Ecchi, Fantasy, Action, Comedy
Publisher: Square Enix (JP), Yen Press (US)
Author: Sakurako Gokurakuin
Serialized in: Young Gangan
Translation: Caleb D. Cook
Digital Release Date: March 29, 2016 (Volume 3), May 31, 2016 (Volume 4)
Physical Release Date: October 31, 2017
A review copy was provided by Yen Press.
Sekirei volume 2 begins with sophistry, flair, and features a dude that's way too excited. It then shifts to our main lead Minato, who once was a ronin thinking about his future prospects. His future now involves sleeping with three girls in their night wear, so in many cases, that's very much an upgrade.
Combining Volumes 3 and 4 in Japan, Yen Press' release of Sekirei Volume 2 is another huge book, topping out at 446 pages. For a massive book you'd expect there to be a mistake, but nine times out of ten it's usually fine. This happens to be that one time where in chapter 28 "The air in Teito…it —-s of blood" is missing, reeks. Or maybe there was another word that ends with s (stinks? smells?).
Anyways, as bombastic as Minako is, he's now moved up the Sekirei Project to Phase 2. Now sekirei of all strengths and sizes are looking for a fight, or at least have to. None of that seems to impact Minato and crew, who just go about their lives about as normally as they can, until anti-social glasses sekirei Matsu suggests Minato find more people for his harem. Or more sekirei. This leads to his fated encounter with Tsukiumi, who wants to drown him until he can't breathe. Other highlights include the encounter with the Black Sekirei, a surprising revelation regarding Uzume, a sekirei and an ashikabi that are looking to escape, and updates involving Minato's sister Sahashi that makes me think the two should meet up sooner rather than later.
But that's like maybe the second thing to care about since this volume again features the standard hijinks, boobs, butts, and jokes that makes Sekirei what it is. And I like it. Yes, it actually works out well. Again, I already fear things will get too serious, and there's some underlying tension in this volume too. Karasuba, a.k.a the Black Sekirei, visits Izumo Inn, and is already considered an enemy by the landlady Miyu. Other Sekirei factions are established in this volume, and alongside the fights that take place, including some involving Uzume, it suggests that it's not gonna stay lighthearted forever.
But the earnestness in Sekirei sticks out like a sore thumb. Most of the pages involve the characters goofing off like they're just home, chilling and relaxing. Watching Minato struggle to handle all the girls he's dealing with is entertaining, and the idea that everyone's just getting naked and it's not pushed as embarrassing (except to the main character) makes me respect it. Most harems do that, and it gets kind of annoying. Maybe because Gokurakuin has a really good touch with drawing these female characters? Or maybe she really does like drawing boobs and butts of characters. Whatever it is, it works, and you can somehow admire a joke about the characters in their bikinis, and Minato getting the ogre stare from the landlady after poor Ku tries super hard to get his attention. Poor Minato, he's one lucky/unlucky dude.
Speaking of which, the jokes are also satisfying as well. One example is for Musubi, she's naive to a lot of things, and that includes her realizing she's jealous of Minato being with other girls. How does one like her show her anger? Well, you flash a freaky looking bear out of nowhere right behind her. That's a good juxtaposition when Musubi's still smiling right at you. Another is Sahashi preparing to ruin a dude's life because he's an awful ashikabi with her shark-looking face, which is great. In general, the jokes don't always hit, but they're pleasant enough to deal with. Then you get a good one that's pretty hilarious.
The fights in this volume are a bit better. Some only last a few pages so that helps, but they're a lot better than volume 1. The characters, again, are pretty enjoyable, including a drunk sekirei known as Kazehana. The art is nice as well. And it helps to have a joke about recycling after a tough battle, like an advertisement. Was Tsukiumi promoting recycling…? In any case, I'm interested in seeing where this will go for sure.