Between Yuki's hat and Rii's characterization, the good times in School-Live! continue to roll on.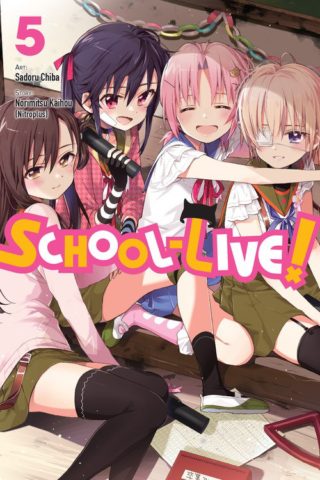 Title: School-Live! (Gakkou Gurashi!)
Genre: Horror
Publisher: Houbunsha (JP), Yen Press (US)
Story: Norimitsu Kaihou (Nitroplus)
Artist: Sadoru Chiba
Serialized in: Manga Time Kirara Forward
Translation: Leighann Harvey
Original Release Date: November 22, 2016
Review copy provided by Yen Press
After I finished this volume of School-Live!, I had to do a double-take at the cover. Did I really go almost five volumes without realizing Yuki's hat is on the logo?!
Well, the answer is no. Yuki's hat has just been added as of this volume, and it makes sense given how important the hat is in this volume. Yuki can be seen with and without her trademark accessory, and it directly reflects on her state of mind. Finally, Yuki is slowly adjusting to the situation, and she realizes she can't always be the one being protected. It's great to see Yuki emerging from her shell without losing what makes her so essential to the members of the School Living Club. You really have to pay attention to whether the hat's on or off; it will reveal Yuki's true state of mind, unlike her words. It's this type of art and text interaction that makes manga such a wonderful medium.
Speaking of the other members, I actually enjoyed Rii's characterization. While she's always been the acting big sister (read: adult) of the group, she starts to give into despair after witnessing another tragedy. She wants to remain optimistic for Yuki's sake, but Rii is still only a high school girl herself. The stress would drive anyone mad, and it's interesting to see her struggle between supporting Yuki and giving in to her own depression.
Meanwhile, Kurumi and Miki have to venture outside while they and the zombies investigate a crash. With only the two of them (well, really one attacker and one supporter) versus a whole mob, I wish the manga had shown more of their battle. The volume opens with a "school festival" before the two groups split up. Then the last third of the manga has the girls graduating. I completely understand wanting to start a new arc at the beginning of the next volume, but I think dragging out the drama (i.e. the middle part of the book) would have had a little more impact on the overall story. Or at least equip Miki with something to defend herself besides glowsticks. It just seems a bit lazy to go, "Yeah, Kurumi's really, really just THAT good with the shovel."
At least the graduation scenes were moving. Miki in particular shares with both her friends and the readers how important school life has meant to her. Yuki may not be able to fully retreat into her "nothing's wrong" shell, but she has passed that joie de vivre on to others. Despite my disappointment with the battle being on the short side, the graduation — and, more importantly, the final chalkboard message — is a wonderful high note to end the volume on.
Meanwhile, Chiba includes some great horror shots this volume. Yuki's expression as she starts to recognize there's a zombie is chilling, and Rii's maniac expression horrifies even herself. Only two things really bothered me: the very first chapter illustration is Kurumi in her panties (okay, she's wearing a jacket, but she's showing a lot of cleavage) and Yuki looking as if she's ready to be a Battle Angel or something. The first was really in-your-face fanservice, and the second looks as if she stole a CLAMP backpack to go with her elf-eared glowstick self. I honestly don't know if this was supposed to be moe fanservice or a funny image to lighten the dark mood.
Real graduation ceremonies tend to be boring and full of platitudes. School-Live's isn't. That's reason enough to buy this volume. Seeing other sides of Rii and Yuki is just the icing on the cake.