The wild ride involving a boy and girl in school prison continues along its merry way. Well, based on this series' logic of course.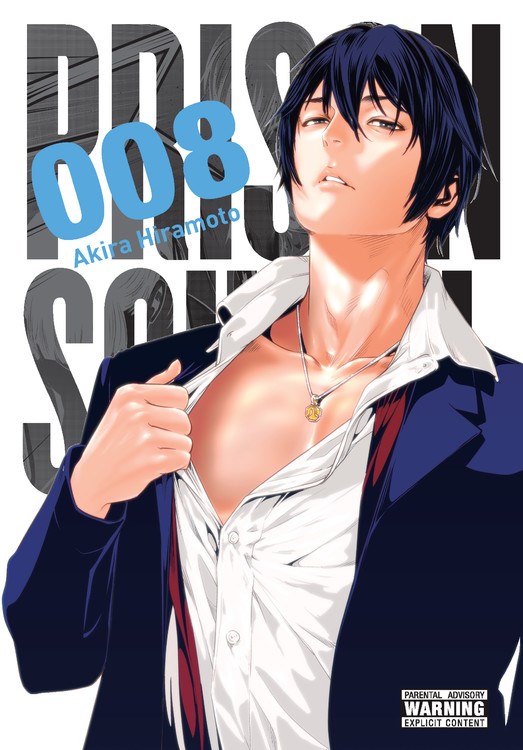 Title: Prison School
Genre: Ecchi
Publisher: Kodansha (JP), Yen Press (US)
Creator: Akira Hiramoto
Serialized in: Weekly Young Magazine
Translation: Ko Ransom
Release Date: November 7, 2017
A review copy was provided by Yen Press.
Akira Hiramoto thought it was a great idea to have a storyline involving Chiyo, Kiyoshi, and Mari. Hiramoto also thought it was a great idea to have a complicated escape plan that defies all logic and reason.
It works out, sorta.
Prison School volume 8 concludes essentially everything involving Chiyo's personality shift, and back to the escape plan. Despite what the Student Council does to make sure Mari's threat that she'll escape fails, it doesn't seem to slow her down. With the help of the rest of the boys, she's on pace to do it…until something happens that might have exposed Mari and Kiyoshi, and it might have something to do with a former Shadow Student Council member. All of that and the discussion of the importance of taking a leak, in Prison School volume 8!
…No, seriously, that actually is a major plot in this volume, and I am not joking.
Of course, the super serious nature of the characters combined with the outrageous events make it all work out. From Kiyoshi pleading desperately to Risa that yes, taking a piss in the bathroom requires doing something sacred, to the evolution of Andre going from super masochist to degenerate over the course of a few volumes, it's actually pretty funny. Turning the page to find out how Gackt, Joe, and Shingo would react to their prized bottle creation getting trashed by the student council was hard to do, because I know it'd be exaggerated to hell. Or, well, them having to piss in a bottle for reasons that are super dumb and desperate.
Desperate is essentially the theme for this volume, and that involves the Student Council. For Kate, this is her chance to finally one-up Mari in something, though what exactly would cause her to be so nervous as she tries to take a shower with her stockings on is up in the air. She must be hiding something, which is what drives Mari to essentially escape. Of course, Mari's pretty desperate too, and she's relying on outside forces for help. Who it could be can only be a few guesses. That's why I'm not completely happy with this conclusion. Well, aside from finding what that conclusion is in volume 9, I don't think there were enough hints dropped to make a good guess as to why she believes her plan would succeed.
The only thing that makes analyzing that silly is the manga itself is pretty silly. It's designed to be as lewd and hilarious as possible. And also unrealistic — how the hell can a fork flip up and down like that…there's no way Mitsuko is that clumsily (spoiler: very clumsily). But that's what makes it great. Seeing the sweat pour down on Mari and Kiyoshi's faces when Risa eyes them, thinking they're up to trouble…and Mitsuko pleading with Risa that Kiyoshi's just a lewd, disgusting man who gets horny at times. It's drawn way too well, and way too hilariously, to completely hate this manga.
I think the only thing I'm not a fan of is the development of Risa. Since the last volume, she's essentially tried to steal the eyes of Andre. Andre, however, still has eyes on the other vice president (Meiko), and not for great reasons. How this subplot was solved, if solved at all, feels unconvincing. The faces Andre makes is great, but it doesn't come across as genuine with Risa. Maybe that's the point, considering what is actually happening to the two of them. But I'm not the biggest fan of it. And I'm also not a fan of wasting food…
It was nice to see Hana again, even though she's back on her warpath — with Mari this time! Let's just say her spending time with Kate has changed her a bit, and it's going to take a lot for her to be friends with Mari again, unless it's all a fake. Based on what was shown, I don't think so.
With the conclusion to this arc incoming, it'll be interesting to see where the story will go next. The better question is, is this gonna end with both councils being abolished? Probably not, since I imagine there will be one wild twist upcoming. I just hope there are finally some satisfying moments involving a few of the characters, Yes, I'm probably deluding myself.