The relationship between Moe and Mizuki is the highlight out of everything else in this volume of Kiss and White Lily.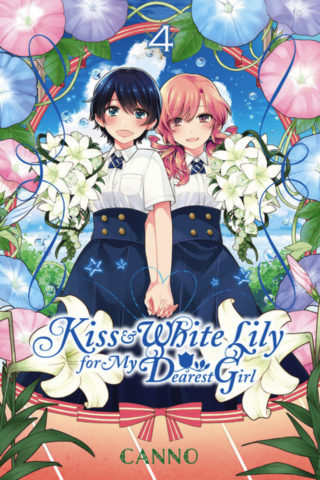 Title: Kiss and White Lily for My Dearest Girl (Ano Ko ni Kiss to Shirayuri wo)
Genre: Yuri
Publisher: Kadokawa (JP), Yen Press (US)
Creator: Canno
Serialized in: Comic Alive
Translation: Jocelyne Allen
Original Release Date: November 14, 2017
A review copy was provided by Yen Press.
In this volume's afterword, Canno says that her editor came up with the them "future" for this volume. So focusing on Moe and Mizuki, the third year couple involved with the track team and finally gracing the cover, was a perfect fit.
In truth, I have been "queer-burned" enough times by anime and manga that I am very hesitant to call two girls or two boys a couple, even in a series like Kiss and White Lily for My Dearest Girl which truly is a yuri series. But even I feel thoroughly convinced that Moe and Mizuki are intended to be a couple who are attracted to each other in a romantic/sexual manner.
The two of them have been together since before the series even began, and while there have been many close female friendships in this series, this relationship has been portrayed as a bit more intense (which, in fiction, a more intense relationship is usually code for a more "intimate" relationship as well). In fact, the two girls are so joined at the hip that Moe is a little worried about Mizuki's upcoming performance in the track meet and she proposes that she and Mizuki take a break so that Mizuki can "kick the Moe" and make sure that Mizuki is focused on track for the right reasons, not just to impress her girlfriend.
This reason to separate the two before allowing them back together does feel more than a bit contrived but it does allow Mizuki the chance to have some deep introspection and she comes out the experience a more confident character. Mizuki and Moe also seem even more committed to their relationship after all of this, and when the two girls end their part of the volume, walking hand in hand in casual clothing, the reader truly believes that these two will be together for a while to come.
Kiss and White Lily volume 4 continues the trend by having an A-part and B-part plot where the B-plot introduces new side characters and even more relationships for the reader to keep track of. Sometimes these new characters are interesting but the new girl introduced here, Kaoru, simply feels boringly familiar with her "it might be unrequited love or it might be unrequited admiration???" plot. Kaoru knew Yurine before high school and Kaoru certainly admired Yurine's cold intellect and cool manner from a distance, so she has very mixed feelings about seeing Yurine with an actual group of friends now. She spends the volume trying to become closer to Yurine, although it's unclear if even Kaoru has realized that her feelings to Yurine are closely akin to a crush.
But Kaoru is unsure of herself and Yurine is just dense so nothing truly comes out of this B-part and it makes the majority of volume 4 feel like wasted time. There is a truly great scene involving some of Kaoru's friends, speaking about what friendship means to them and the non-trivial things that they will do for friendship, but that scene only made me wish that Kiss and White Lily had a few completely unromantic, platonic sub-plots where we could see some of these side characters deal with the struggles that come with high school friendships but without the "she likes me, she likes me not" antics.
While the bonus Valentine's Day bonus chapter was an amusing way to end the volume, volume 4 felt too similar to the ones before it for me to be really satisfied as a reader. I don't object to meeting new characters but with each volume beginning to be very rote in terms of its pacing, conflicts, and resolutions, I would prefer that future volumes take a bit of time to add depth to the current cast before the size of the cast overwhelms Canno's ability to balance them all.