In a series this good, a step down volume is still better than most.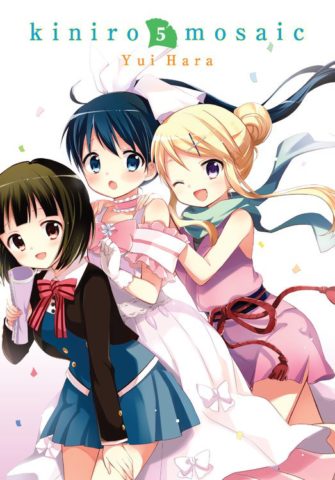 Title: Kiniro Mosaic
Genre: Slice of Life
Publisher: Houbunsha (JP), Yen Press (US)
Creator: Yui Hara
Serialized in: Manga Time Kirara Max
Translation: Amanda Haley
Original Release Date: December 19, 2017
Review copy provided by Yen Press.
Take a high school play. The lead falls ill, and a classmate who has helped others rehearse is drafted as the new star. Another cast member forgets her lines and declares she's a ninja… in a play set in medieval Europe. The scriptwriter decides to jump in and save her play by wearing a wig. Another classmate recruits some friends to guest star, and the teacher comes on as the "totem pole fairy". What happens next?
No, really, tell me. Because, unfortunately, Kiniro Mosaic doesn't.
There have been several times when the series has wrapped up a storyline a little too fast for my liking. But sports and cultural festivals are often a goldmine for plot development in manga, and I think this would have been a prime time for some multi-chapter arcs. And while this volume could be subtitled Year 2, Autumn, two arcs surrounding sick girls aren't exactly made for gut-busting fun.
I've enjoyed the previous volumes of Kiniro Mosaic, but the greatest challenge for a comedy series is to keep the humor from becoming stale. On one had, much of charm of the previous volumes continues to delight. Shino is still a blonde fanatic, Aya gets flustered by Youko, and Karen keeps attacking everything with her boundless and often misguided energy. And while Youko's younger siblings make a return in the opening chapter, it's Honoka who continues to appear regularly. I thought she would mostly be a Karen fangirl much like Kaori in Azumanga Daioh. But Honoka and Shino bond over blondes, and the alliance eventually faces a crisis when its members argue over who loves flaxen hair more. Compared to other manga, Honoka's addition to the cast feels more natural, neither upstaging the cast while also having quirks that complement the original group perfectly. We also answer the question of how Shino managed to get into high school and how Aya and Shino view their relationship.
However, compared to the previous volumes, the actual stories felt like a step down. I already mentioned much of the play being fast-forwarded. (I mean, look at the cover. Why wasn't more of the story about this overacting tsundere and ditzy kunoichi?!) Kuzehashi suddenly realizes she had met Karasuma during school… which seems dumb considering it's Kuzehashi who says they were two years apart. And it's weird that they ran into each other near the first day of school and yet never hung out again. (It's not like Kuzehashi had any friends at that point.) Both Shino and Alice getting sick means they both have similar delusions and withdrawal symptoms, so it feels a bit repetitive considering Kiniro Mosaic are shorter than the average manga volumes. I just wasn't grinning as much compared to the previous volumes.
I still have to praise Amanda Haley's adaptation, keeping as much of the original Japanese flavor as possible while also finding ways to keep the dialogue smooth for English speakers. Plenty of translator's notes are included to explain all the holidays and puns. The art, meanwhile, also will please all the moe fans, and there are some great visual gags with the "pile of corpses" and Honoka's failed disguise. Not a lot has changed in either aspect, and this is a positive.
It's not so much that I felt Kiniro Mosaic Volume 5 was a letdown. But if the previous volumes were good, then this one was good. I almost wonder if the anime tackled the various festivals better, as they could expand on how Shino managed to weave juggling into her going-off-the-rails play. I'd rather read about that than watching Shino try on different outfits.