Lots of manga involve cute girls doing cute things. Here's Kiniro Mosaic trying something new...sorta.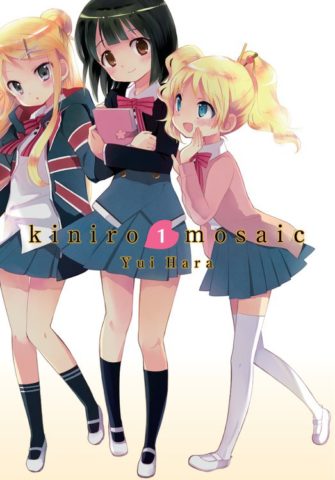 Title: Kiniro Mosaic
Genre: Comedy
Publisher: Houbunsha (JP), Yen Press (US)
Story/Artist: Yui Hara
Serialized in: Manga Time Kirara Max
Translation: Amanda Haley
Original Release Date: December 20, 2016
Review copy provided by Yen Press
Lots of manga involve cute girls doing cute things. Many of them often involve a foreigner or at least someone who is only half Japanese. But not too many have a Japanese-loving foreigner who is not anime-obsessed, and even rarer is to have that character have a Western-loving Japanese girl. Oh, and let's throw in a second foreigner for good measure.
Welcome to Kiniro Mosaic. Years ago, Shinobu did a homestay with British girl Alice's family. Well, now Alice decides to return the favor and attend high school in Japan. Alice joins Shinobu's circle of friends: the tomboyish Youko and the studious Aya. Soon Alice's friend Karen comes chasing after Alice, and these five girls deal with a lot of culture shock and their own eccentricities.
By far, Karen is the one who really stole the show. She has far less language skills than Alice, and she also is far more energetic. From the moment she reveals her reason for moving to Japan, I loved her. Her best Japanese only comes out when she's talking to Shinobu's sister, a fashion model, and her introduction to her class is just too funny. Karen's positive and offbeat manner should make her, as she would say, "mochimochi" with the readers.
A lot of the comedy comes from Karen (and, to a certain extent, Alice) trying to adjust to life in Japan, but it also relies on Shinobu's love of Western culture. Alice wants to speak in Japanese; Shinobu wants to speak in English. Alice eats rice for breakfast while Shinobu eats toast. They pretty much each wish they could have been born in the other's homeland, and there's just something hilarious about seeing a blonde-haired girl sporting a Japanese sleeping kimono as she sits on a futon while the dark-haired girl wears a nightgown to go to sleep in her bed.
Shinobu also has a thing for blondes, which makes her have a weakness for both foreign girls. There's lots of yuri subtext as Alice competes for Shinobu's attention. However, that's nothing compared to Aya's obvious feelings for Youko. This is another source of comedy as the blushing, "I-don't-care" attitude doesn't hide her true emotions. I don't know if Kiniro Mosaic will become a romance, but for now, there's definitely a lot of suggestive (if not blatant) undertones.
On the less interesting side is the tracksuit-loving teacher and Shinobu's sister. Isami appears just to shake her head at her younger sibling (whom she still loves dearly), and the gag about the teacher's attire just isn't that funny. Fortunately, they don't appear too often, and I hope they are limited to being guest characters instead of recurring ones.

As you might expect, this series relies heavily on the dialogue and Japanese. One of the biggest challenges for a translator in this type of situation is to keep the language mistakes in the language the characters are speaking or to adapt them to the readers' language. Amanda Haley chooses both options throughout Kiniro Mosaic, like the aforementioned "mochimochi" misunderstanding and "good morming" for the Japanese "good morning". What's really impressive is the pages of translator's notes that covers almost every culture note and language issue. It shows a lot of work went into bringing over this series.
Meanwhile, the art is done in a typical moe style. I do like how Hara has each of the girls wear their uniforms in a unique manner. It adds a little visual variety to the manga even when it wasn't really needed. (This is a 4-koma, so art isn't usually a priority. Plus two of the characters are foreigners after all.) Karen's sharp eyes provide a nice contrast to her friendly personality, and her Union Jack sweater looks good on her. Otherwise, a lot of the character designs are pretty typical (teacher with glasses, short-tempered twintail, etc). If you've read any other similar manga like Lucky Star or K-On!, you'll know what to expect.
All in all, Kiniro Mosaic is a fun read thanks to the gap humor and the secret longing many of us have about other cultures. However, although I liked this first volume, I don't know if it has staying power. I can see it just becoming one misunderstood sentence after another. For now though, I had a good time.