Can author Ichiho Takano come through with another romantic hit?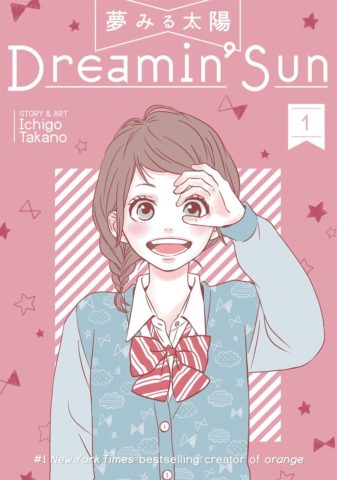 Title: Dreamin' Sun (Yume Miru Taiyou)
Genre: Romance
Publisher: Futabasha (JP), Seven Seas (US)
Artist/Writer: Ichigo Takano
Serialized in: Bessatsu Margaret
Translation: Amber Tamosaitis
Adaptation: Shannon Fey
Original Release Date: May 2nd, 2017
Review copy provided by Seven Seas
I, like many other people, adored Takano's Orange. So while I had heard of her previous series, I really didn't know much about her previous work besides the general summary.
Shimana (who hates her name for some reason) feels left out of the family ever since her father remarried and had a baby. She skips school one day and ends up meeting a man named Taiga. Long story short, Shimana decides to rent the spare room in his house where two of her schoolmates also live. Taiga encourages her to fall in love, and she develops a crush on one of her other housemates.
Two of the strongest aspects of Orange were a love triangle that didn't make you want to call police and good friends to the main characters. It's easy to see where she got those ideas from. As to the former, Asahi appears to be an actual nice guy, not one of those "nice guys just on the surface" types that often dominate shoujo manga. I imagine her other potential love interest is Taiga, a more traditional, often hot-tempered male lead. He is also quite bit older than Shimana, so this perhaps could be an issue for some folks.
But for me, the star was Zen, another resident at Taiga's place. He's a panda-lovin', martial arts-obsessed idiot. The dude lost his housekeys (with a panda keychain of course) while doing backflips on his way to school. And have you ever seen those shirts that say "Real Men Wear Pink"? Well, here's Real Men Wear Panda Pajamas: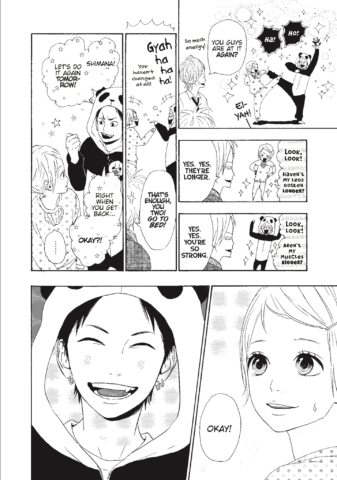 Seriously, forget Miss Hates-My-Name, Mr. Kimono, and Mr. Sunny. Zen is by far the best part of the manga. He acts haughty, but he's a genuinely nice guy. Plus his little panda friend changes expressions depending on Zen's mood. He tries to be a "all the women want me" guy, but no one respects him.
Unfortunately, as for the story itself, I was mostly unimpressed. Shimana's conflict with her father and stepmother is resolved with little hassle, and her hatred for her name is never explained. If you're a fan of no drama, no heartpounding, relatively safe manga like Strobe Edge, then Dreamin' Sun is perfect for you. The two heroines are even pretty similar: somewhat childish, curious about love, and concerned about unrequited love. But I'm sure many people will relate to Shimana's wish to be more beautiful, a thought she expresses several times over the course of the volume. The bonuses at the end of the volume preview "the most beautiful girl in school," and combined with the two stylish females introduced so far, I hope the manga doesn't keep focusing on outer beauty.
This version of Dreamin' Sun was a rerelease in Japan, and Takano mentions she touched up the art for it. That could explain why sometimes the art looks brighter and more modern than the overall volume. I really think she's at her best when drawing depressed characters. A lot of artists feel like sadness can only be expressed by tears, but she shows Shimana's melancholy with a variety of screentones. I also do like the stark difference between studious Asahi vs relaxed Asahi, and I already mentioned Zen's panda. Takano also throws in a "Where's Waldo"-like bonus, so readers can have a bit of extra fun tracking down a dog.
The adaptation uses Japanese name order, and it did throw me for a loop. "Kameko" sounds like a given name (although I keep thinking of it as "Turtle Girl"), and "Shimana" sounds like a family name. Something like a "heads up, Japanese name order" would be nice.
Dreamin' Sun is setting up to be a nice romance manga. The main plot isn't really exciting me right now, but I'm hoping for some more Zen-like quirkiness from the new characters the manga has previewed. Zen really stole the spotlight, and if Takano can create a tight-knit batch of friends like in Orange, I can see myself sticking it out for the long haul.