Volume 9 of Sadao and Emi's beach adventures unfortunately is a whole lot of meh trying to pass itself off as a whole lot of wow.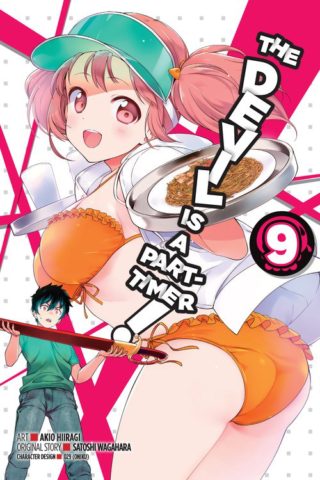 Title: The Devil is a Part-Timer! (Hataraku Maou-sama!)
Genre: Comedy
Publisher: ASCII Media Works (JP), Yen Press (US)
Artist: Akio Hiiragi
Writer: Sataoshi Wagahara
Character Designer: 029 (Oniku)
Serialized in: Comic Dengeki Daioh
Translation: Kevin Gifford
Original Release Date: June 20, 2017
Review copy provided by Yen Press.
Sadao and the gang continue their beach escapades, but the arrival of one of Satan's trusted advisors stuns them all. As Sadao and his associates try to handle the opening-day rush at their temp job, the bird-like Camio explains the demons have been in a bit of disarray since Satan's disappearance. So Sadao faces a double beach battle in this volume of The Devil is a Part-Timer!
However, both crises are solved in rather uninspired ways. The girls who "happened" to also be vacationing at the beach, of course, bail out the guys. Meanwhile, Sadao's army is pretty much placated by the fact their Devil King has "captured" the Hero. And take care of Alas Ramus, m'kay?
The end. (Well, the end of the main story here at least. At least Suzuno gets a funny side story.)
The problem with this volume is that while a lot seems to happen, nothing really does. First, Emi kinda sorta admits she doesn't hate Sadao as much as she used to, Amane drops hints as to her family's origins, Lucifer provides some additional insight into inter-world politics, more information about the Yesod fragment is revealed…
"What's the problem?! A lot is covered!" you may be saying.
Well, yes, but all this stuff comes from discussions — discussions that won't likely lead anywhere for many volumes. We know the Yesod fragments are out there, but does anybody think they're going to assemble any time soon? That we're going to see the final showdown? Reveal the landlady's identity? This whole volume is essentially a Cliff Notes version of mysteries yet to be solved while also letting readers know the Devil King has a home to return to.
Even the proverbial end-of-arc battle is not very exciting. The powered-up leader of the devils, his assistant, and the Hero versus a former commander and some random underlings, most of which don't even make it to the battlefield — anyone want to place their bet as to who wins? Plus, the one who is really stirring up trouble doesn't seem to be running around free right now (and if he is, he's got to be found first), so it will likely be several manga volumes before we see him again.
On the bright side, however, we learn do get a deeper insight into the complicated relationship between the four realms (Earth, Ente Isla, Heaven, and the Demon Realm). Again, the war is going to end soon, but certain discussions provide more proof that no one ends up on Earth by accident. Lucifer also proves even he has his moments of helpfulness. Despite usually being the butt monkey of the group, he actually is a pretty fascinating character, switching sides, betraying his new leader, and then chooses to spend his time on the Internet. I do hope to see more of Lucifer's "I-know-other-stuff-besides-hacking" side of himself.
I guess some readers may also like how this volume shows that Emi and Sadao are getting a little closer despite their previous and upcoming battles. Sadao notes that he never gets to see Emi smile cheerfully towards the Demons like she does the customers, and the girl in question has to admit right to Sadao's face she has a little faith in him. Both these moments along with the "in my grasp" scene don't really rise to the level of fluff, so if you're rooting for Chiho, she's still in the running. (Although evidenced by the Law of Tsundere, if the final pages are any indication, Chiho is still a longshot.)
Even the art seems to be taking a break in this volume. Take this image of Emi for example.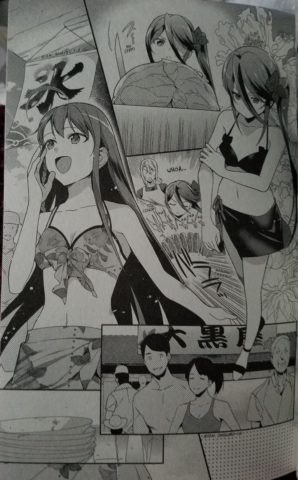 I don't know if it's the angle of her face or her man hands that really bother me, but this is not her best look. And as you can see, of course the girls show up to the beach in bikinis, and we get the essential "get and/or want a compliment" scene. Fortunately, the color insert shows that Emi does actually look good in her swimsuit as compared to the image I showed you. And remember the "underlings who didn't even make the battlefield" from earlier? There are supposedly 1,000, but it feels more like 10. Again, despite Emi trying to hold herself back from using all of her power to kill them, the battle doesn't have the urgency it should.
So while I do like The Devil is a Part-Timer!, volume 9 pretty much matches the previous volume's dullness. It's a whole lot of meh trying to pass itself off as a whole lot of wow. It had a couple of strong points, but this arc fell a little flat. I know the series can do better.