While fun in some parts, The Devil is a Part-Timer! Volume 10 spends too much of its time feeling like filler.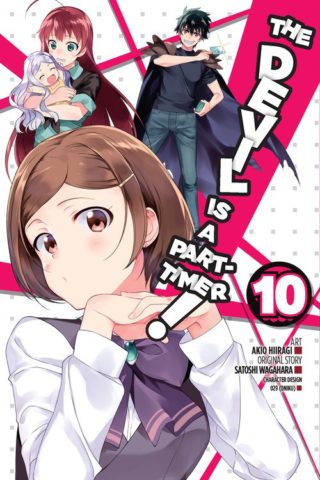 Title: The Devil is a Part-Timer! (Hataraku Maou-sama!)
Genre: Fantasy, comedy
Publisher: ASCII Media Works (JP), Yen Press (US)
Artist: Akio Hiiragi
Original Story: Satoshi Wagahara
Character Designer: 029 (Oniku)
Serialized in: Dengeki Daioh
Translation: Kevin Gifford
Original Release Date: September 19, 2017
Review copy provided by Yen Press.
This is very much a casual volume of The Devil is a Part-Timer!. The volume centers heavily on two shopping sprees: one for a TV, the other for a futon for Alas Ramus. This series has always balanced the everyday misadventures of a Demon Lord in Tokyo as well as the fate of another world, but the fantasy elements are rather light this time around. Don't expect any invasions or surprise attacks this time around.
Instead, expect a healthy dose of comedy as Maou and Ashiya argue about buying a TV and Lucifer tries to chase Gabriel out of the apartment.
However, the clueless residents of Devil's Castle know absolutely nothing about electronics, especially since they're on a budget. So who do they turn to? Rika, Emi's coworker. Emi is understandably taken aback when her friend calls and asks what kind of clothes Ashiya likes. Later, she's also conflicted about her role as Alas Ramus' "mother" and how she and Maou look like a family. Emi also learns that she shouldn't go back to Ente Isla anytime soon because people are after her and/or her sword.
Yeah, Emi keeps getting the short end of the stick.
As you might surmise, the entire volume isn't a laugh-a-minute. Unfortunately, the drama-filled bits are as dull as Rika explaining what 26 means in a 26″ television. We get a little bit of plot points here and there (Rika being unknowingly interested in a demon, Gabriel hinting at another attack), but you also have to suffer through Lucifer discussing his pride as a NEET and several pages of Emi walking around town following a beam of light. The main story ends early to make room for the side story about the futon, and I just wish Volume 10 had included another main story chapter to add more mystique to the manga; we only get three here. It's nice to show that once again Maou isn't the evil Devil King who takes free food tickets just because they're offered to him, but this isn't something that's unknown to readers by now.
Thank goodness for moments like Maou and Emi's conversation on the bench about their "family" that prevent Volume 10 from being a total snoozefest. Moments like that I think actually enhance the original light novel since we can see their expressions, balancing their roles as Hero and Devil King and Mama and Papa. Seeing Rika take a more active role in the story is also a treat. She's been a staple in Emi's life, but her connection with the people at Devil's Castle has been much looser than other main characters. As such a close friend to the Hero (and now having a crush on Ashiya), I want her to be the second human to learn the truth about everyone.
If you're following along The Devil is a Part-Timer! in both forms, the difference in translation can still be jarring. I prefer the manga's adaptation, especially when when Alas Ramus is around. ("Chi-ne-cha" is just cuter than "Chi-Sis".) The art, on the other hand, faithfully picks up from 029's original drawings, showing a hassled Emi and a boastful Maou. The manga format also means we get some images that are just a delight to see, like Emi imagining Maou's true form lying in a futon or seeing Chiho's content expression at knowing Maou will be staying on Earth for the near future.
While fun in some parts, The Devil is a Part-Timer! Volume 10 spends too much of its time feeling like filler. Two shopping arcs is just a little too much at one time.