It's just more ridiculous things the crew can eat, though learning Laios finds something he never wants to eat again is stunning.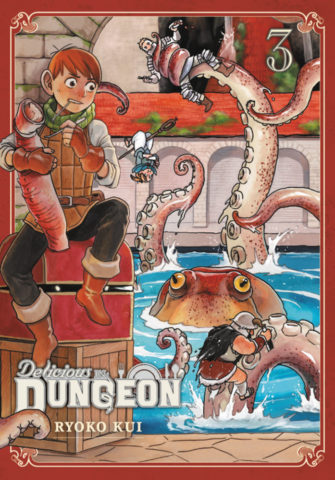 Title: Delicious in Dungeon (Dungeon Meshi)
Genre: Food, Adventure
Publisher: Kadokawa Corporation Enterbrain (JP), Yen Press (US)
Creator: Ryoko Kui
Translator: Taylor Engel
Serialized in: Harta
Original Release Date: November 14, 2017
A review copy was provided by Yen Press.
Laios, Chilchuck, Senshi, and Marcille are still on a quest to save Laios's sister, and their former party member, Falin from the stomach of the red dragon before she's fully digested. As they fight and forage their way deeper and deeper into the dungeon they meet old and new acquaintances, see strange sights, and even discover a meal that Laios doesn't want to eat!
While discovering a type of food that Laios swears he will never touch again is the by far most surprising detail in Delicious in Dungeon volume 3, the most interesting bit is when they run into one of their former party members, Namari. She was one of the two characters who left after the party was wiped out at the very beginning of the story, but she's still in the dungeon, though this time working as a hired bodyguard for some traveling scholars. With the exception of a few flashbacks, Delicious in Dungeon has spent the entire story underground, moving farther and farther away from regular society so the readers don't truly know how this dungeon fits into the rest of the world.
With Namari's appearance we begin to get an idea of who else goes into the dungeon besides adventurers looking for treasure in the depths. We see that researchers go down to understand the ancient spells hidden in the dungeon, and that Marcille was initially interested in how someone could cultivate a "domestic" dungeon to grow specific plants in it. It's only a very small amount of world-building but it works perfectly well with the other details already given and it makes this seemingly-random premise, "a dungeon just appeared one day!" feel much more defined.
The majority of volume 3 however is spent, as usual, fighting and eating monsters and this volume seems to follow a rough "sea-food" theme. On the menu are tentacles, seaweed, frogs, and even a kraken. The series also boasts a new "that's the strangest thing you could even think of eating" dish when Marcille of all people has the idea to drink an undine, but at this point it's just par for the course for each new volume of Delicious in Dungeon to top itself in terms of ridiculous.
And as the volume closes it appears that the party may have come very close to finding the Red Dragon indeed. Maybe next time red meat will be on the menu!