Chihayafuru volume 4 isn't perfect, but from finishing the battle between Mizusawa and Hokuou to Arata's backstory, it's still a satisfying read.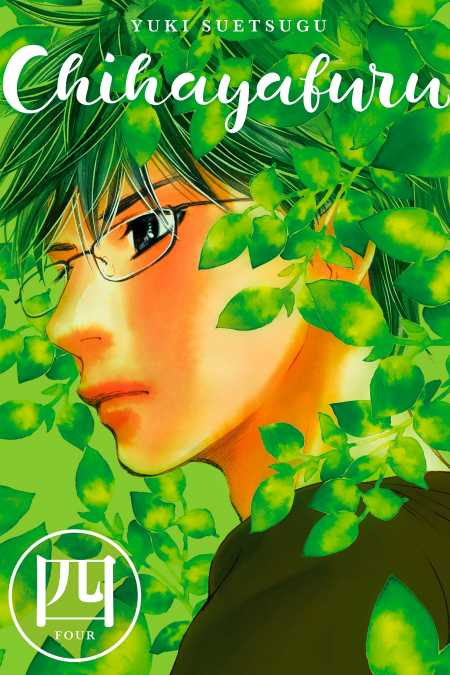 Title: Chihayafuru
Genre: Sports, Drama, Romance
Publisher: Kodansha (JP), Kodansha Comics (US)
Creator: Yuki Suetsugu
Serialized in: Be Love
Translation: Ko Ransom
Release Date: August 22, 2017
There are plenty of moments in Chihayafuru volume 4, but one key moment involves Taichi. It's Mizusawa vs Hokuou for the right to go to Nationals. Considering Taichi's past with karuta, his obsession with it now borders on insane. None moreso than when facing Leero, who questions Taichi internally. Well, when you get a panel where Taichi's pouring through scenarios regarding what card could be read in his situation, that's super obsessive.
But it represents Taichi's current game, his struggles, and his desire to win all in once.
Chihayafuru volume 4 is episodes 11 to most of 13 of the anime, and this picks up right where volume 3 left off. The only thing standing in the way of Chihaya and the crew going to Nationals is Sudo and Hokuou, and that match ends with an upset — Mizusawa wins. Now they're preparing to journey to Omi Shrine, where the tourney's taking place. From training at local clubs, to rallying their teacher to support them, the karuta club's looking to make a dent and have great team success. The problem? They run into an unavoidable problem, one that's challenges their teamwork and Chihaya's emotions.
This volume of Chihayafuru was neat in showing how things came to an end. The part where Chihaya and Sudo were the last match to finish up was fairly combative. It involved two stories, one where Sudo wants to get his advisor to Nationals, to Chihaya, whose driven to meet Arata at Nationals. It was a situation where it would've been tough for someone to lose, but someone did. And the money page to highlight the climax of the battle was drawn extremely well.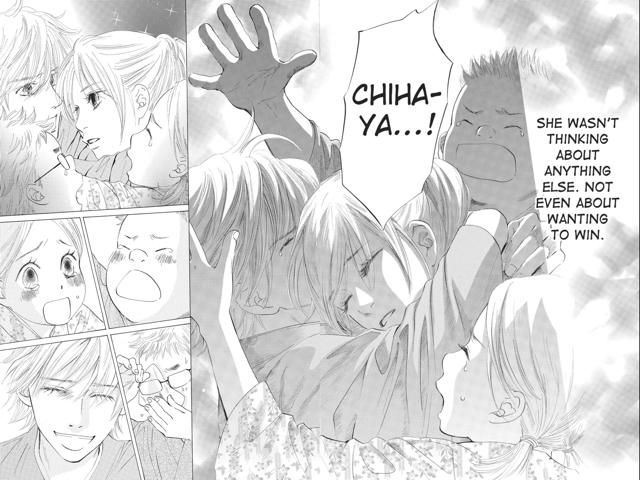 The only bad thing I can say is the more I think about it, the more it felt like the other characters weren't developed enough. As in, maybe go further into Sudo's backstory, or make him more of jerk. Or elaborate on some of the other Hokuou Academy guys aside from Leero. It's a minor thing, but the drama could have been better, particularly in line with prior volumes.
The manga then moves on to getting the club ready for the whole thing. Everyone realizes their weaknesses and are looking to get better playing karuta. It reads nicely, and them convincing their teacher, the Empress, to be on their side was nice. It then throws a major challenge that's surprising, but maybe it's just a case of bad luck. Ironic of course, since they went to pray at the shrine.
Maybe they shouldn't have gone there since they also ran into a significant character: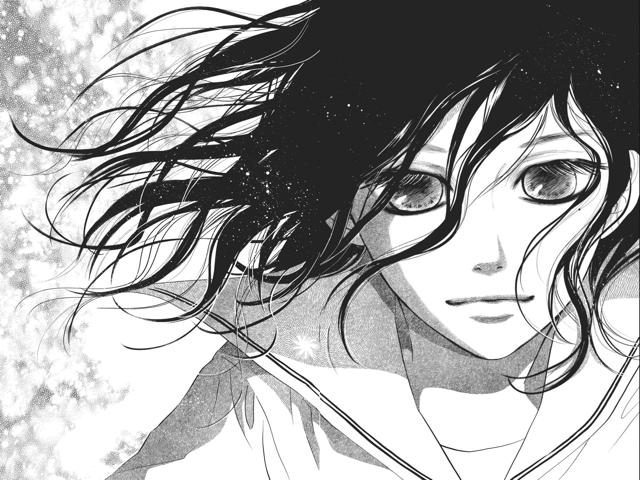 She will be explained in due time. But this drawing is awesome. You could print that and make it into a poster; it's that awesome. And also kinda scary. It also manages to serve as foreshadowing, and a good way to break the pace by introducing a new, and currently mysterious, character.
Anyways, while Mizusawa's karuta club does take up a good portion of the volume, we finally get into the story of Arata Wataya. We get into why his grandpa was super important to him, Arata's time with him after he learns his grandpa has dementia, and the reason why that death drove Arata to a point where he stopped playing the game. It's hard to relate to that, but we all have someone special in our lives that we treasure. And when we lose it, it just takes time for it to heal. For Arata, he got into the game of karuta thanks to his grandpa. The only way he can keep going is to play the game he loves.
Chihayafuru volume 4 is not perfect, but it's still great to read. Kodansha has so far done a fantastic job with the manga, from a translation standpoint to being able to read it. There are very few ongoing manga that can manage to be as sharp from the start to now, which is why I can't implore you enough to read this beautiful work.