Still a middling volume, even with... a random tornado?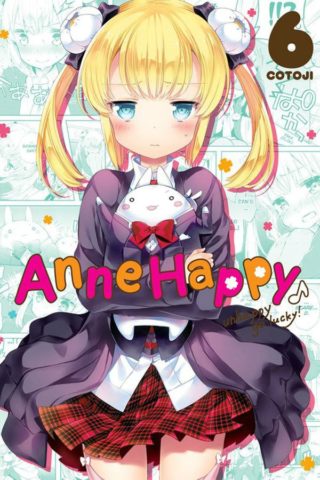 Title: Anne Happy
Genre: Comedy
Publisher: Houbunsha (JP), Yen Press (US)
Artist/Writer: Cotoji
Serialized in: Manga Time Kirara Forward
Translation: Amanda Haley
Original Release Date: August 22, 2017
Review copy provided by Yen Press
The Happiness Class is in the middle of their play, but it's interrupted… by a tornado?
I've read a lot of manga, but I can't honestly say I remember something being stopped by a random tornado, especially when there wasn't a storm going on. This is certainly an odd way to literally stop the show, but an unlikely character steps up to save the day: Tsubaki.
If you've read my previous reviews, you may remember I've been partial to Ren, the sleep-loving, half-serious, half-master troll of Hibiki's affections. Hibiki manages to get Ren to go out on a "date", but only after her crush makes her do impressions. However, more people will probably relate to the blonde-haired, blue-eyed Tsubaki. Her social anxiety stems from the stares she received for her looks, and she feels more comfortable hidden behind a computer screen than in public. The connection between her and Timothy — hinted at in the previous volume — is fully explained here.
Unfortunately, Tsubaki's moment in the spotlight is relegated to the beginning and the end of the volume. Although she makes the cover (and helps stop the tornado, the method in which you'll just have to read to discover), Tsubaki is still afraid to be in the classroom. Anne Happy reminds us that changing yourself isn't easy, and even major progress may not bring long-term change. Plus, who doesn't love a tech and video game genius? Despite all the outrageousness of a girl crushing on a construction sign or someone who probably needs a map to navigate her own house, the little nuggets of slice-of-life help give the manga an actual story.
Another case in point: Ruri. She starts to free herself from her parents' shadow when she realizes her "dream job" may not actually be her dream job after all, just a way to try to get her parents' attention. Botan also has been rather lonely despite being rich, with most people afraid to even touch her. The manga also hints at some bigger mysteries surrounding Anne and teacher Kodaira. Anne obviously is a puzzle, but I really want to know more about the person whom Kodaira serves and respect. The teacher is more than she seems, and for her to genuflect? He must be really amazing… especially since he hints he knows about Anne's family.
But despite all this, I wasn't really blow away by this volume. I didn't laugh out loud as much as previous volumes, and most of the character growth feels more like a setup for future developments. The play is stopped, and we don't get to see the continuation. Readers already knew about Tsubaki's fear of public speaking and had a general idea that Anne may not be the only unlucky one in her family, so these revelations are hardly a surprise. This volume feels like the part in every movie where the action slows down and the characters just discuss what's going on and hang out. It may not be dull, but it's also not particularly exciting when big shakeups are on the horizon. Even their latest class assignment is just the girls discussing ways to prevent their misfortune. Learning Anne is good at detecting some mishaps but still getting caught up in her usual ones is just not as funny as Hibiki trying to star in the play as a national treasure.
The art is about the strongest I've seen from the series. The girls look less lopsided, and images like Tsubaki's teras of fright will make you want to jump in the manga and give her a hug. Images of Hibiki cowering in fear at Kodaira's smiling face are also a highlight. The tornado was probably the oddest part of Anne Happy story-wise and art-wise, as it looked more like a spell found cast by a wizard in a fantasy series rather than a natural weather phenomena. The author also teases more yuri fanservice with Botan wanting to hold Anne's and Ruri's hands and the aforementioned date. The volume also continues to read smoothly thanks to Amanda Haley's translation.
All in all, I still like how the slice-of-life drama in Anne Happy is slowly edging out the absurd comedy. But at the end of Volume 6, I was left with an empty feeling, of wanting something that really leaves an impact or keeps me bursting with excitement for the next. It was good, but I know the series can do better.