The dash of drama makes Anne Happy Volume 5 one of the best in the series.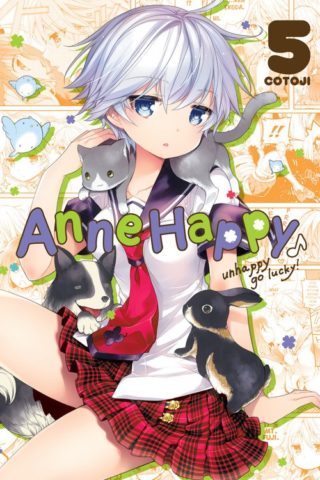 Title: Anne Happy
Genre: Comedy
Publisher: Houbunsha (JP), Yen Press (US)
Artist/Writer: Cotoji
Serialized in: Manga Time Kirara Forward
Translation: Amanda Haley
Original Release Date: May 23, 2017
Review copy provided by Yen Press
Since my favorite character, Ren, was on this volume of Anne Happy, I was really excited. I knew there was a big chance, like in most manga where characters take turns sharing the cover, that she really wouldn't play a major part this time around.
The bad news: she kind of doesn't.
The good news: she kind of does, and even when she doesn't, the story is actually showing progress.
The main focus of this volume is the Happiness Class' latest assignment: determining what you want to be when you grow up. Anyone who has ever watched or read a series about Japanese high schoolers knows about these career surveys, but this one is a little different: the sky's the limit. The teacher encourages non-realistic answers, and so we get one boy in class who wants to be a Japanese warlord, and Ren decides to be a futon. Unbeknownst to them, their answers have another purpose. The class has to star in an improvisation play with everyone cast as their dream jobs. The volume ends just as the main characters start to take the stage, as Hibiki the Artist (the so-called "national treasure") tries to shoo away everyone who wants to glomp on Ren the Futon.
Before the show goes on, we are introduced to a new character: Tsubaki. As readers, we can tell she has a crippling social phobia that has prevented her from even showing up to class before. Unfortunately for her, she also has to participate in the cultural festival. Friendly Anne tries to reach out to her, but no one has figured why Tsubaki keeps running away from everyone. With Hibiki still insisting she's not friends with Anne and company, Tsubaki will probably rise to main character status, especially since she has unknowingly witnessed Ruri's big secret.
I've generally enjoyed Anne Happy because of the comedy but I felt like this volume had a lot more emotion than usual. While Botan's lack of stamina is supposed to make you laugh, seeing the tears pouring down Tsubaki's face will make you want to jump into the book and give her a hug. Ruri struggles with deciding on her dream, and we get another piece of information about her home life. Combined with seeing how Hibiki and Ren first met, Anne Happy shows there's more to the story than a bunch of unlucky misfits in a class. I always want to see Anne's weird luck, but I do like seeing the first signs of real character growth.
Fortunately, if the characters are developing, then so is Cotoji. The art has shown a lot of improvement: Anne and friends are drawn consistently, eyes aren't lopsided, and chapters wrap up in appropriate places. Cotoji still inserts plenty of shipteasing and somewhat suggestive imagery; Ren, lying on the floor, invites Hibiki to sleep on (or with) her. (Of course, Hibiki immediately collapses from the idea, and a well-placed leg prevents a panty shot. It's still a lot better than the random beach scene from an earlier volume.
All in all, the only people who will probably be disappointed are Anne and Botan fans; they seem to take a back seat this time around to make room for Tsubaki but the dash of drama makes Anne Happy Volume 5 one of the best in the series.