With more fluff than eight cakes!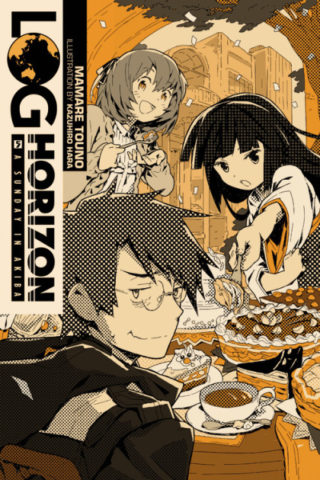 Title: Log Horizon
Genre: Adventure, Fantasy
Publisher:  Enterbrain (JP), Yen Press (U.S)
Creator: Mamare Touno
Illustrator: Kazuhiro Hara
Translator: Taylor Engel
Original Release Date: July 19, 2016
A review copy of volume five provided by Yen Press.
If anyone is wondering what part of the anime this volume corresponds to, volume five of the Log Horizon light novel series makes up the short arc that finished up the first season of the anime. After the last installment, with enough plots and viewpoints that it required two volumes to tell, this feels like a breather volume as the characters unwind and set up a new festival, one that never existed in the game world of Elder Tales, and focus on one of the most critical parts of their new lives, making and selling goods.
Unfortunately in the real world this volume feels like fluff piece meant to kill time; you can even see Shiroe on the cover looking sheepishly at the reader as if to say "Yeah, this wasn't such a great idea." The concept for this volume is fine and while it's easy to see what the purpose of this book was — to expand the world a little bit by introducing new characters and expanding on conflicts that were previously far in the background —  it's simply too long. Volume 5 is the same length as the previous four but there's just not enough material to make it work. The story feels like a short story that was overly stretched out. Even the actual text feels bloated, and there are points where the description seems more verbose than usual. When the reader has a chance to look inside the minds of Shiroe and Raynesia, it seems as if the characters are repeating everything to themselves!
This ends up being highly odd at the very end when a new character shows up who was obviously expected by Shiroe but who I couldn't recall any foreshadowing for, either from Shiroe's own thoughts or the wider setting. Having seen the anime, and remembering how jarring Nureha's introduction was there, I had even been keeping an eye out for it! I'm not a particularly big fan of Nureha; Mamare Touno is trying to write a character with a lot of things going on but instead makes her feel like a contradicting mess, and I'm rather unhappy that she also represents an expansion to Shiroe's love triangle. Frankly this love triangle is one of the things that comes off worse in the light novels due to being able to see into more characters' mind. In one sense it's funny how frustrating this love triangle is considering that the love triangle in Touno's previous work, Maoyu, managed to annoy me less, and that love triangle held even less water than this one. I won't say that fans should skip this volume just because it tries to convince you that 14 year old Minori is a real, legitimate rival for Shiroe's affections, but I will say that the anime managed to make this story more lively and interesting.