Only Yesterday answers the "A cloudy or a Sunny day?" the only way it can, and that's thanks to Isao Takahata and Ghibli.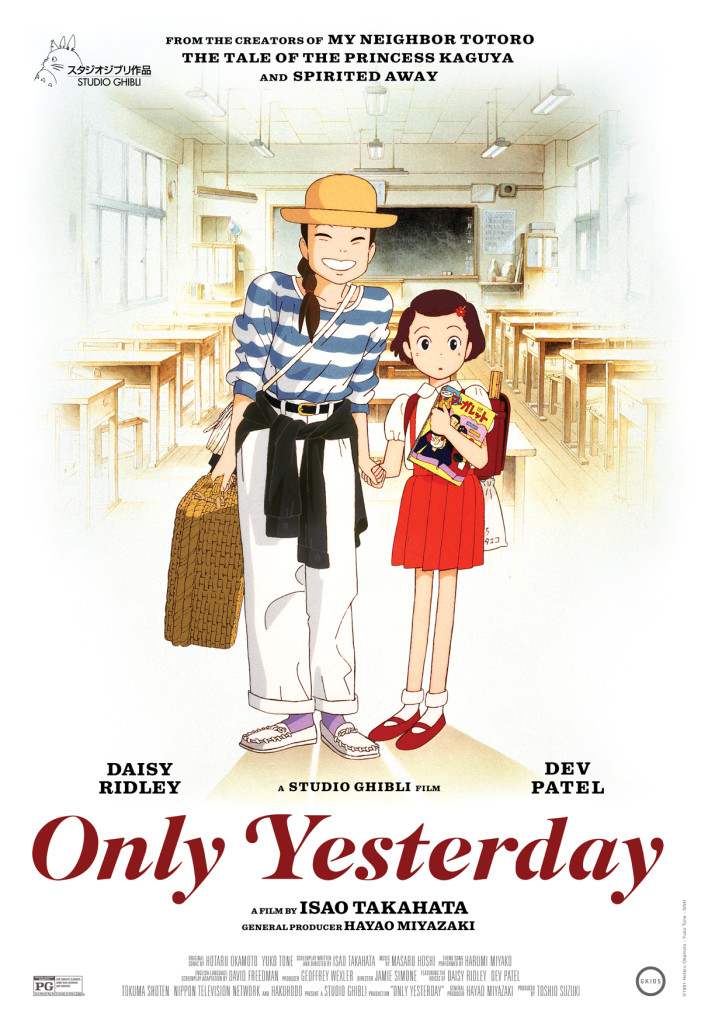 Title: Only Yesterday (Omoide Poroporo)
Genre: Drama, Romance
Studio: Ghibli (JP), GKIDS (U.S.)
Director: Isao Takahata
Original Creator: Hotaru Okamoto, Yuko Tone
Music: Katz Hoshi
Release Date: January 1, 2016
Note: This was screened at the IFC Center in New York. It will be released nationwide February 26.
What's it like to be a working person that takes off some time to go on vacation, but rather than travel to a tourist spot or relax at your house in the city, they travel to the countryside to visit the family of the elder brother of their brother-in-law? This is what Taeko Okajima experiences when she, single, unmarried and working an ok 9 to 5 job, decides to go to Yamagata and help her extended family out with the safflower harvest. During this trip she recalls memories of her 5th grade self, but those grade school memories and life in the countryside clash in a manner that has her make a choice about her future. While there's some mundane moments in this film and I'm ambivalent about the dub work, Only Yesterday is a Ghibli film to the end, which means outstanding backgrounds and expressions for the characters, direction in its story, and fantastic music you'll want to relax to.
For background purposes, Only Yesterday was directed by Isao Takahata (Grave of The Fireflies, My Neighbors The Yamadas) and released in Japan in 1991. It didn't see a release anywhere else until 2006 in Germany, Australia, and the UK. It aired in 2006 in North America, but was shown as part of Turner Classic Movies subbed. Flash to today, not only is it dubbed, it's now in theaters, specifically nationwide in February. In other words, it's taken a long time for this title to be seen by people here, but it's available now, and I can't help but feel that nostalgia is the driving force behind why I feel this work is solid.
Nostalgia is always a catch-22: it helps you appreciate something back in the day, but it can blind you on the current reality. Where does Only Yesterday fall in that? It's not a film that aired here, but parts of it definitely seem 90's-ish. From the old fashioned mentality by the characters to some aspects of the design, it's a 1991 film and it doesn't help that there are moments where nothing actually happens that hurts some of that downtime. The dub sounds average — there is a good cast (Daisy Ridley as Taeko, Dev Patel as Toshio), but there are moments where jokes didn't work or the conversation was boring.
But then I can't help but look at it and understand that, by 1991's standards, Only Yesterday must have torn the box office down in Japan (note: it did actually), and some aspects still hold up today. Only a few anime studios can even come close to captivating backgrounds compared to Ghibli, as they rank head and shoulders above everyone else. They seem to know this as they make you take in some designs, like after Taeko ends up arriving at her family's farm, there's a moment where the countryside scenery takes up the screen for a good 5-10 seconds before going back to her.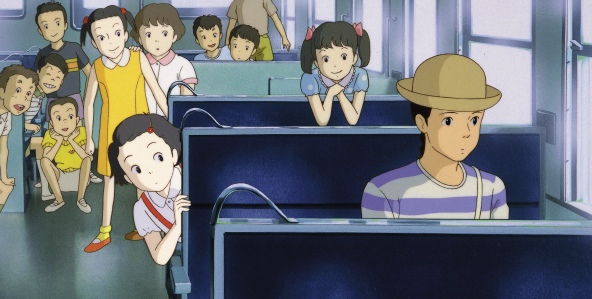 The character expressions in this film range from adorable to hilarious to sad, and it seems weird to say that it's simple stuff, but based on when they do it, it is simple, and mostly timed well. The perfect example is the family gathering where they eat a pineapple, which I won't spoil too much. It's just the best mixture of what Ghibli has done consistently in animation, and even years from now it'll still look and feel great.
Another the reason the box office might have been torn down is how everything gets connected. Taeko is like a lot of people — working a good job that you can't throw your all into because you're not that into it. She adds the fact that she's 27 and unmarried, which is where the future gets cloudy. Most people can relate to that. How does one escape this feeling of uncertainty? By traveling and taking off of work it seems, though this brings the unintended effect of reliving her childhood, specifically 5th grade.
5th grade is where Taeko's life must have had the most experiences, whether it was discovering love for the first time, friendships, or learning what it means to be girl and hitting puberty. It was also a time of family, or how confusing relationships can be with your mother, father, and sisters sometimes, in good ways and yet bad ways, and in one case, a way that feels more like strangling potential instead of nurturing it. But it also showcases parenting, in good and bad ways, and combine all of that conflicting emotions, you meet Taeko at the crossroads – she shows up and finds work she likes to do, manages to meet someone she can communicate with, but is it a future worth taking when the only problem is that you're not doing the work you're meant to do?
This is why ultimately, I come away liking Only Yesterday — there's a lot going on in this family film. Granted, some kids may not get exactly what's happening, but this can be enjoyed by everyone. With its cast of characters, idealistic hopes, and standout music, this is worth spending nearly two hours on sometime this winter.