With only a few standout stories and outstanding visuals, Miss Hokusai is not nearly as compelling as it should be.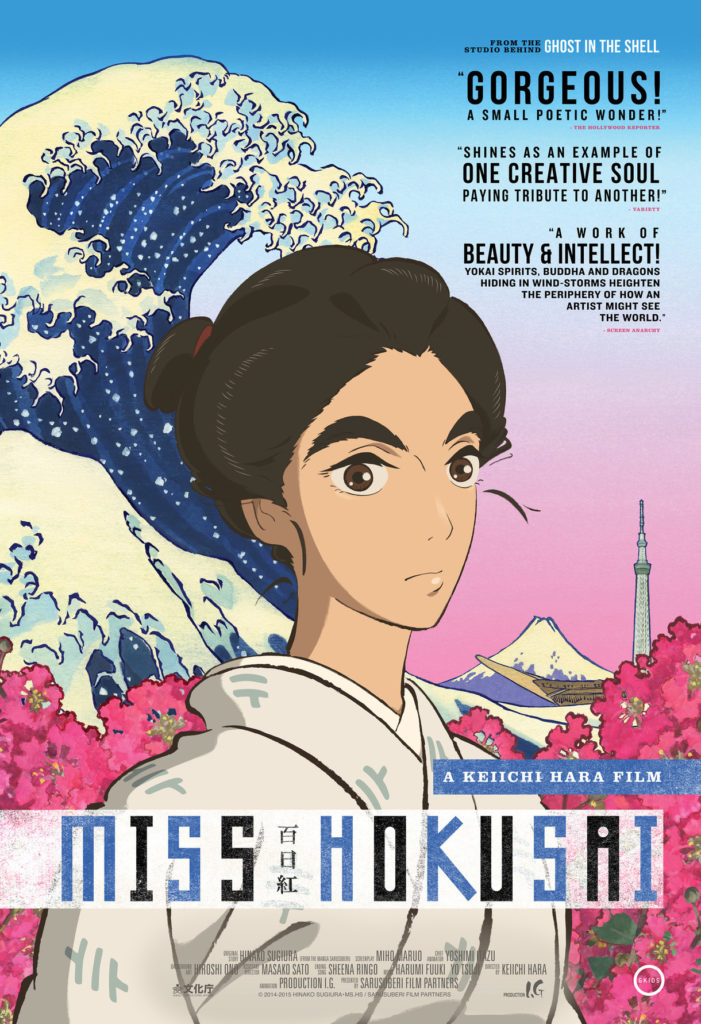 Title: Miss Hokusai (Sarusuberi)
Genre: Historical, Fantasy
Studio: Production I.G
Director: Keiichi Hara
Original Creator: Hinako Sugiura
Music: Harumi Fuki, Yo Tsuji
Original Release Date: May 9, 2015
US Theater Release Date: October 14, 2016
Artists are crazy. Well, generally if you're a creative person you have weird tendencies in you, but that makes you who you are. In Miss Hokusai, we get to see the tendencies of a few artists living in 19th Century Edo.
Miss Hokusai tells the story of the famous artist, Hokusai (also called Tetsuzo), from the perspective of his daughter, O-Ei. The big problem with this gorgeous film is that it doesn't feel like they're telling enough of O-Ei's story, and along with some odd choices in scenes, fails to be interesting for its duration.
One thing I did not realize about Miss Hokusai was that it's based off a manga series. Serialized in Weekly Sunday Manga, it contains episodic stories about Hokusai's daughter by Hinako Sugiura in the mid 80s. Production I.G decided to tell her tale in animated form, so we get to see the person that helped Hokusai do his work. Possibly 9-10 short stories are animated, one involving a dragon, one on erotica and drawing men, and one involving family stories.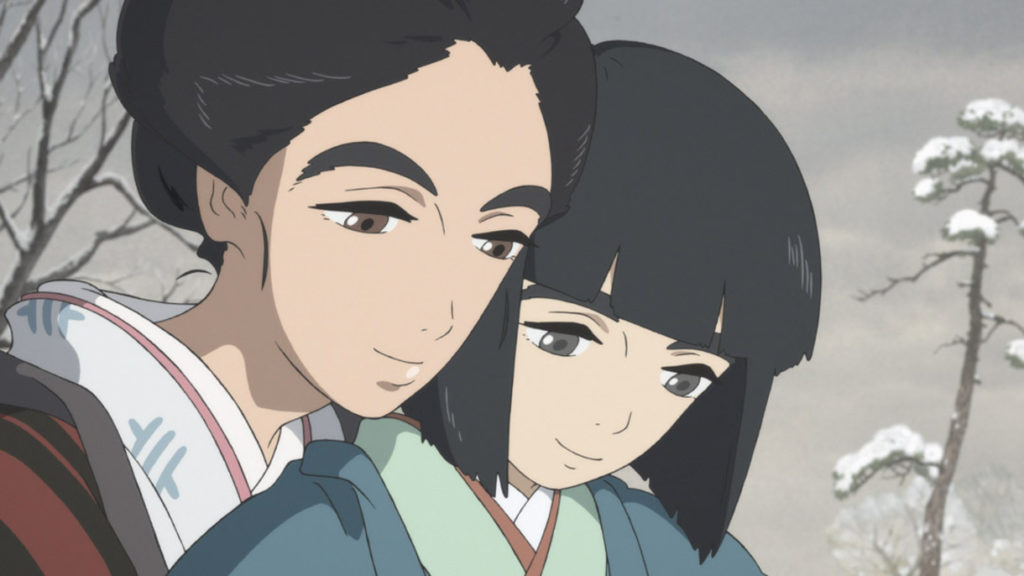 The family stories were the most interesting to me out of the film. Hokusai, as famous as he is, is essentially anti-social. He doesn't talk to O-Ei much even though they're living together in a mostly unorganized studio. He doesn't live with or go see his wife, or see his blind/sick daughter, O-Nao. O-Ei mentions this, and for reasons that went unexplained in the film, puts up with it. Is she doing it to impress him? Did her not growing up with someone who wanted to play with her affect her? Or does she think this would make her a better artist?
In any case, while he's more of a recluse, O-Ei seeks to still be close to O-Nao, and to also try and seek what's out there in Edo. This dynamic is fascinating because her experiences with her father as a child were mostly boring from what we could see. As she doesn't know how long O-Nao's going to be alive, it's clear O-Ei wants O-Nao to have as much fun as she can, and that shows in every interaction the two have in the film.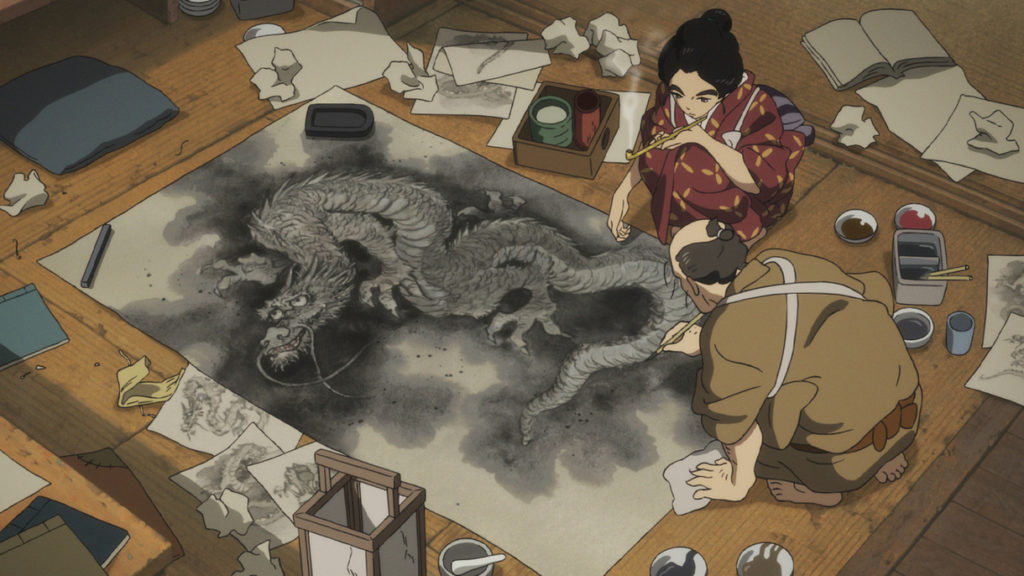 The stories did have some issues, and the prominent one revolved around Hokusai. You can't tell O-Ei's story without Hokusai, so the big challenge is finding that balancing act between the two. The problem is some of these stories about Hokusai didn't connect well, and to try and humanize a character who has been apathetic on a routine basis makes any emotional scene with him poor.
There's one scene that does happen in Miss Hokusai that legitimately felt heartfelt. It was somber in tone, and a culmination of everything coming to an end. And yet, I felt like Hokusai didn't deserve that moment. Nothing really comes to mind aside from him occasionally talking about his pupils (in addition to O-Ei he took on a former swordsman turned drunk Zenjirou, and Hatsugorou, a nice man), him going to locations and explaining stories, and his paintings. Maybe they should have improved his character earlier in the film if they aimed to redeem him a bit.
Which brings me to the biggest issue with Miss Hokusai: the stories. The stories that stood out to me in the entire film was whenever O-Ei and O-Nao talked to each other and one involving O-Ei and a male courtesan in her attempt to learn how to draw men. The others were pretty mediocre. I simply can't care about most of these characters, including the guy O-Ei likes, or the stories involving fantasy elements.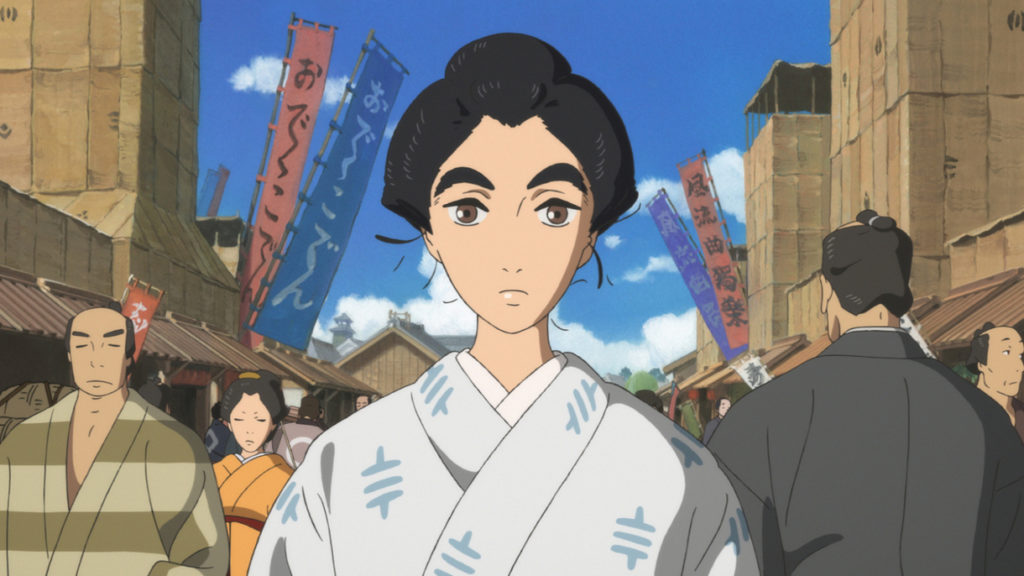 In addition, there also were transitions that didn't seem to connect with the story it was trying to tell. If they cut certain scenes or focused on this character more, certain moments could've been better towards the climax of the film. Instead, I felt unsatisfied, and I felt it missed its chance. Combine that with an unremarkable soundtrack (at least I barely noticed it, and one time I did felt out of place based on the sequence), you get an okay film.
It's great that Miss Hokusai looks spectacular however. There's a lot of things it did well (tops is definitely the 3D Buddha), from its colors to its background choices. One moment that stood out to me was the scene with O-Ei and O-Nao as they walked in the snow. They stopped around a tree blooming camellias, and with how serene that moment was, I loved how it appeared on screen. Needless to say, this work is definitely a visual treat.
But between it's lack of depth with O-Ei's background to some uninteresting stories, this is best to watch at least once, then think how it could've been so much better when the credits roll.
Note: I viewed Miss Hokusai at the Angelika, Dubbed.