Here's a list of where all the anime is streaming at this Fall season. Note some could be subject to region availability.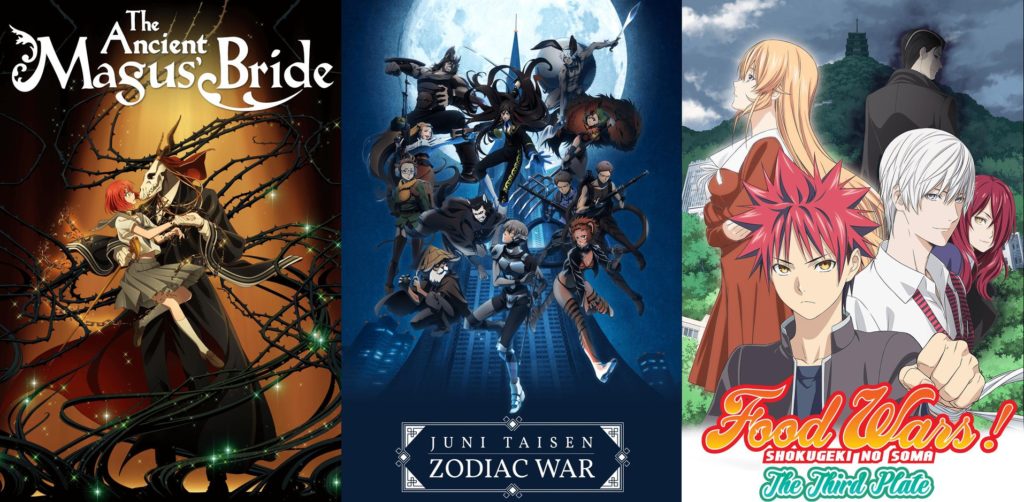 Anime Strike air dates may not be completely accurate, and as of now there are no listed times for when they start.
*FUNimation will simuldub the anime, but as of today it is not live yet. In addition, dates may/will change for the dub, so expect an update a few weeks down the line to this article.

**Daisuki's service is ending October 31, but is still expected to stream Dragon Ball Super past that date.
Mondays
Elegant Yokai Apartment Life: 11:30AM EST (Crunchyroll)
Mr. Osomatsu S2: 1:35PM EST (Crunchyroll)
Wake Up Girls! New Chapter: 2:05PM EST (Crunchyroll)
UQ Holder (Anime Strike)
Tuesdays
Black Clover: 6:25AM EST (Crunchyroll, Hulu, Simuldub on FUNimation*)
Shonen Ashibe GO! GO! Goma-Chan: 7AM EST (Crunchyroll)
The IDOLM@STER CINDERELLA GIRLS Theater 8:55AM EST (Crunchyroll)
Sengoku Night Blood: 11AM EST (Crunchyroll)
Juni Taisen: 11:30AM EST (Crunchyroll)
Food Wars! The Third Plate: 12:30PM EST (Crunchyroll)
Love is Like a Cocktail: 1PM EST (Crunchyroll)
Evil or Live: 1:45PM EST (Crunchyroll)
Magical Circle Guru-Guru: 2:05PM EST (Crunchyroll)
Onyankopon: 5:05PM EST (Crunchyroll)
Wednesdays
Boruto: Naruto Next Generations: 5:25AM EST (Crunchyroll, Hulu)
Yu-Gi-Oh! VRAINS 6:55AM EST (Crunchyroll)
Urahara: 7:15AM EST (Crunchyroll, Simuldub on FUNimation*)
Konohana Kitan: 8AM EST (Crunchyroll)
Dream Festival! R 9AM EST (Crunchyroll)
Tsukipro The Animation: 10:30AM EST (Crunchyroll)
Rainy Cocoa: 11:30AM EST (Crunchyroll)
My Girlfriend is Shobitch (Anime Strike)
Thursdays
King's Game: 12PM EST (Crunchyroll)
Just Because (Anime Strike)
Inuyashiki (Anime Strike)
Altair: Record of Battles (Anime Strike)
Welcome to The Ballroom (Anime Strike)
Fridays
Taisho Mebiusline Chicchaisan: 10:30AM EST (Crunchyroll)
Recovery of an MMO Junkie: 11AM EST (Crunchyroll, Simuldub on FUNimation*)
Kino's Journey -The Beautiful World- The Animated Series: 11:30AM EST (Crunchyroll, Hulu, Simuldub on FUNimation*)
Dies irae: 1:05PM EST (Crunchyroll, Hulu, Simuldub on FUNimation*)
Future Card Buddyfight X: 7:30PM EST (Crunchyroll)
PriPri Chi-chan!!: 7:30PM EST (Crunchyroll)
100% Teacher Pascal: 7:30PM EST (Crunchyroll)
Bono Bono S2: 8PM EST (Crunchyroll)
Garo: Vanishing Line: 10PM EST (Crunchyroll)
Girls' Last Tour (Anime Strike)
Yuki Yuna is A Hero – The Washio Sumi Chapter- / -Hero Chapter- (Anime Strike)
Saturdays
Time Bokan 24: 7AM EST (Crunchyroll)
Classicaloid 2: 7AM EST (HiDIVE)
Case Closed [Detective Conan]: 7:30AM EST (Crunchyroll)
Code: Realize ~Guardian of Rebirth~8AM EST (Crunchyroll, Hulu, Simuldub on FUNimation*)
Dynamic Chord: 9AM EST (HiDIVE)
Fox Spirit Matchmaker: 9:30AM EST (Crunchyroll)
Love Live! Sunshine!!: 10:30AM EST (Crunchyroll, Simuldub on FUNimation*)
Love Rice 2: 10:45AM EST (Crunchyroll)
The IDOLM@STER SIDE M: 11:30AM EST (Crunchyroll)
TWOCAR: 12PM EST (Crunchyroll)
Blend-S: 1:30PM EST (Crunchyroll)
Hozuki's Coolheadedness S2 (HiDIVE)
The Ancient Magus' Bride: 1:30PM EST (Crunchyroll, Simuldub on FUNimation*)
Blood Blockade Battlefront & Beyond: 3:10PM EST (Crunchyroll, Hulu, Simuldub on FUNimation*)
Folktales from Japan S2 9:30PM EST (Crunchyroll)
Cardfight!! Vanguard G Z 9:40PM EST (Crunchyroll)
Dragon Ball Super: 10PM EST (Crunchyroll, FUNimation, Daisuki**)
One Piece: 10PM EST (Crunchyroll, FUNimation)
Land of The Lustrous (Anime Strike)
Sundays
Anime-Gataris: 10AM EST (Crunchyroll)
A Sister's All You Need 10:30AM EST (Crunchyroll, Simuldub on FUNimation*)
Gintama Season 4: 2:35PM EST (Crunchyroll)
Himouto-Umaru Chan S2 (Amazon Strike)