Here's the manga being released in stores next week, from the latest Attack on Titan volume to the newest Vampire Knight story.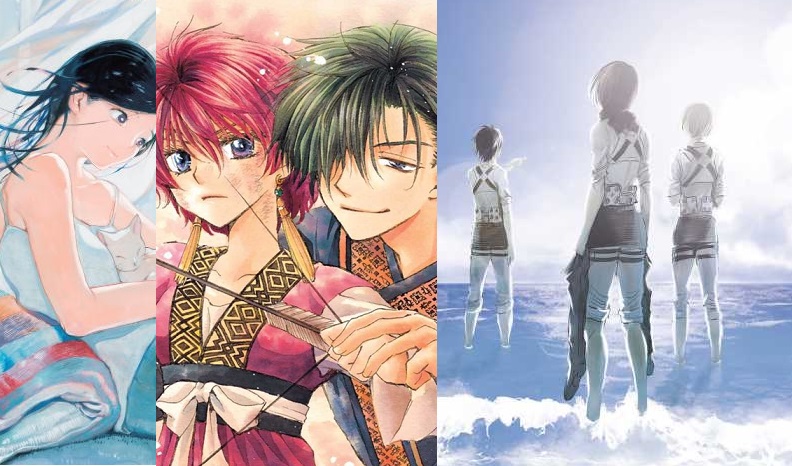 There's a lot of awesome (and maybe not so awesome but everything has its fans) manga that come out during the year, but sometimes we might miss a few out there. TheOASG will at least remind you of those manga coming out with a weekly release of all the manga and LNs coming in the next week, in case you need to pre-order or remember to buy them.
So below is a list of titles upcoming, specifically on August 1. Feel free to chime in on what manga you're looking forward to reading soon in the comments below!
Title: Kounodori: Dr. Stork Volume 2 (https://global.bookwalker.jp/de8336c651-37a4-438a-9041-07b9b5afb50e/)
Author: You Suzunoki
Publisher: Kodansha Comics
Synopsis: Childbirth isn't an illness, so under normal circumstances, insurance won't cover it. Delivery staff doesn't cure disease or treat injuries, so there's no need for a doctor…unless, of course, circumstances aren't normal. This smash-hit drama gives a look into the lives of the men and women who work to welcome 1,000,000 new lives into the world each year in Japan. Includes four arcs: Teen Pregnancy, Anencephaly, Caul Child and Maternal Smoking.
Title: Kasane Volume 4 (http://kodanshacomics.com/volume/kasane-4/)
Author: Daruma Matsuura
Publisher: Kodansha Comics
Synopsis: Ugly Kasane's mother left her a lipstick with the power to steal faces, and Kasane has made up her mind to use this power to steal everything the beautiful have. She meets the gorgeous Neena Tanzawa, pushes her to madness and finally succeeds in stealing her face. Now with true beauty in her grasp, Kasane gains fame in the world of theater. But unbeknownst to her, new disaster looms…
Title: She and Her Cat (https://www.amazon.com/She-Her-Cat-Tsubasa-Yamaguchi/dp/1945054409)
Author: Makoto Shinkai, Tsubasa Yamaguchi
Publisher: Vertical Comics
Synopsis: This is the story of Miyu, a woman who lives alone with her cat, Chobi. As Miyu navigates the world of adulthood, she discovers both the freedom and loneliness that come with living independently, and Chobi learns of the outside world through her actions. Time drifts slowly for Miyu and her cat, but the harsh realities of the world soon catch up…
Title: There's a Demon Lord on The Floor Volume 3 (http://www.sevenseasentertainment.com/books/theres-a-demon-lord-on-the-floor-vol-3/)
Author: Kawakami Masaki
Publisher: Seven Seas
Synopsis: DECK THE HALLS WITH DEMON LORDS!
The holidays have come to Humming Dining! Halloween's up first – the perfect holiday for a Demon Lord. But the Boss seems even more thrilled than Amon, and commands her staff to wear costumes – the cute kind, of course! After that, it's the most wonderful time of the year…for home invasions! Highly suspicious of this Santa Claus, the "creep" who sneaks into people's houses, Amon decides to confront him on Christmas Eve – and it's up to Kouichi to make sure St. Nick makes an appearance.
Title: Magical Girl Site (http://www.sevenseasentertainment.com/books/magical-girl-site-vol-3/)
Author: Kentaro Sato
Publisher: Seven Seas
Synopsis: Magical Girl Site is an all new fantasy horror series that is directly spun-off from author Kentaro Sato's concurrent series, Magical Girl Apocalypse. In this ultra-violent survival story, an innocent girl gets sucked into the murderous world of the sailor girls from hell as featured in Magical Girl Apocalypse. Magical Girl Site is an ongoing manga series that will be released with a full colour insert in each volume. Asagiri Aya is a young girl who has fallen victim to bullies at her school. Looking for a way to escape her troubles, she looks to the internet for distraction, when a mysterious website called "Magical Girl Site" appears. Simply viewing the page is all it takes to hurtle Aya headlong into the deadly world of the Magical Girl Apocalypse. There, it's fight or die against a seemingly endless array of savagely adorable, frilly-skirted killing machines, each armed with magical powers and an unquenchable thirst for blood and chaos.
Title: Yu-Gi-Oh! (3-in-1 Edition), Vol 11 (https://www.viz.com/read/manga/yu-gi-oh-3-in-1-edition-vol-11/11666)
Author: Kazuki Takahashi
Publisher: VIZ Media
Synopsis: The four Duel Monsters semifinalists get ready for what could be the last duels of their lives. For Jonouchi, this means facing the evil Egyptian duelist whose grudge has smoldered for 3,000 years. If Jonouchi wins, his dream of facing Yugi in the finals will come true. But if he loses, he'll be stuck in a nightmare he can never wake up from.
Title: Love's Reach Volume 2 (https://www.comixology.com/Loves-Reach-Vol-2/digital-comic/546012)
Author: Rin Mikimoto
Publisher: Kodansha Comics
Synopsis: Girl genius Yuni and heartthrob teacher Sakurai are in a secret relationship no one knows about. Yuni wants to celebrate her birthday with Sakurai, but he's so busy with work that she missed her chance and invited her friends to her house instead. Yuni's family also makes an appearance, and everyone is having a great time at the birthday party! But, as expected, she feels lonely without Sakurai there…. What will happen next?!
Title: So Cute It Hurts!!, Volume 14 (https://www.viz.com/read/manga/so-cute-it-hurts-vol-14/12723)
Author: Go Ikeyamada
Publisher: VIZ Media
Synopsis: The earthquake is over, but the aftermath is still devastating the region. Mitsuru and Azusa try to put the power of the Tokugawa Group to good use while others, including Megumu and her mom, rush to Sendai to look for their missing loved ones. Megumu wants to hold on to hope, but Aoi still isn't picking up his phone…
Title: Toriko Volume 39 (https://www.viz.com/read/manga/toriko-vol-39/12733)
Author: Mitsutoshi Shimabukuro
Publisher: VIZ Media
Synopsis: The Gourmet Eclipse is quickly approaching and time is of the essence, but the Back Channel is not a forgiving place. The darkness alone is enough to devour any unprepared soul—appetite and all! Will Komatsu be able to find Another and prepare it in time?! Meanwhile, the coming of God is at hand, and Toriko and Starjun gear up for the fight of their lives against the almighty Battle Wolf who guards it. But they are not alone! One of Neo's spawn is prepared to challenge them for a taste of the mysterious king of ingredients, God!
Title: Disney Manga: Magical Dance Volume 2 (https://www.amazon.com/Disney-Manga-Magical-Dance-2/dp/1427856796)
Author: Nao Kodaka
Publisher: TOKYOPOP
Synopsis: Practice has resumed for the upcoming nationals! From here on out the choreography gets more advanced and the team will even need to learn couples dancing. Yuna is doing her best to keep up with her team mates' skill level… with a little help from some special teachers and friends of course!
Title: Maid-Sama! (2-in-1 Edition) Volume 9 (https://www.viz.com/read/manga/maid-sama-2-in-1-edition-vol-9/11813)
Author: Hiro Fujiwara
Publisher: VIZ Media
Synopsis: Misaki undergoes strict training on how to become a lady before visiting Usui in England! Later, she decides to apply to a highly selective university… With everyone heading down different paths toward the future, will Misaki and Usui be able to find happiness together?
Title: Vampire Memories Volume 1 (https://www.viz.com/read/manga/vampire-knight-memories-vol-1/12779)
Author: Matsuri Hino
Publisher: VIZ Media
Synopsis: After a fierce battle between humans and vampires, a temporary peace was established, but Kaname continued to sleep within a coffin of ice… Yuki gave Kaname her heart to revive him as a human being.
These are the stories of what happened during those 1,000 years of Kaname's slumber and at the start of his human life.
Title: Haikyu!! Volume 14 (https://www.viz.com/read/manga/haikyu-vol-14/12534)
Author: Haruichi Furudate
Publisher: VIZ Media
Synopsis: It's the middle of the quarterfinal round of the Spring Tournament Qualifiers, and Karasuno's captain, Daichi Sawamura, is injured! With their most reliable player out of the game, the only one who can replace him is…Chikara Ennoshita?! This volume also includes the bonus one-shot chapter "Nisekyu!!"—a collaboration with the author of Nisekoi!
Title: Platinum End Volume 3 (https://www.viz.com/read/manga/platinum-end-vol-3/12610)
Authors: Tsugumi Ohba, Takeshi Obata
Publisher: VIZ Media
Synopsis: As Mirai and Saki try to regroup after the tragedy at the baseball stadium, a new god candidate appears before them. Is he friend or foe…? Meanwhile, Metropoliman continues to hunt down the other candidates by any means necessary, including unleashing a deranged murderer on the people of Tokyo!
Title: Black Clover Volume 8 (https://www.viz.com/read/manga/black-clover-vol-8/12866)
Author: Yuki Tabata
Publisher: VIZ Media
Synopsis: As Asta and the Black Bulls continue their search for the magic stone in the Underwater temple, they are blindsided by Vetto of the Eye of the Midnight Sun. Can the rowdy Black Bulls work together to take down this fearsome foe?
Title: Twinkle Stars Volume 3 (http://www.hachettebookgroup.com/titles/none/Twinkle-Stars-Vol-3/9780316360951/?yen)
Author: Natsuki Takaya
Publisher: Yen Press
Synopsis: It's the day of the fireworks display, and Chihiro's come down with a fever! At Saki's recommendation, a worried Sakuya decides to visit him. How will he react, and what will happen when Sakuya finds out about the sorrowful past he left behind in Tokyo?
Title: Persona 3 Volume 6 (https://www.amazon.com/Persona-3-6-Atlus/dp/1927925908)
Author: Shuji SOGABE
Publisher: UDON
Synopsis: This next thrilling volume of the Persona 3 manga series is all about revelations as the intrepid members of S.E.E.S. visit the Kirijou family cottage and learn some surprising truths from Mitsuru's father about the events surrounding Tartarus, the Dark Hour, and their own continuing battle against the encroaching Shadows. The weight of these truths proves especially heavy for Yukari and Mitsuru, but if they can bear this burden, their shared struggle may give rise to new power…
Title: Behind the Scenes!! Volume 4 (https://www.viz.com/read/manga/behind-the-scenes-vol-4/12864)
Author: Bisco Hattori
Publisher: VIZ Media
Synopsis: Ryoji Goda is everything Ranmaru wishes he could be—self-assured, competent and cool. But when the Art Squad works the final film camp of the summer, Ranmaru gets to see a whole new side to his idol—disappointing son! Goda's dad seems to criticize everything his son does, and they fight constantly. Finally Ranmaru and Goda have something in common! But the pressure of paternal disapproval pushes Goda to do something shocking that might change the Art Squad forever…
Title: Kuroko's Basketball (2-in-1 Edition), Volume 7 (https://www.viz.com/read/manga/kurokos-basketball-vol-7/12541)
Author: Tadatoshi Fujimaki
Publisher: VIZ Media
Synopsis: Seirin's made it to the Winter Cup! The team decides to take a break at a hot spring before the tournament, but while there, they run into Aomine and Tooh Academy, who relate some shocking information—for their first game, Seirin will face off against To-oh. Get ready for some thrilling ups and downs as the tournament begins!
Title: Bleach (3-in-1 Edition), Volume 20 (https://www.viz.com/read/manga/bleach-3-in-1-edition-vol-20/12527)
Author: Tite Kubo
Publisher: VIZ Media
Synopsis: The mysterious Vandenreich warriors were more than the Soul Reapers could deal with—even with the help of Captain General Yamamoto! In the wake of the disastrous battle, Ichigo retreats to the royal palace to heal his wounds. Once his body is whole, it's time for more grueling training…and a dark revelation about his past!
Title: Kaze Hikaru (https://www.viz.com/read/manga/kaze-hikaru-vol-25/9387)
Author: Taeko Watanabe
Publisher: VIZ Media
Synopsis: Shinsengumi vice captain Toshizo recounts his youth as an aspiring swordsman and his budding relationship with captain Kondo. Later, Kondo, Toshizo and Tominaga Sei, a female samurai living as a man, confront internal strife when money goes missing from the Shinsengumi's coffer. Sei must face her fears when Shinsengumi leadership hands down a terrible punishment to a fellow warrior.
Title: Assassination Classroom Volume 17 (https://www.viz.com/read/manga/assassination-classroom-vol-17/12523)
Author: Yusei Matsui
Publisher: VIZ Media
Synopsis: The class is divided: one half wants to carry on with the plan to assassinate Koro Sensei, while the other half wants to save him. So Koro Sensei splits them into two teams, led by Nagisa and Karma, and has them battle it out. The students of 3-E draw on everything they've learned so far to battle for or against Koro Sensei's life! Then, to uphold their now unified goal, they need to infiltrate the International Space Station…
Title: Food Wars!: Shokugeki no Soma Volume 19 (https://www.viz.com/read/manga/food-wars-shokugeki-no-soma-vol-19/12732)
Author: Yuto Tsukuda, Shun Saeki, Yuki Morisaki
Publisher: VIZ Media
Synopsis: Fighting to save Alice's society from being abolished by the Azami administration, Ryo Kurokiba, battling as her champion, begins his shokugeki with Central elite Kusunoki. The theme is salmon, and both chefs put everything they've got, including their pride, into their dishes. So what's got Alice so troubled that she tells off her own uncle, Dean Nakiri, at the end of the match?!
Title: Yona of the Dawn Volume 7 (https://www.viz.com/read/manga/yona-of-the-dawn-vol-7/12363)
Author: Mizuho Kusanagi
Publisher: VIZ Media
Synopsis: In order to free the port town of Awa from an evil tyrant, Yona and her friends team up with Jaeha, the Green Dragon, and his fellow pirates. While Hak and the others are fighting Yang Kum-ji's forces, Yona and Yun infiltrate a human trafficking operation! When the enemy closes in and things look dire, what will Yona do?
Title: One Piece Volume 83 (https://www.viz.com/read/manga/one-piece-vol-83/12783)
Author: Eiichiro Oda
Publisher: VIZ Media
Synopsis: Luffy and crew land on Whole Cake Island to take back Sanji! Meanwhile, the preparations continue for Sanji's wedding—including the arrival of the groom's family! It's gonna take more than luck for the Straw Hats to survive against the forces of Big Mom and rescue their crewmate!
Title: JoJo's Bizarre Adventure: Part 3–Stardust Crusaders, Vol. 4 (https://www.viz.com/read/manga/jojos-bizarre-adventure-part-3-stardust-crusaders-vol-4/12587)
Author: Hirohiko Araki
Publisher: VIZ Media
Synopsis: JoJo and friends find themselves facing their strongest enemy yet—an old woman! But even old women can be dangerous foes when armed with the power of a Stand! But what is her Stand, and how is it tied to a desolate village filled with strange mist? All will be answered as the adventure continues!
Title: Attack on Titan Volume 22 (http://kodanshacomics.com/volume/attack-titan-22/)
Author: Hajime Isayama
Publisher: Kodansha Comics
Synopsis: The blockbuster manga edges closer to its thrilling conclusions. The mysteries of the Titans are being revealed … who will escape death at the hands of giants and human beings?
Title: My Hero Academia Volume 9 (https://www.viz.com/read/manga/my-hero-academia-vol-9/12737)
Author: Kohei Horikoshi
Publisher: VIZ Media
Synopsis: It's off to summer camp for Midoriya and the U.A. students! But this is no ordinary vacation—it's high-impact training where the students are expected to develop their Quirks even further! The teachers have set up some tough challenges, but none will be as difficult and as life changing as the threat a new group of enemies poses. What's even worse is who the villains' target is and why…