Lots of new anime TV shows are airing this winter, so...let's rank them confidently.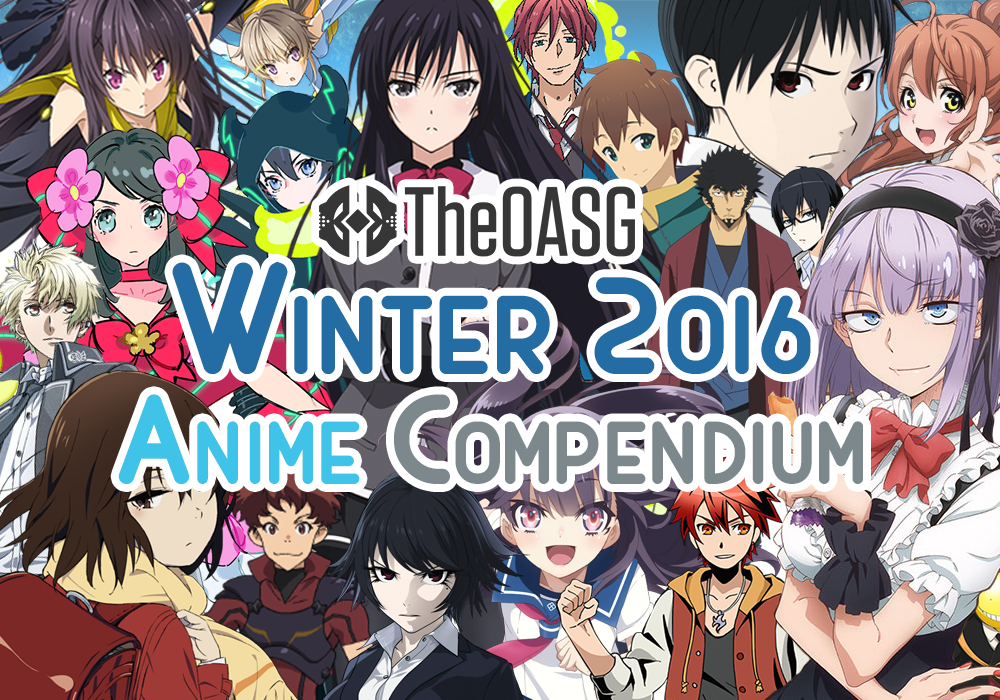 There are a bunch of new franchises that will be looking to establish themselves in our hearts, for better, or for worse. Let's actually check and see what might be worth watching due to who's working on the anime, how the anime looks, and heavy bias.
(Note: Info from ANN Encyclopedia/MAL)
20) Undefeated Bahamut Chronicle
Synopsis: Lux, a former prince of an empire named Arcadia that was overthrown via a rebellion five years earlier. Lux accidentally trespasses in a female dormitory's bathing area, sees the kingdom's new princess Lisesharte naked, and incurs her wrath. Lisesharte then challenges Lux to a Drag-Ride duel. Drag-Rides are ancient armored mechanical weapons that have been excavated from ruins all around the world. Lux used to be called the strongest Drag-Knight, but now he's known as the "undefeated weakest" Drag-Knight because he will absolutely not attack in battle. After his duel with Lisesharte, Lux ends up attending the female-only academy that trains royals to be Drag-Knights.
Studio: Lerche
Director: Masaomi Ando
Series Composer: Yuuko Kakihara
Notes: The Undefeated Bahumut Chronicles light novel illustration was done by the creator of Castle Town Dandelion and illustrator for Gonna be the Twin Tail!!, Ayumu Kasuga.
First Impressions: This was the first trailer I watched while running down this list that made me think, "Well, I've seen this one before". In fact, the very part of the synopsis that explained how the main character meets the princess reminded me exactly of The Asterisk War, which is not exactly a good anime. So, I'm not expecting this to be good either. Doesn't look great either.
19) Shoujo-tachi wa Kouya wo Mezasu
Synopsis: Buntarou doesn't know what he wants to do in the future. He does not have any kind of dream that he wants to pursue, so currently he just spends his days hanging around with his friends. One day, his classmate Sayuki asks him if he wants to help with development of a gal game. She says that she had become interested in his help after she read one his works intended for the drama club.
Buntarou doesn't know anything about gal games, but Sayuki claims that she has the ability to make it a success. Can they make the game, and will it be a success like she claims it will be? This is the story of youths taking a daring step into the unknown…
Studio: Project No.9
Director: Takuya Sato
Creators: Romeo Tanaka, Takahiro
Series Composition: Yuniko Ayana
Notes: The creator of Humanity Has Declined, Romeo Tanaka, wrote the scenario for the visual novel, which will be released March 25.
First Impressions: Let's just say this doesn't look very good. The staff gives me little confidence. Maybe this could be like a combination of Oregairu/D-Frag? Well, maybe not like them, but this has to be something, and I'm not sure it's anything.
18) Kono Subarashii Sekai ni Shukufuku wo!
Synopsis: Kazuma Satou is a hikikomori (shut-in) die-hard fan of games, anime, and manga. A traffic accident brings his disappointingly brief life to an end, or it should have, but he wakes up and sees a beautiful girl who introduces herself as a goddess. She asks him if he'd like to go to another world but he can only bring one thing with him. Kazumi chooses to bring the goddess. With that, he is transported to another world and his great adventure subjugating the demon king begins, but first the hard work of finding food, clothing, and shelter begins. Kazuma wants to live in peace, but the goddess raises one problem after another, and then the demon king's army has its eyes set on him.
Studio: DEEN
Director: Takaomi Kanasaki
Creator: Natsume Akatsuki
Series Composition: Makoto Uezu
Music: Masato Kouda
Notes: Kurone Mishima, the artist for the LN, is also the artist for Yen Press's Devil Is A Part Timer: High School manga.
First Impressions: The only thing that may make this any good is the fact that the Kore wa Zombie Desu Ka? director is working on this, so maybe it'll be crazy enough to avoid being bad. This gives me flashbacks to No Game No Life and Outbreak Company, but I doubt this will be as good as those.
17) Norn9: Norn+Nonet
Synopsis: The story takes place a little in the future. Guided by one particular song, young elementary school student Suzuhara Sorata, from the Heisei Era, is warped through a time skip to an unfamiliar place that looks much like the towns from the Meiji or Taishou period from his textbooks. In this world, he meets three young ladies and nine young men and joins them on a journey aboard the mysterious Norn ship, a giant globe that floats in midair.
Studio: Kinema Citrus
Director: Takao Abo
Producer: Mitsutoshi Ogura
Series Composition: Natsuko Takahashi
Notes: Based off an Otome Game.
First Impressions: Let's just say video games turned into anime don't do well in general. And that also means Otome games don't do so well eighter, at least quality wise. I don't expect this to do that well either, but maybe it'll still be popular though.
16) Phantasy Star Online 2: The Animation
Studio: Telecom Animation Film
Director: Keiichirou Kawaguchi
Series Composition: Mitsutaka Hirota
Notes: This is the first anime for the Phantasy Star Online series.
First Impressions: Basically the same as Norn9, but of concern is the lack of an actual story and how it looks. It seems it'll be a bit like past virtual reality anime like Sword Art Online and .Hack franchise instead of maybe something like Problem Children Are Coming From Another World, Aren't They? where we'll have humans turn into online avatars and whatnot. It's not the worst thing, but with video game history on its side and no story as of this moment, we'll have to see if this will turn out ok.
15) Pandora in the Crimson Shell Ghost Urn
Synopsis: When Nanakorobi Nene, a cybernetically enhanced girl-next-door, heads to the island metropolis of Cenancle to live with her aunt, she has no way of knowing what's in store for her. A chance meeting intertwines her fate with that of the super-rich inventor, Uzal Delilah, and her adorable and grumpy companion, Clarion, who happens to be a cyborg just like Nene. Nene is thrilled to make a friend, but there's more to Uzal and Clarion – and the island of Cenancle itself – than meets the eye. When a super-powered terrorist threatens Cenancle, Uzal claims that the only way to avert disaster is for Nene to team up with Clarion and use their combined powers – abilities Nene never even knew she had.
Studio: Gokumi
Director: Munenori Nawa
Creators: Masamune Shirow, Koshi Rikudo
Series Composition: Tatsuya Takahashi
Music: Technoboys Pulcraft Green-Fund
Notes: Masamune Shirow & Koshi Rikudo's Pandora in the Crimson Shell Ghost Urn manga is licensed by Seven Seas.
First Impressions: You'd think a title by Masamune Shirow, the guy who did Appleseed, might be of interest, but from hearing some reviews of the manga, maybe this won't turn out so well? Well, you combine that with the staff, and you got the makings of an anime that'll hit its target audience perfectly, and others who won't be able to stand it. Probably.
14) Reikenzan: Hoshikuzu-tachi no Utage
Synopsis: In the anime's story, a comet falling will bring about a great calamity, and in order to choose a child fated by the falling comet, the family of the "Reiken" clan with a long storied history is once again resuming its entrance examination process to find disciples. The protagonist, who possesses a special soul that is only available once in a thousand years, decides to take the exam, and he starts down the path toward becoming an exceptional sage.
Studio: DEEN
Director: Iku Suzuki
Creator: Guo Wang Bi Xia
Music: Ryo Kawasaki
Notes: This is based on a Chinese online novel series.
First Impressions: Not entirely sure of what to make of this. It could be a surprise, but we'll just have to get some visuals of it instead of just a picture. The obvious interest stems from its Chinese roots, so we'll get to see how good an online Chinese web novel will do as an anime.
13) Luck & Logic
Synopsis: In the year L.C. 922, mankind faces an unprecedented crisis. Following the conclusion of a hundred-year war on the mythical world of Tetraheaven, the losing Majins sought a safe haven and invaded the human world Septpia. The government is forced is fight by employing Logicalists belonging to ALCA, a special police that protects the streets from foreigners of another world. Logicalists are given a special power that allows them to enter a trance with Goddesses from the other world.
One day, Yoshichika Tsurugi, a civilian who is lacking "Logic" and lives peacefully with his family, meets the beautiful goddess Athena while helping people escape from a Majin attack. She wields the "Logic" that Yoshichika that should have been lost. This leads Yoshichika to an unexpected destiny with Athena.
The future of the world depends on the "Luck" and "Logic" and these Logicalists.
Studio: Doga Kobo
Director: Kouichi Chigira
Series Composition: Yuuya Takahashi
Music: Tatsuya Kato
Notes: The trading card game will hit Japan February 28.
First Impressions: When doing research into this there was one trailer that advertised the upcoming card game and I basically screamed that this anime would be marketing the card game. That doesn't mean it'll be bad, but it certainly makes me think that's where their intentions are. That said, it looks like it'll do well. Doga Kobo has been consistent in some of their titles, Kouichi Chigira directed Full Metal Panic and Rurouni Kenshin (also directed Brave Story), and I think the story can be ok.
12) Ao no Kanata no Four Rhythm
Synopsis: In a world where flying is as simple as riding a bicycle, there is a popular sport called "Flying Circus" (dogfight race). The protagonist who once hoped for a future in this sport suffered a setback due to an overwhelming defeat, and withdrew from the sport for this and some other reason. However, he met the transfer student Asuka Kurashina, and in teaching her to fly the skies, the old passion returned. He takes part in the Flying Circus again
Studio: Gonzo
Director: Fumitoshi Oizaki
Series Composition: Reiko Yoshida
Music: Elements Garden
Note: Based off a visual novel by sprite, who created Koi to Senkyo to Chocolate (Love, Election, & Chocolate)
First Impressions: That note is why I'm interested in this anime. Despite its slow start, I liked that anime a lot, and while this definitely different in concept, I'm curious to see what can be done with it, though I note it doesn't look so good visually in this trailer.
11) Active Raid
Synopsis: Set in a part of Tokyo that has descended into a quagmire, the story follows Unit 8 of the 5th Special Public Security Section's 3rd Mobile Assault Division, popularly called "The Eighth," who don powered armor "Willwear" exoskeletons to counter the rise in crime.
Assistant inspector Asami Kazari is assigned to The Eighth with the task of assessing the unit's status and reporting it to her superiors. But her true goal is to rehabilitate this sloppy, haphazard, justice-less group.
Studio: Production IMS
Director: Gorou Taniguchi, Noriaki Akitaya
Series Composition: Naruhisa Arakawa
Music: Kotaro Nakagawa
Note: Is a two season show, so episodes will air this Winter, will air in Summer.
First Impressions: I guess a better note is I tried to watch the trailer of this anime on its website, and well, was region locked. So I don't know what to make of this aside from we got maybe a mecha show that happens to be backed by the director of Code Geass. We'll see if that's a good thing.
10) Divine Gate
Synopsis: When the Divine Gate opened, the living world, the heavens, and the underworld became connected, ushering an era of chaos where desires and conflict intersect. To restore order, the World Council is formed. As peace is restored, the Divine Gate becomes an urban legend.
In that world, boys and girls deemed fit by the World Council are gathered. They are ones who aim to reach the gate for their personal objectives. Those who reach the gate can remake the world.
What lies beyond the gate? When they reach the door, will the world change? Will it be the past that changes, or will it be the future?
Studio: Pierrot
Director: Noriyuki Abe
Series Composition: Natsuko Takahashi
Music: Takumi Ozawa
Notes: This is based off a free panel RPG where you solve puzzles and find treasure.
First Impressions: This is based off a game so chances are this will be poor, but the trailer wasn't terrible, and this feels more interesting than anything else.
9) Shouwa Genroku Rakugo Shinjuu
Synopsis: When a certain man is released from prison, he knows exactly where he's heading first. After falling in love with a traditional comic storyteller's rendition of the story called "Shinigami," he is determined to become his apprentice. The performer, Yakumo, has never taken an apprentice before, but to everyone's surprise, he accepts the eager ex-prisoner, nicknaming him "Yotaro."
As Yotaro happily begins his new life, he meets others in Yakumo's life, including Yakumo's ward Konatsu. Konatsu was the daughter of a famous storyteller, and Yakumo took her in after her father's tragic death. Konatsu loved her father's storytelling, and would love to become a performer in her own right—but that path is not available for women.
Studio: DEEN
Director: Mamoru Hatakeyama
Series Composition: Jun Kumagai
Music: Kana Shibue
Notes: This won the Best General Manga award in the 38th Kodansha Awards in 2014.
First Impressions: I'm not sure if this is gonna be any good, and with it potentially getting wrapped in too much Japanese culture it may get too informative for my tastes, but from what I've seen looks really funny. I have to go check it out I think, it looks crazy enough for sure.
8) Haruchika: Haruta to Chika wa Seishun Suru
Synopsis: Haruta and Chika are members of their high school wind instrument club that is on the verge of being shut down. The two are childhood friends, and they spend their days practicing hard while also trying to recruit new members. When a certain incident happens within their school, they work together to solve it.
Studio: P.A Works
Director: Masazaku Hashimoto
Creator: Sei Hoshino
Series Composer: Reiko Yoshida
Music: Shiro Hamaguchi
Notes: If the art style looks familiar, it might be because the character designer is the same one who's done Ground Control to Psychoelectric Girl and the more famous Love Live! anime series.
First Impressions: Oh hey, P.A Works, coming off the acclaimed Shirobako and not nearly as acclaimed Charlotte, returning with this weird show. Ok, it's not that weird, but I guess I'm interested to see if they can at least bring my interest back in their works with this title.
7) DAGASHIKASHI
Synopsis: Kokonotsu Shikada does not want to inherit his family's rural candy store as his father wishes. A girl named Hotaru, who's crazy about small-time candy stores, appears at the store and repeatedly visits in order to convince him to take it over.
Studio: Feel
Director: Shigehito Takayanagi
Creator: Kotoyama
Series Composer: Shigehito Takayanagi
Note: This manga is serialized in Shogakukan's Weekly Shonen Sunday.
First Impressions: This may be too high, but if Shigehito Takayanagi, the guy who directed The World Only Knows, has something to say about how good this can be, then this might be a fun surprise. It does look like it'll be funny at least.
6) Bubuki Buranki
Synopsis: When Azuma Ikki returns to Japan after 10 years, he gets assaulted by a group of armed men and becomes their prisoner. Kogane Asabuki, a childhood friend, saves him with a weapon on her right hand known as Bubuki; a weapon with its own mind. Azuma Ikki, who is a Bubuki user himself, learns about the existence of Bubuki and goes on a journey alongside the companions he has found, in an attempt to find and revive Oumai, a Buranki (titan) who sleeps underground.
Studio: SANZIGEN
Director: Daizen Komatsuda
Series Composer: Yukinori Kitajima
Music: Masaru Yokoyama
Note: This is the 10th year SANZIGEN has been in studio, and this title commemorates its debut in 2005.
First Impressions: While they all look like kids, I liked this trailer. Based on that and its synopsis, this could be a title that can surprise. Or disappoint. But since SANZIGEN's gonna do what they can to make their 10th anniversary title be a success, it better be good.
5) Prince of Stride: Alternative
Synopsis: The series is about an extreme form of sport known as "Stride." It involves 6 players on a team that runs relay races in towns. The story takes place at Honan Academy where first year high school students Takeru Fujiwara and Nana Sakurai try to recruit members for their "Stride" club. They request Riku Yagami to join with the help of Takeru and Nana. Their goal is to compete and win the "End of Summer," a top competition hosted in Japan alongside other schools.
Studio: Madhouse
Director: Atsuko Ishizuka
Series Composer: Taku Kishimoto
Notes: Based off an otome game.
First Impressions: Wasn't even gonna give this title all the attention it needed since it's another anime based off an Otome game until I checked the staff. Big mistake. My man Taku Kishimoto's working on this. He's happened to work on my two favorite titles (Bunny Drop, Silver Spoon), and has had success with Haikyuu. After Silver Spoon I've vowed not to try and miss his works. Ok, I'm gonna work on Haikyuu at some point, but otherwise I won't try and miss this one.
4) Myriad Colors Phantom World
Synopsis: In the near future, spirits and monsters are in full sight. A boy leads a group of people with special abilities as they plot against a massive organization that takes advantage of a certain incident and eventually know the truth about their world in the process.
Studio: Kyoto Animation
Director: Tatsuya Ishihara
Creator: Souichiro Hatano
Series Composition: Fumihiko Shimo
Notes: This will be KyoAni's first TV work since Sound! Euphonium.
First Impressions: I'm pretty concerned that this seems like another generic light novel, but so far I've liked their past works, heard great things about Sound! Euphonium, got a veteran staff, and the trailer looks ok. I guess I have to at least give it a few episodes I think.
3) Ajin
Synopsis: Ajin are humans that cannot die. Seventeen years ago, they first appeared on a battlefield in Africa. From then on, more of their kind are discovered within the human society. Their rarity in appearance means that, for experimental purposes, the government will generously reward anyone who captures one. In the present day, for what a certain high school student expects to be a typical summer holiday, his life is about to turn unexpected…
Studio: Polygon Pictures
Director: Hiroyuki Seshita, Hiroaki Andou
Creators: Tsuina Miura, Gamon Sakurai
Music: Yugo Kanno
Note: The manga is licensed by Vertical Inc. You can read it online on Crunchyroll.
First Impressions: You can tell I expect this to be picked up by Netflix, but I'm not all that sure. Whatever the case, the material it's based off of is solid, so combine that with the staff, this should be worth watching this season.
2) Erased
Synopsis: Struggling manga author Satoru Fujinuma is beset by his fear to express himself. However, he has a supernatural ability of being forced to prevent deaths and catastrophes by being sent back in time before the incident occurred, repeating time until the accident is prevented. One day, he gets involved in an accident that has him framed as a murderer. Desperate to save the victim, he sends himself back in time only to find himself as a grade-schooler one month before fellow classmate Kayo Hinazuki went missing. Satoru now embarks on a new quest: to save Kayo and solve the mystery behind her disappearance.
Studio: A-1 Pictures
Director: Tomohiko Itou
Creator: Kei Sanbe
Series Composition: Taku Kishimoto
Music: Yuki Kajiura
Notes: It's one of only 3 seinen manga adapted into a TV anime this season.
First Impressions: So I was pretty sure I was gonna avoid this since this was a mystery anime. I was certain I was gonna avoid them since the past few years of mystery/detective anime have not been really good to me at least. Then I saw the staff series. I saw Erased has my favorite series composer, Taku Kishimoto on this. I think I mentioned how good he is with Prince of Stride: Alternative. I'm again expecting nothing but the best from him, and everyone else (I mean Yuki Kajiura's on this!).
1) Dimension W
Synopsis: In the year 2072, the world's energy problems seem solved by a network of cross-dimensional electric-field inductors—"coils"—that extract energy from a seemingly infinite source. That source is the W dimension, a fourth plane that exists beyond the X, Y, and Z dimensions.
In this world, unofficial "illegal" coils harness powers that the police can't hope to counter. Dealing with these coils is the job of coil-hating repo man Kyoma, whose run-in with the unique coil android Mira leads the two to form a reluctant partnership.
Studio: Studio 3Hz, Orange
Director: Kanta Kamei
Creator: Yuuji Iwahara
Series Composition: Shoutarou Suga
Music: Yoshiaki Fujisawa
Note: FUNimation is also a part of this anime's production; Yen Press will be releasing it in February.
First Impressions: Was pretty certain I wasn't gonna rank it this high when initially looking at the field, but then got a chance to see who created it and who's directing it, and…I have hope. This is it Kanta Kamei. I feel like you've had to turn mud into silver with the past couple titles you've worked on since Bunny Drop. You have a chance to turn what seems to be a quality title into something great. If nothing else FUNimation's gonna do whatever it takes to make this a success, so…yeah…
…I got nothing. It does look interesting though.