Enter for a chance to win a copy of the upcoming light novel title.
It's been a while since there was a site wide contest, so here it is: an opportunity to win Vol 1 of Wataru Watari's My Youth Romantic Comedy is Wrong as I Expected (Oregairu) novel series. Published by Yen Press, one winner will have the opportunity to receive the 8.3-inch x 5.5-inch printed book.
Until Thursday Sep 15 at 3PM EST, we'll be accepting entries from those in North America. To enter, all you need to do is leave a comment below! (see below for 3 additional entry methods)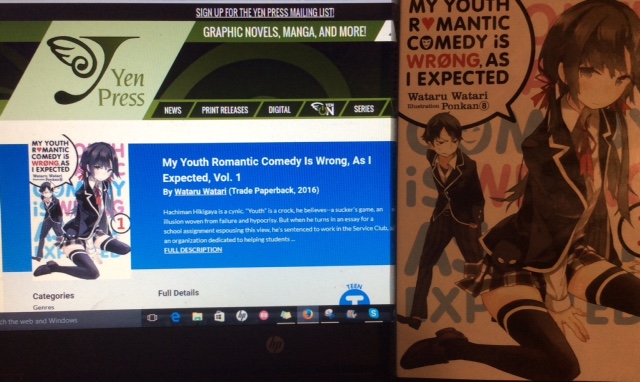 The official rules
How do you enter?
#1: Comment on this post!
For additional or alternate entries:
#2: TheOASG Twitter. Follow our Twitter, TheOASG and RT the Oregairu Giveaway tweet (you must do both for the extra entry). Already following us? Just RT the contest post.
#3: TheOASG Facebook. Like our Facebook TheOASG page, then like and share the Oregairu Giveaway post. Just share the contest post if you've already liked the page.
#4: TheOASG Instagram. Follow us on our Instagram TheOASG, and like the contest post to be etntered.
Entries are accepted for a week. September 15, 3PM EST is when it ends and we will no longer take entries. The winner will be randomly selected and is expected to be announced Friday the 16th. The winner must respond within 48 hours of notification or we will draw again and choose a new winner.
Good luck to everyone entering, and thanks!