When being a cynic and anti-social is involved, an anti-social genius is on the case!...Wait, what?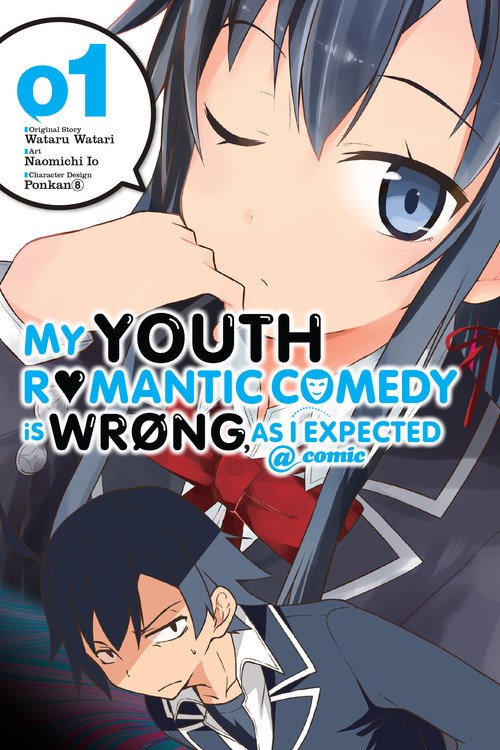 The manga adaptation of one of the bestselling light novel franchises in Japan brings high school cynicism face-to-face with youthful enthusiasm in this bittersweet comedy of errors!

Hachiman Hikigaya is a cynic. He believes "youth" is a crock-a sucker's game, an illusion woven from failure and hypocrisy. Unsurprisingly, he's not the most popular guy. Meanwhile, there's Yukino Yukinoshita-brilliant, beautiful, and chillier than winter in Antarctica. Would you believe she's not exactly beloved by her classmates either? The unlikely pair gets forced into a club dedicated to helping solve their fellow students' problems. But will an ice queen and a screwup really be able to help anybody?
---
I admit, the only time I remembered My Youth Romantic Comedy is Wrong As I Expected, or Yahari Ore no Seishun Love Comedy wa Machigatteiru (I will now refer to this title as Oregairu for short) was when Anime Expo happened. I was sitting down when Yen Press announced the title. I tweeted it, and it got RT'd by a bunch of people that watched the anime.
Probably.
We now shift to July. The light novel the anime's based on isn't actually going to be released until September. So, what we have here is its imitation in comic form, hence the @ comic moniker at the end. The imitation's not terrible. It's just unmemorable.
Hachiman Hikigaya is a second year student at Chiba City Municipal Soubu High School, and is one of the most apathetic kids in manga history. He categorizes people who have friends and seem to have a life as "Normies," and generally enjoys the solitude of being a loner. The issue for him is when he writes those feelings to his teacher. His teacher, who's conscious of her age and shounen manga, realizes he needs help, so he sends him to the service club. He then meets Yukino Yukinoshita, and from there their similarities and differences clash as they try to help those who are in need of help.
I called this an imitation, and parts of it are nice to see in manga form. For example, one drawing by Naomichi Io showcased how pretty Yukino is, but it's how we see it from Hachiman, the lone wolf's perspective that makes it stand out — but in other cases it's unremarkable, looking kind of slapdash in areas, and unspectacular in others.
The characters have the personalities you'd hope for — not completely boring — but their way of talking can get pretty annoying. Do high schoolers talk like they understand the way the world works/worry about this stuff? It's not egregious for them to act this way, but aside from Hachiman's care for his sister, or Yukino's addiction to being a critic, they don't feel engaging, and I wonder if there's just some detail left off that couldn't be expressed in manga form.
The stories of the people they help aren't many since it mostly ventured to establish those two first, but the last one with the chunnibyou struck kid who wrote a LN was the only thing that stood out to me as something to remember. I assume it's because of the savage way the Service Club trashed his LN.
It might be able to build itself up as it introduces more characters, and then after it introduces its club members the actual shine will come through. Otherwise, Oregairu doesn't really stand out for the most part.
A review copy has been provided by the publisher.