Here's the hidden easter egg that you'll only notice when you turn off your lights.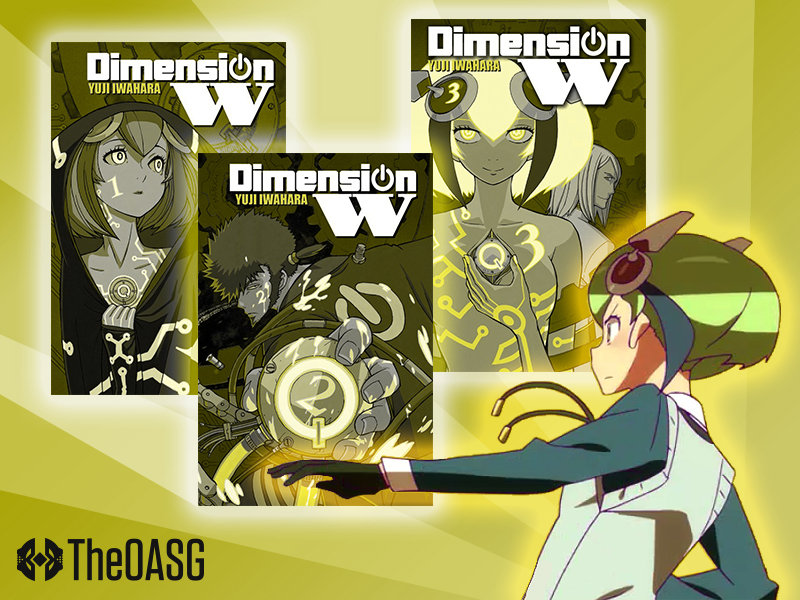 Imagine 5 years from now when you go to bed, turn off your lights, start staring at your manga shelf with the spines sticking out, and you immediately notice your 15 volumes of Dimension W glow in the dark, forming a symbol.
Okay, it's too early to say anything will actually form the more you collect Yuuji Iwahara's Dimension W manga. But right now, it's hard to notice you purchased a manga that glows in the dark. Just wait until you see Volume 3, where it's obvious once you turn off your light that the cover has a different look and feel to it.
For those who are reading it or watched the anime, the story is set in a distant future where a fourth dimensional axis (called Dimension W) exists, and electromagnetic devices called Coils are used to draw out the supply of energy that exists in that axis. Energy is a big plot point in the series — but to further emphasize that by enhancing the design? There have been manga covers that have had compelling designs — the first edition of Osamu Tezuka's Ode to Kirihito, Norihiro Yagi's Claymore, to name a few — but in talking to people, there hasn't been a series they know of that glows in the dark.
"Wasn't it a nice little surprise when you turned off the lights and found your books to be glowing?" said Wendy Chan, Senior Designer at Yen Press, when I reached out to her by email. She did not work on the design, but she did explain the process, which involved using a liquid spray after it's printed. "It takes a bit of time to do any kind of special effects on books. When Kirk Benshoff, the designer who worked on the cover for volume 1-2, set up his file, he worked in layers. The first layer is the cover itself and the second layer is where you would then call out the areas that you would like the special effect to hit on the cover."
You'd think this is a case of going too far for one title. But Yen's simply doing what Square Enix is doing in Japan. "The Japanese covers glow in the dark too," mentioned Amanda Haley, who's translating the series. Of course, not everyone figured it out unless it was time to wind the day down — that goes for Dimension W's letterer, Phil Christie, who turned off his lights for bed, only to see a glow on his shelf. That also goes for Kate O'Neil (she reviewed the anime series at Fandom Post), who excitedly discovered her manga copy glowed in the dark at her family's lake cottage.
"It certainly is a novel choice," said the pre-press technician by day, "because it's likely not to be noticed until someone buys the book."
This was certainly something freelance letterer Annaliese Christman didn't expect, as she purchased the JP editions since Iwahara worked on King of Thorns and Cat Paradise. "I didn't buy the books because the covers glow in the dark, so finding out about it was a neat surprise. It's something they don't need to do, but since they did, it feels like they gave it a bit more attention, a bit more love."
So does this mean more manga should do more stuff like this?
"I think if it ties in with the manga then it's a great idea," said Phil when I asked him this question. "If it doesn't tie in with the manga then it would still be cool but probably wouldn't pack the same punch."
"Anytime I see a publisher doing something neat or unusual with a product it makes me happy," said Kate, who mentioned earlier in the conversation how most manga buyers are collectors, so this is a welcome addition.
"The fact that the covers glow in the dark make me want to display them," said Annaliese, "not just as books, but as cool art pieces. I would love more series to do things like this."
Have any of you purchased Dimension W, either the Japanese or English versions? If it's sold elsewhere, like in France, U.K, etc, is that also the case? If you did, how did you notice your copy of Dimension W glows in the dark? And do you like it glowing like so? Feel free to comment below.