Daisuki is shutting down its services at the end of October. Krystallina takes a look back at Daisuki's beginnings and theorizes why the platform is done.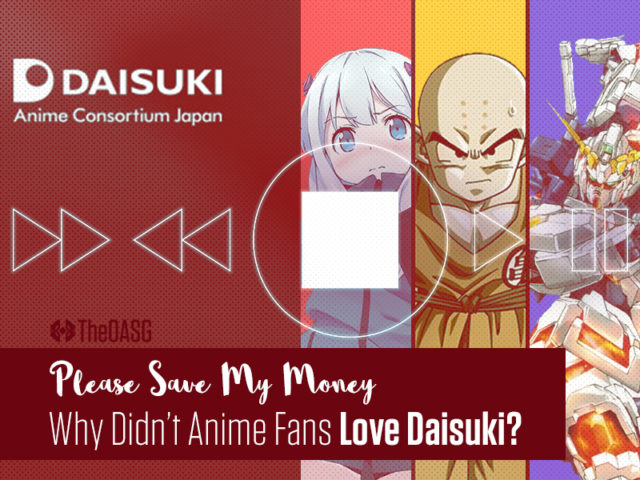 Right after news of the Sony/FUNimation deal broke, anime fans were hit with another announcement that shook the industry: anime streaming site Daisuki will be closing in October.
A Brief History
Launched in 2013, Daisuki was backed by several anime studios and production companies including TOEI, Sunrise, and Aniplex. The aim was to have Daisuki become the one-stop anime streaming site. As their CEO explained:
"Well, for example, you can watch One Piece on Funimation. You can watch [Madoka Magica] on Crunchyroll. You can see each show at a certain website, but fans don't want to take the trouble to look at a lot of different websites. It's not exclusive, but you can see all the shows on Daisuki."
Later, Daisuki was merged into the jointly-owned Anime Consortium Japan, which is now fully helmed by Bandai Namco Holdings. Daisuki had its own web streaming site and Android/iOS apps, but the also posted some of their shows on YouTube. A lot of series Daisuki hosted were available elsewhere on Crunchyroll, Anime Network Online, and other streaming sites, but they did have their own exclusives like the older series Aura Battler Dunbine and Mama is a 4th Grader. Shows could be watched for free, but in July 2016, they launched a Premium level membership for $5 a month. This allowed users to access simulcasts and some older shows only available to Premium members. A good number of their series had worldwide streaming rights, a rarity for streaming sites. They also featured some additional content like concerts, interviews, and musicals.
Well, as of this Halloween, Daisuki will be shutting down. According to their schedule: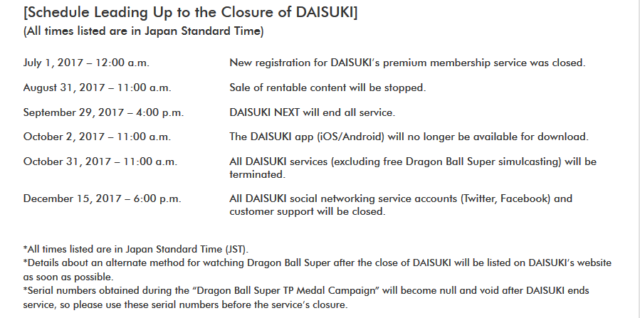 Dragon Ball Super simulcasts will continue to be offered even after Daisuki closes. No details on this version of Daisuki is yet available. Premium members haven't been charged since the end of June but will continue to receive Premium benefits until October 31st.
What Went Wrong?
So why, despite the backing of several major studios, is Daisuki being forced to shut down? (Well, excluding Dragon Ball Super of course.) Here are my thoughts:
Can't Fight the Exclusives
The idea of a "one place that has it all" sounds appealing, but when everyone has exclusives anyway, people are going to gravitate to the ones they're used to. Exclusives aren't going to go away because no one wants to give one company a monopoly and all that sweet, sweet cash.
Wide Yet Not Deep Catalog
Daisuki was a jack-of-all-trades and a master of none. What got me first excited early on in Daisuki's lifespan was the Hakuoki musicals. It seems like every major franchise is getting a stage play nowadays, they haven't made a lot of inroads here. But out of the several incarnations, only two were subbed. Daisuki also got several older titles, something I really appreciated in all this racing to catch the next big hit. But it never delved too deeply into any one aspect, and that probably hurt Daisuki.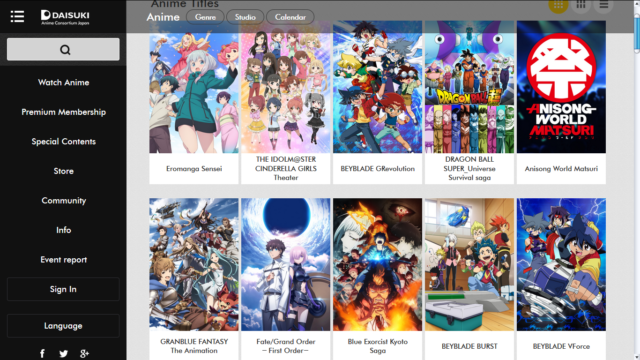 Premium level support came too late.
Daisuki wanted to make a lot of their money through merchandise sales. Free viewing is wonderful for the fans, but considering a lot of people in territories outside of North America don't have a lot of streaming options, I bet a lot of people would have supported Daisuki if Premium had been offered earlier — and this financial support could have helped in pursuing more exclusives.
The Realignment of the Anime Market
Amazon, Netflix, and now Sony-Funimation. Need I say more? Daisuki was backed by several anime studios, but if other sites are offering you more cash than you would get on your own platform, you probably would take the deal too.
Final Thoughts
I imagine there will be a lot of shakeups in the anime streaming world in the months to come. Hopefully this won't mean more will be walking the path of Daisuki's closing, but I do hope someone will continue with some of Daisuki's best ideas: worldwide streaming rights, free viewing, and other features to watch besides anime itself.
Are you saddened by Daisuki's upcoming closure? How often did you visit Daisuki? What should the next Daisuki-like site do to avoid a similar fate? Do you want to see more Japanese-related content besides anime streamed, or is it a fool's errand to chase after this market?