ComiXology recently launched ComiXology Unlimited, an all-you-can-consume monthly subscription plan. Is it worth it for manga fans?
The Program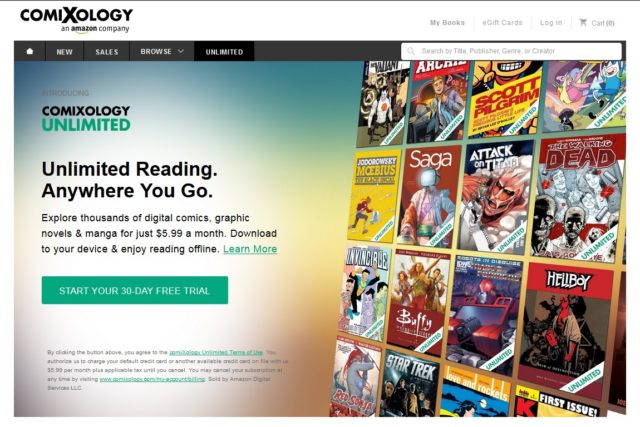 ComiXology Unlimited costs $5.99 a month. In return, subscribers can access thousands of comics. Issues can be read online or downloaded for offline reading, but the Unlimited program does not provide access to the entire ComiXology catalog. The program is currently only available in the U.S., and users need an Amazon account for "this and other future features." ComiXology CEO David Steinberger stated that the initial goal of ComiXology Unlimited is to focus on "enlarging the comic book reading audience" so that customers "explore and get attached to many" different comics. ComiXology is currently offering free 30-day trials to its Unlimited program.
The Offerings
ComiXology Unlimited includes many big hits from a variety of genres and formats, from classic Peanuts to comic adaptations of The Walking Dead to manga like Attack on Titan. The subscription includes access to early and initial volumes of series and not current issues. As for publishers, Western comics fans will notice the absence of the two comic giants DC and Marvel comics. For manga fans, the list is even more disappointing: only Kodansha Comics (including series published by themselves and Vertical, Inc.) and Dark Horse titles along with one Archaia Entertainment release are included.
From their catalogs, the list is rather small at less than 40 volumes.
Volumes 1 thorough 4:
Lone Wolf and Cub
Volumes 1 through 3:
My Wife is Wagatsuma-san
Negima! [Omnibus format]
Neon Genesis Evangelion: The Shinji Ikari Raising Project
The Seven Deadly Sins
Volume 1:
Appleseed
Arisa
As the Gods Will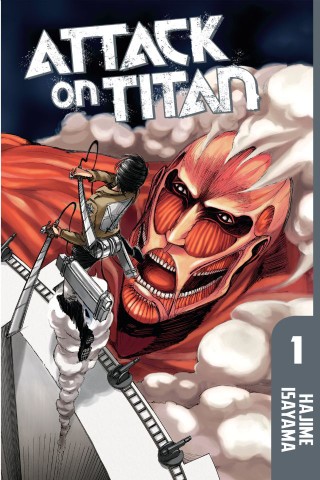 Attack on Titan
Attack on Titan: Before the Fall
Basilisk
Bloody Monday
Chi's Sweet Home
Coppelion
Cyborg 009 [remake]
Dominion
Fairy Tail
Fort of Apocalypse
Knights of Sidonia
Love Hina
Mardock Scramble
Missions of Love
No. 6
Parasyte
Sankarea
Sherlock Bones
A Silent Voice
Space Brothers
UQ Holder!
Yamada-kun and the Seven Witches
Your Lie in April
ComiXology plans to add more titles over time, and some may eventually be removed. In fact, many creators say they were blindsided by ComiXology's announcement and are trying to get their series pulled. Currently, no Unlimited exclusives are planned.
Value
So, should manga fans subscribe?
Only if you want the 30-day trial so you can read most — or even all — of the manga within a month. Beyond that, you'll be spending most of your time reading Western comics.
To start, first volumes are almost always the cheapest to buy. Publishers want to hook you so that you'll buy all future volumes, so they put the first few on sale so that you'll be tempted to try it out. Barnes & Noble has been putting volume ones on their Manga Monday sales recently for 50% off. Platforms like ComiXology and Viz Manga (which doesn't have manga included in ComiXology Unlimited) often have flash sales on digital titles. Lots of people start a series, find out they don't like it, and then sell them on eBay or to stores like Hastings. All these make initial volumes the cheapest to acquire (often 50%+ off).
While Western comics often have stand-alone plots, manga often has storylines that last for volumes. Fairy Tail, for instance, is currently up to Volume 53, with 54 due in June. With Volume 1 retails for $6.99 and an Unlimited subscription is $5.99, you would be saving $1 plus accessing many other books for free. However, does that one volume really do much when you are over fifty books behind the current story? You are better off waiting for digital manga bundles.
In addition, take Chi's Sweet Home for instance. Sure, the first volume (and all additional ones) costs $7.99 for a digital copy. However, it is currently being released physically in omnibus format for $24.95. So while the MSRP per volume is slightly higher, buyers are also treated to bonus comics in an oversized format. The book has also been currently hovering around $17 on ComiXology parent Amazon's store. It's been available for about the same price at Barnes & Noble, and they recently offered 20% off plus free shipping to everyone. So if you are seriously become interested in a series like Chi's Sweet Home, you'll end up paying $7.99 x 2 to acquire the second and third volumes digitally (not to mention your Unlimited subscription) when you could have bought the enhanced physical omnibus for about the same price.
In ComiXology's defense, $6 a month is far cheaper to try out a bunch of different series than even a $2 digital sale. However, first chapters of series are often available online for free, and you can also borrow volumes from your local library. Even if your branch doesn't carry a title, the library itself may be able to acquire a copy to lend to you. Library cards? Typically $0. You can't beat free.
Finally, ComiXology Unlimited faces its stiffest challenge for manga fans in the form of Crunchyroll. Crunchyroll has 50 different manga series available, almost 20 more than ComiXology's Unlimited list, and the $6.95 a month membership fee also includes anime and drama shows. The two programs also share some series. The first three volumes of The Seven Deadly Sins is included with Unlimited, but the entire series — including the latest chapters — are available with a Crunchyroll Premium membership. Crunchyroll also pulls chapters of some titles, but you also gain several new chapters of various series per month.
Final Thoughts
Perhaps in the future ComiXology Unlimited will be worth it for manga fans. Crunchyroll's manga lineup wasn't that impressive when it first launched. It's not that ComiXology needs more titles (although that would be nice); they need more volumes. The fear of any digital "all-you-can-consume" subscription is that someone will join, binge on what they really want to see or read, and then cancel. However, Amazon's Kindle Unlimited, Netflix, and a whole bunch of other companies successfully operate on such a model. Right now, Unlimited is a paid sampler program, and this format doesn't suit manga. If you do want to try out a series, you have other options.
So, are you interested in ComiXology Unlimited?