Is it really too early to think about getting anime, manga, and other stuff right now? Not so if you want to get the best deals.
In my family, we have a rule: if you don't tell me what you want for Christmas by October 1st, you get nothing. (Well, not literally nothing. Just whatever I buy.) I've always pushed to let me know early so I can shop around, but I started setting a firm date a few years ago. Amazon was having an amazing sale on used and refurbished iPhones, but my parents were insisting we didn't need smartphones. So I let the deal go by, knowing it was a hot price. Well, just a few days later, my dad suddenly announces he wants an iPod Touch. He still ended up getting one, but it had cost more than what the iPhone was going for, which he could have used either as a cell or a Wi-Fi only device. He still uses it almost every day, but that was why I set a hard cut-off line.
But why so early? It's not Thanksgiving or Black Friday yet!
Let's take a look at all the holidays, celebrations, and big events before Thanksgiving:
Columbus Day
Halloween
U.S. Presidential Election
Veterans Day
Stores are always looking for an excuse to have a sale, especially on days when people are likely to have days off or have a reason to be out and about. Before Thanksgiving, there are two federal holidays, one unofficial but popular holiday, and an event that will determine who will lead this country for the next four years. Of course stores are going to try to get customers as families parade around with their children in costumes or as people honor those who have served. For anime and manga fans, it wouldn't surprise me to see discounts like a good Barnes & Noble coupon or a horror-themed sale at Right Stuf during these special days.
But Black Friday will have better deals, right?
Some stuff will be undoubtedly be the lowest price of the year. For instance, last year's Black Friday deal on Splatoon ($25 at Walmart) has not been beaten.
However, I have found plenty of deals before Black Friday that were as good or better than the doorbuster pricing on Black Friday. Several years ago, I got this Monster High dollhouse at Kmart for $35 – $3 coupon plus $5 in reward points in October. Toys R Us had it as a doorbuster for a only a few hours at $30 on Thanksgiving. The sale at Kmart was valid for a whole week! Sailor Moon and other Blu-rays were available for $20 starting at the beginning of November. If you were the kind of shopper who didn't start looking until Black Friday, you probably missed it.
"Black Friday" is also extending into Thanksgiving week… and now even weeks beforehand. Right Stuf usually kicks off their big holiday sale in mid November. There's also another wrinkle this year. If stores like Barnes and Noble are worried about the election now, then I hate to break it to them: the election this year is the latest date it can possibly be. That leaves only a little over two weeks until Thanksgiving, and Veterans Day is also the same week as Election Day. Again, expect a lot of deals to lure out wary shoppers.
In my area at least, they seem to be doing that already. Some of the stores I've visited are practically giving things away: craft and home items for 90% off plus an additional 25% off, board games for $1, video games for $3, mailing supplies for free, and much more. Stores are still clearancing out back-to-school items, and they'll do the same after Halloween and the election. Of course, most of these items are not gifts I would normally go out and search for. But for 50, 75, even 95% off, you bet they make great gifts!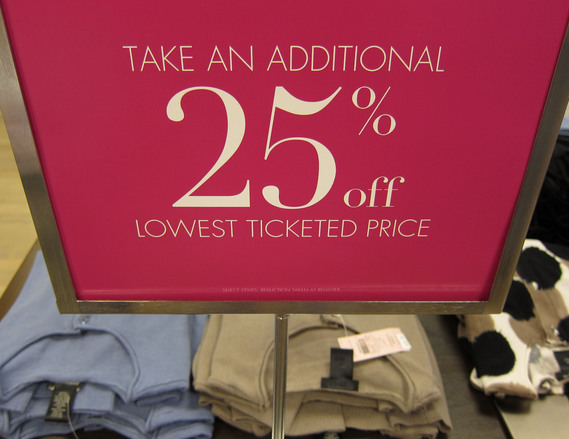 But what if it's cheaper on Black Friday?
Many times, that's the chance you take. However, many stores offer a 30-day return policy. Depending on when you buy, that takes you into November. Stores will start releasing their Black Friday ads (or have their ads leaked) by early November, giving you a chance to see if it will be cheaper. By the time November rolls around, many stores will switch to their extended holiday return policy, making it so that you can return any item purchased in November or December until January. (Hang on to your receipts though for easy returns!)
In my earlier Monster High example, even without the coupon and points, $5 is a bargain to avoid having to stand in line on Thanksgiving, trying to find the item, be one of the lucky ones to grab one, and make it through the checkout line.
It's too early to think about holiday shopping!
Yes, I know. Most of us are adjusting to the drops in temperature, the leaves starting to pile up on our lawns, and are dreaming of next year's summer vacation. We don't want to think about snow and shopping crowds! For your wallet's sake, however, start shopping now. If you are really good, you might have many gifts already purchased!
Okay, but shopping is a lot of work…
Well, if you are a big-time bargain shopper, it can be tiring. It doesn't have to be, though. Use tools like Camel Camel Camel to track pricing. Add an item to cart and check daily to see if the price has dropped. Sign up for store emails and hope a good coupon will come your way. Take a quick swing by clearance sections when you go to pick up a gallon of milk. Do a Google search instead of watching one more anime music video.
But can I really find good deals on anime and manga merchandise? It's not like they're sold at a lot of retailers.
Yes, unfortunately, you're going to have a much more difficult time finding deals on anime and manga products than, say, Frozen or Star Wars merchandise. You can find a lot more merchandise now at local stores than ever before. Recently, I've seen Dragon Ball Z figures 50% off at Barnes & Noble. I picked up a Yo-kai Watch lunchbox at Staples for $1. I saw One Piece: Burning Blood for Xbox One for $10.00. One-Punch Man volumes for under $5. Pokemon shirts for $3. The deals can be found. You might need a bit of luck (or, depending on where you live, a lot of luck), but anime-related deals are out there.
Final Thoughts
All this doesn't mean you should have all your shopping done within the next couple of weeks. You might find what you need at a better price before Black Friday, but you might not. However, you want to start looking now. Keep your eyes open. Do research to make an informed decision. Hey, you might not only find a gift for someone you care about, but a deal for yourself as well!
So, do any of you have some holiday shopping done already? Are you the kind of person who gets their shopping done early, or do you scramble at the last minute? Any particular items you're hoping to find a deal on during the shopping season?