If you ever worked on a fan fiction where the two biggest anime companies were involved, congratulations, your fan fiction just became real. But what does that mean for the industry?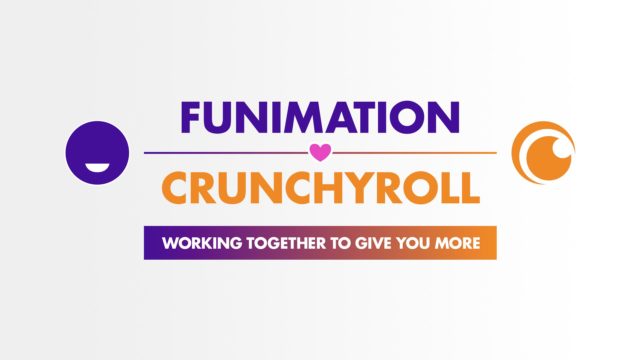 History is filled with weird crossovers and collaborations. Momoiro Clover Z and Kiss. The Brady Bunch and Superman. Disney and Squaresoft (later Square Enix). Archie and The Punisher. But the latest joint venture has certainly stirred the anime community: Crunchyroll and FUNimation are teaming up.
What the Partnership is Not
I find it easier to first discuss what this doesn't mean before discussing what it does mean. Most importantly, Crunchyroll and FUNimation are not merging. That means there's not going to be a site called Crunchymation or a FUNiroll coming up in the near future. There's also no joint discount or "all together" pricing, meaning that many fans will still feel forced to pay for both or choose one or the other.
However, according to Anime News Network, the new agreement between the companies currently only applies to the U.S. and Canada. Some of FUNimation's series — like Grimgar of Fantasy and Ash and First Love Monster — are now available to stream in countries like South America, Norway, and Denmark, but others like Cowboy Bebop are limited to the U.S. and Canada. Sorry, rest of the world. We also don't know how long they are planning to team up. This could be old news in a year, or perhaps they will make their partnership permanent.
What the Partnership is
So what is going on with these two anime giants? In short, Crunchyroll is taking on most of the anime subs, FUNimation the dubs. FUNimation will handle distributing Crunchyroll home releases and are already preparing to launch broadcast dubs for some of this season's shows (91 Days, Mob Psycho 100, and Orange). Crunchyroll will be streaming subtitled versions of both current and older FUNimation shows like D. Gray-man Hallow and Cowboy Bebop.
FUNimation is also simplifying their streaming service. Their premium package — called FUNimation Now – will be $5.99 a month or $59.99. This is cheaper than the previous all-access plan (with no ads) at $7.99 a month but more expensive than their limited package of $4.99 a month.
So, is this good news or bad? Let's take a look at the winners and losers.
The Winners:
Anime Fans
Fans should be able to find a lot more shows with less confusion on which major anime service is doing a certain anime's simulcast or wondering whether an English dub is impossible for certain series. Also, for most people, this will be cheaper. If you're mainly a sub or dub person, you can choose to subscribe to one or the other. If you go with both, FUNimation's new pricing means a savings for nearly everyone; only those who subscribed to their subs-only package will see a bigger hit to their pocketbooks.
Crunchyroll and FUNimation
The two companies shouldn't be driving up the cost to license anime through bidding wars anymore. They can also concentrate on their specialties and complement with each other, not compete.
Other Anime Licensors
Well, if the two biggest competitors are only putting in one bid together, video sites like Amazon and Netflix will have one less competitor and can probably outspend them for a lesser amount than if they had more companies interested in a title. Japanese companies may also want to take chances with other distributors in order to avoid Crunchyroll and Funimation being the only option for streaming in the United States (and Canada).
Losers:
Other Anime Licensors
Wait, what? I just said they were winners! Well, the other distributors — from competitors who focus on physical releases like Discotek to digital sites like Netflix — probably are worried about Crunchyroll and FUNimation basically becoming a monopoly. If these two already make up a large amount of anime watchers in North America, how are they supposed to compete?
International Fans
Well, at least Canada is included! Otherwise, nothing is going to change for you.
Anime Studios
Crunchyroll and FUNimation make up a large portion of the anime market in North America, but Japanese companies can no longer facilitate bidding wars between the two. They still have other outlets like Amazon Video, Netflix, Hulu, Daisuki, and Viewster to add some competition, but the network executives are not going to happy that two of their biggest clients aren't going to be beating down their doors.
Sentai Filmworks
Sentai Filmworks was the company responsible for Blu-ray/DVD versions for a good number of Crunchyroll shows. Then Crunchyroll announced they would start into home releases, and now there's the whole FUNimation partnership. So I'm guessing they'll either be stuck with the leftovers of the leftovers or will need to alter their strategy.
Whiners
I don't put anyone down if they can't afford an anime subscription. I do put down people who aren't grateful that anime is licensed and available for free legally. But now that the catalogs are slowly merging, there is even more anime options to give you a reason to subscribe. If you don't, that's fine. Just don't be one of those complainers who whine that they have to wait a WHOLE WEEK and with ads to be able to watch it. These "fans" want everything ad-free in HD the same day as Japan. For obvious reasons, this isn't going to happen. The fact that Crunchyroll and FUNimation had to team up is proof, but no doubt that some anime watchers will see this as a step in the wrong direction from "free-for-all".
Final Thoughts
This was certainly surprising news, but it should mean more anime — both subbed and dubbed. I don't think there's too much downside… unless you're a Sentai Filmworks fan or employee.
So, what do you think about the news? Are you excited? Disappointed? Worried? Leave a comment and let me know!