In this week's Please Save My Money, Krystallina's trying desperately to figure out what the Pokemon Channel on Amazon is catering to. She's not having the best of luck figuring it out.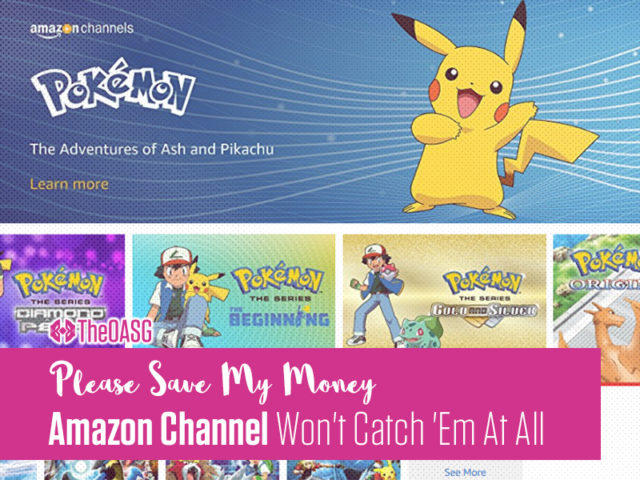 It was only about a month ago that Amazon's Anime Strike service was shut down. As I stated earlier, the news was celebrated almost universally across the fandom, although I wondered if Amazon should have just retooled rather than give up on the service.
But, you know, whatever. It's over and done with, so we can all just move on and —
…What's that?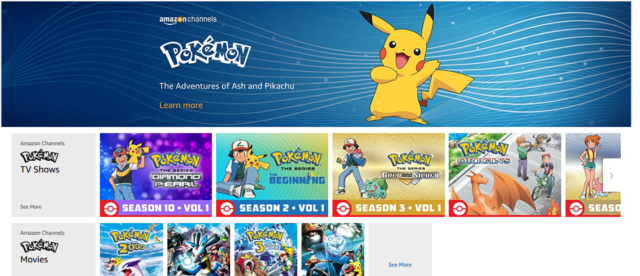 Yes, Amazon has launched a channel for Pokémon.
Pokémon Channel, like Anime Strike, is a subscription channel for Prime members. For an additional $2.99 a month, users can stream as much of the content available on Pokémon Channel. Currently, this means four movies, Seasons 2 through 5 and 10 through 16 of the anime, and Pokémon Origins. The official Pokémon site says the movie selection will be "regularly rotated".
Ask any marketing executive, and the one question they'll always ask about a product is, "Who is the target audience?" I'm really struggling to understand who is best served by this.
Option 1: The 90s/00s Generation
When the original Pokémon games came out in the late 90s, it caused a firestorm. Games, toys, and media were all being devoured. And while there is still criticism about the Americanization of the dub and even of the series itself (how many badges did Ash actually win in the Indigo League again?), it was still a fun, exciting, and — for many viewers — a completely fresh adventure. The 90s nostalgia fever is in full swing, and with the video games experiencing a resurgence, it wouldn't be a surprise many people would like to go revisit a childhood favorite.
However, notably, the first season isn't available because it's on Netflix. For fans who remember a time when Team Rocket was a threat and Butterfree's departure, that's a big hole. And if you have Netflix, you can watch a whole bunch of the movies on demand as well. Anime fans are also likely to have a subscription to Crunchyroll or Hulu to revisit other 90s classics like Yu-Gi-Oh! and Sailor Moon, so no additional cost there.
Option 2: Parents with Kids
While its popularity ebbs and flows, a large group of kids are always interested in Pokémon. So why wouldn't parents pay a measly $3 a month to keep their kids entertained in the car or while at the grocery store?
Well, if it's just a reason to keep kids busy, why not load up the official Pokémon website and watch any of the free episodes on there? Sure, kids can't watch the full seasons, but there's more than enough content to keep children entertained. As of this writing, there are 10 episodes each from seven different seasons, the Pokémon Origins special, and Pokémon Generations. The site updates weekly as well. Most parents are budget-conscious, and while $3 a month isn't huge for most families, they still want to make sure they're getting something of value.
Plus, if they're already paying for cable or satellite that includes Disney (Disney XD), all of Seasons 1 through 20 are available to watch online at Disney XD's website or the Disney Now app for no additional charge.
Option 3: Young kids and teens
To have the Pokémon Channel, you need Amazon Prime. Well, Amazon Prime itself has a wide range of movies and television shows already aimed at kids: Spongebob Squarepants, Sesame Street, Superman: The Animated Series, Free Willy, All Dogs Go to Heaven… But if they aren't interested in any of those, how about Seasons 6 through 9 of Pokémon?
Of course, I wouldn't be surprised of those episodes are migrated to Pokémon Channel, but there are a lot of new and old classics available for free already. Plus, although children can really cling to their favorites, there is absolutely no variety. It's all Pokémon, all the time.
In addition, it's not like young kids and teens who are interested can afford the $99 a year or $12.99 a month just for Prime, especially if they need another $2.99 a month ($35.88 a year) to watch Pokémon Channel. If they can afford that, why not get them the DVDs for as low as $10 for 34 episodes? Yes, Pokémon Channel is a lot cheaper than buying individual episodes, full seasons, or movies on Google Play or Android, but kids can also download them to watch anywhere and aren't subject to Amazon adding or removing content.
…Seriously, who is this for?!
There are plenty of other Amazon Channels, but they aren't restricted to one franchise. A franchise that has plenty of other options for viewers to watch, I might add. Pokémon is hardly a series where you need to watch it in order. Instead, there are other free options, paid options, and made-to-watch-on-TV options for select episodes or even entire seasons.
Even thought Anime Strike did cost $2 more a month (and was targeting a completely different audience, I must admit), at least they had several brand new shows; it wasn't all back episodes of one franchise. Amazon Channels itself keeps charging along even with the failure of Anime Strike, but whatever experiment Amazon and/or The Pokémon Company is going for, I can't see it working out. Unless it's because it was dirt cheap to make the Channel and that any revenue is almost completely profit. Otherwise, I don't want to see the idea of streaming for a franchise spread and companies start charging by the series instead of by the provider. I mean, would you pay just to access most of One Piece and nothing else?
What do you think of the idea of paying just for one show? Who do you think Pokémon Channel would be good for?