Krystallina's gonna tell you how to save your money, and that starts by shopping at Barnes & Noble for reasons.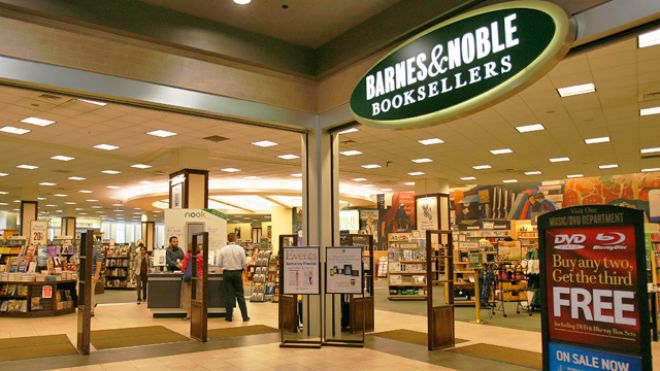 Years and years ago, I primarily bought my books at the Waldenbooks in the mall. Despite having a Barnes & Noble across the street, Waldenbooks' membership was free and included plenty of coupons and rewards. Waldenbooks also had a better manga selection than the much-larger Barnes & Noble.
Well, Waldenbooks was taken over and its new parent, Borders, eventually went out of business. With all these changes, I eventually turned to the Internet for my manga shopping. I only occasionally shopped at the local Barnes & Noble or its online website.
However, for the first time ever, I've recently purchased a Barnes & Noble Membership and am making regular purchases at the chain. So why did I join now, and is it worth it for you?
Barnes & Noble: An Overview
Barnes & Noble is the largest bookstore chain in the U.S. They are also known for their NOOK tablets and e-readers. Most stores offer free Wi-Fi and have a cafe. Visitors are free to browse the store's selection and relax. Their online store is located at http://www.bn.com/. Online prices are often different than in-store prices, and stores will not match online prices. They also offer a Membership, which can be purchased for an annual fee. (More on that later.)
Selection
While Barnes & Noble has carried manga for years, this past summer Barnes & Noble doubled the size of their graphic novel and manga section. If you cannot find a title you want, ask a store clerk. They will special order the item you want.
You can also order online. If you order online, shipping starts at $3.99 or is free on $25+. Items may also be available for in-store pickup to avoid shipping.
Besides books, the chain also sells magazines, toys, hobby items, collectibles, and gifts. Most manga e-books are also available as a NOOK book.
Pricing
Most items in-store are sold at list price. Whatever the price is on the item is the price you pay. Online prices, however, are often cheaper. This is because the online store often tries to match their major competitors' pricing. Brick-and-mortar stores will not price match their online site or any other store. The webstore will also not price match any other retailer. Most of the NOOK book prices are comparable to e-books on other sites.
So what are the advantages to shopping at Barnes & Noble?
Barnes & Noble often has sales. For example, right now Barnes & Noble is currently offering buy two, get a third title free on manga until January 18th. Assuming you buy similarly-priced titles, this is like getting 33% off your purchase. However, be aware that these specials are based off of MSRP. So if you are shopping online and found three $10.95 books already discounted by 35% to $7.12 online, your total will be $10.95 x 2 = $21.90, not $7.12 x 2 = $14.24. In this case, if you bought these three titles as part of a buy two get one free sale, you'd actually pay more ($21.90 versus $21.36).
The "get another title free" sales only come a few times a year. There is an online-only manga sale that occurs every week for one day only. Every Monday at Barnes & Noble, five select manga or light novels are marked down to 50% off retail for that day. Most Manga Monday titles are preorders, but otherwise the titles vary. Be sure to go here every Monday and check out that day's sales.
Of course, Barnes & Noble has many other sales on other book genres and other items throughout the store (40% off bestsellers, 25% off select toys, etc.) They also have a clearance section with books up to 80% off. Brick-and-mortar stores also offer a red-dot sale a few times a year. Items with a red dot are 50% off, and then any remaining stock is eventually discounted further to 75% and then $2. I've never seen manga but have seen related items like Yu-Gi-Oh! card game tins.
They also send out coupons to their email subscribers, mostly 25% or 30% off one item. Some coupons can also be used with other sales. Note that most of their coupons are one-time only use.
Membership
There's another way to save more at Barnes & Noble: join their Membership program. Membership costs $25 a year and gives the following benefits:
10% off on all in-store purchases
Free express shipping on online orders
Bonus coupons and offers
The 10% off works with almost all in-store purchases. Ten percent may not be impressive on its own, but it can be combined with other sales. More on that later.
Online orders do not get the extra 10% off, but you do not need to hit $25 or more to get free standard shipping. This is nice when you want to pick up just one manga and not have to either pay the $3.99 shipping charge or buy more than you want to get free shipping. Again, combine this with their Manga Monday sale and you can get a title shipped to your door for half off plus tax.
While Barnes & Noble sometimes sends coupons to everyone, Members get them more frequently. New members also get extra coupons. When I joined, my enrollment coupons included $5 off $50, a free drink with any cafe purchase, and $8 off a $40+ DVD or Blu-ray. I did not use any of these, but you may find these more useful than I did. Most coupons they send throughout the year are of the 25% or 30% off one item variety.
Doing the Math
So is $25 for Membership worth it? If you buy a lot, yes it is.
Let's start with in-store purchases. I try to get all my manga for at least 35% off (usually 40%). So getting 10% off a $9.99 volume is not impressive. However, if I buy three $9.99 titles during their buy two get one free sale, I will get the 10% off the two I buy. This means my total will drop down to around $18 for three manga, about 40% off list price. One set will save me $2 from my $25 investment.
I previously talked about combining coupons with other sales. Recently, select board games were 25% off at Barnes & Noble. My breakdown for Ticket to Ride Europe was like this: $49.95 – 25% off sale – 30% off coupon – 10% with Membership = under $24 before tax. As a comparison, the lowest it's ever been on Amazon is $29.70.
The free shipping is helpful during their Manga Monday events. For manga, getting 50% off a title versus 40% off usually means I'm saving between $.70 to over a $1 a volume. By itself, this is not a lot. I've been buying an average of one title a week, so that spare change starts adding up. The savings also becomes more evident when buying higher-priced titles. Yowamushi Pedal 1, for instance, was available for preorder for $12.00 one day (MSRP $24.00). That means I saved over $2 with my Membership versus a 40% off sale. However, I didn't need a Membership to get the 50% off price; I would have had to either pay $3.99 for shipping or place a $25+ order.
Downsides of Shopping at Barnes & Noble
As I mentioned, in-store items are generally sold at list price while Barnes & Noble online often marks items at the price other major retailers are selling them at. Some big-box retailers will price match bn.com, so you might find it more convenient to purchase products from another vendor.
The fact that store visitors are free to grab a book and read means that often "brand new" titles end up showing signs of use — sometimes damage. I like my books pristine, so buyers will probably want to check their purchases carefully before buying.
If you place an online order, there are two things to know about shipping. If you place several items on preorder in one order, Barnes & Noble will not ship your items until all are available. This means you want to order titles that are all currently in-stock or are all due around the same time. Otherwise, your items could be held up for months unless you pay an extra fee. Secondly, preorders are delivered after their release dates. Right Stuf, Inc. often sends out manga before their official street date. Amazon Prime members generally get free release-date shipping on media. Even with Membership's free express shipping, books arrive about two days after the street date. This is probably not a deal breaker for most readers, but it is something to keep in mind.
The 10% off in-store only is also a disappointment. That extra 10% would convince me to make a few more purchases. If I'm placing a $25 order anyway, then the express shipping looses its appeal. There's really nothing there I need in two days that I don't need in five to seven days.
Speaking of express shipping, one of the biggest perks of Prime membership at Amazon is the free two-day shipping on most items. However, Amazon generally offers Prime members a perk like $1 towards digital purchases for choosing slower shipping. I usually don't need my manga in a hurry, so I would love having a perk like this at Barnes & Noble.
Finally, many sites have rated Barnes & Noble's return policy as one of the worst. Customers have only 14 days to return a purchase. (Barnes & Noble is currently having extended holiday returns, but this is only temporary.) All returned items must have a receipt and be in new condition. If purchased online, customers must pay for return shipping or can return the item to store. If you paid with PayPal, your refund will come in the form of merchandise credit. Two weeks can fly by, so if you need to return something, get to a store quickly! If you are buying something as a gift, you will probably want to include a gift receipt. Otherwise, your recipient has no recourse if they already have the title or received a faulty product.
Closing Thoughts
Barnes & Noble is a good option for book-lovers and hobbyists. If you plan (or already) shop there a lot, then you should consider a Membership. Store shoppers have the advantage of getting the extra 10% off, but the online deals are sometimes impossible to beat. Figure out your spending habits, and you may find your savings may eclipse the $25 enrollment fee. But make sure you know what you are buying, as the strict Barnes & Noble return policy may leave you with an unwanted item.