Krystallina gives her take on The New York Times, one of the more respected media outlets, dropping their manga bestseller list.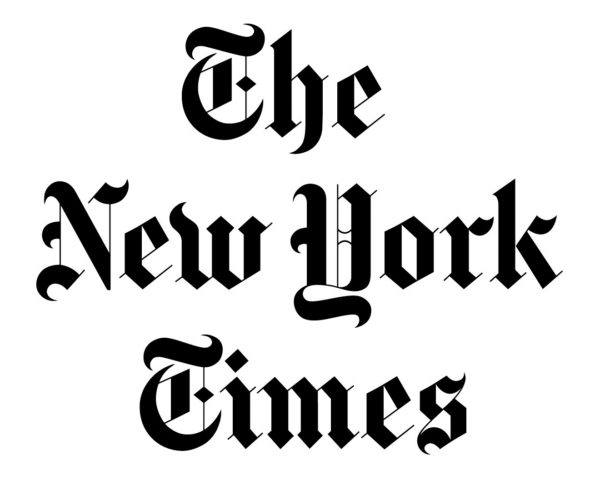 How do you deem something a bestseller?
"Duh!" some of you might be saying. "It's something that has been a hot seller!"
Well, yes, but how do you know something is a hot seller? How are you able to tell that one manga is a hot commodity? If your answer was something like, "Look at The New York Times' bestseller chart!"… I have some disappointing news. The charts for graphic novels and manga (along with several others) are being stopped as of February 5th.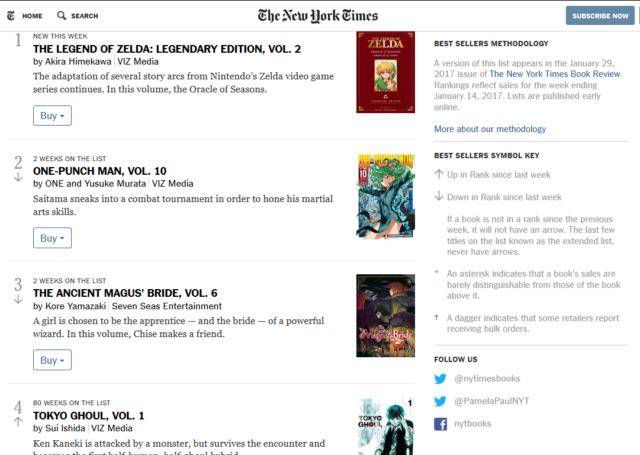 Why? According to statements, "the discontinued lists did not reach or resonate with many readers", and the newspaper is instead going to give "more space and resources to our coverage beyond the bestseller lists". This change, they believe, "will better serve readers and attract new audiences to the genres." Editor Pamela Paul tweeted that this means more news, reviews, and features about comics and manga.
History
Before we go further, it's time for a little backstory. These lists have been published since 2009.
Before that, according to Comics Beat, The New York Times stopped including graphic novels after a volume of Watchmen or Batman showed up on the bestseller list in 2007.  A former Del Rey worker, Betsy Mitchell, wrote that she and other comic publishers felt like they weren't considered legitimate by others in the industry. Comics Beat also claims the graphic novels were created "because Times editors were sick of comics … making the regular list" back then. When the graphic novels lists started in 2009, some felt like this was a turning point in acceptance for the medium.
Diane McNulty of the Times explained in an interview:
"The ranking of Graphic Books has been an ambition of The New York Times for quite a while. The unveiling of these rankings is in keeping with the ongoing evolution of the Best Seller Lists, which have expanded to include Childrens' best sellers in four categories and the reimagining of Trade and Mass Paperback best sellers as separate entities.

…

These weekly lists may indeed evolve in response to what retailers report as their best selling titles, and as publishing trends dictate. We embrace the emergence of other logical groupings. That said, these are not a test. We're confident that this is the array that our readers would like to have us reporting."
Now, however, the "experiment" is over.
Why Now?
The Times called theses lists an experiment, but almost eight years is a long time to try something out.
The timing seems a bit odd since graphic novels sales have been climbing in recent years, a fact many spokespeople for publishers were quick to point out. The number of subscribers to The New York Times also rose dramatically after Trump won the U.S. election. However, their advertising revenue has been dropping.
Writer and editor Taneka Stotts thought it might have something to do with March, a graphic novel series about Representative John Lewis and the Civil Rights Movement. Some people were also taken aback at the series being called a "kid's book".
The charts involve more than just copying a list sent from some data center. As editor Pamela Paul tweeted, "More than you would think. Meticulous and thorough data collection, fact checking, copy editing, layout."
Yes, businesses that have been around for years can suddenly fail due to lack of interest. But did the number of clicks on their website really fall that much? Or perhaps they're reallocating some of their staff to combat the rise of alternative facts and a sudden "fake news" moniker? (I suspect so.)
Reactions
First, according to Publishers' Weekly, many companies felt "blindsided" by the elimination of these lists, only learning about the changes when advanced copies of the paper were delivered. Some people feel like this is a step backwards for the industry.
ICv2, Comics Beat, and others didn't feel much reassurance when Times executives referred to graphic novels as a genre and not a medium.
However, not everyone is too upset at the lists being eliminated. Kurt Hassler of Yen Press, for instance, doesn't think the charts had a lot of significant impact; in fact, the lists didn't seem to reflect their internal metrics.
Is This a Big Deal?
Well, for the average graphic novel buyer, probably not. A lot of these series go on for many volumes, so if a reader is interested, they'll pick up other books in the series or by the same author or artist. A majority of graphic novel readers are Millenials and Generation Zers, young adults and teens who are comfortable with going on the Internet and learning about the hot titles through previews and reviews. For manga fans, a lot of titles were hardly surprising: the first volume of Attack on Titan, for instance, has appeared on that list a whopping 128 times. Tokyo Ghoul Volume 1 has now reached the 80 mark.
However, this only applies to current fans. As author Raina Telgemeier pointed out, there's a lot of librarians, parents, bookstore workers, etc., who look at the list to determine what to buy and promote. The publishers could also use this as leverage to push their books into other venues like big box stores and school book fairs:
"You should stock this! This book has made the The New York Times bestseller list again!"
"Wow, it's that popular? We should!"
The more places a book is available, the more potential readers there will be who are drawn by the title or the cover. Marketing is a big part of any success story, but with thousands of products available, those in charge will need any way to determine what deserves exposure.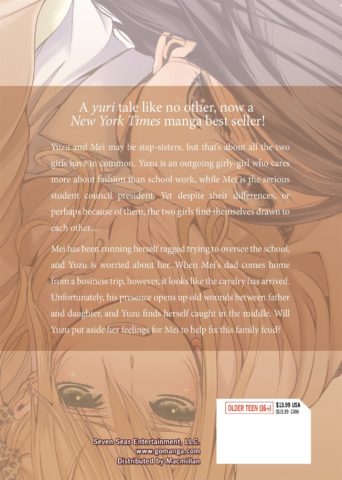 Without the list, as one director lamented, "How can we, as publishers of comics and graphic novels, communicate the success of a book, both in-house and in the marketplace?"
Without the Times list, the next closest thing is the BookScan chart, a top 20 list released monthly on ICv2. However, this list really only covers bookstore sales; it doesn't include figures from Amazon, comic book stores, and some other venues. Online stores' "bestseller" charts really only take into account their own sales, and these lists can often change on an hourly basis. At the very least, there's hope The New York Times will at least publish a monthly chart.
Final Thoughts
From a reader's perspective, the elimination of the lists is disappointing. It does feel like a downgrade after graphic novels and manga were acknowledged by the prestigious The New York Times. However, it doesn't feel like a game-changer. In fact, the last two weeks, only three titles each week were different. Compare that to the Japanese comics chart which had eight of the ten volumes in each chart different! I don't think you needed The New York Times to tell you that Attack on Titan and Tokyo Ghoul are popular.
From the publishers' and authors' side, though, I can certainly understand why this is seen as a significant blow. Only a few titles have managed to crack into the general lists, and Comics Beat wondered if a big title such as March couldn't make the list in recent weeks, how could other graphic novels? The bestseller status also made for great bragging and bargaining rights. It was an up-to-date, public list, even if it didn't capture all the hits. I know newspapers are struggling right now, but I hope The New York Times does reconsider or, at the very least, live up to the promise of more featured articles.
So, did you check out the list every week? Has it ever influenced you? Are you disappointed by the Times' decision, or does it not matter to you?