Kodansha Comics made several announcements this past weekend. Among those was the news that individual chapters of many of their licensed manga series will be made available the same day as Japan on the ComiXology and Amazon Kindle platforms.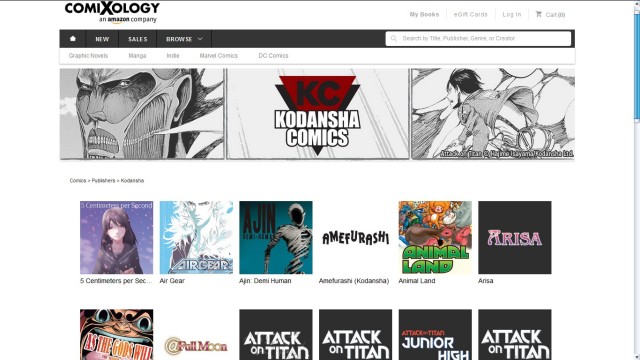 Is this news exciting?
Well, for most manga fans, not really.
The Simulpubs
Here is the list of series now available as a simulpub on ComiXology and Kindle along with their release frequency:
Weekly series:
As the Gods Will: The Second Series
Fairy Tail
Fuuka
GTO Paradise Lost
The Seven Deadly Sins
UQ Holder!
Yamada-kun and the Seven Witches
Bi-weekly series:
Inuyashiki
Space Brothers
Monthly series:
Ajin: Demi-Human
Attack on Titan
Kiss Him, Not Me!
The Heroic Legend of Arslan
Magatsuki
Persona Q: Shadow of the Labyrinth Side: P4
Sweetness and Lightning
Semi-regular series:
Princess Jellyfish
Weekly and bi-weekly series are $.99 a chapter. Monthly series and Princess Jellyfish are $1.99 a chapter. Purchases at the Kindle store are also automatically made available on ComiXology if you connect your Amazon account.
Doing the Math
So, are the simulpub chapters a good deal for manga fans? Well, as you might expect, you will probably end up paying a premium for keeping up with the Japanese releases. The first omnibus of Princess Jellyfish, for instance, compiles 12 chapters. At $1.99 a chapter, it costs $23.88 for the 12 chapters; the digital volume is $19.99. Future volumes will likely retail for the same price. Assuming Kodansha Comics releases Princess Jellyfish beyond the initial six omnibuses, you will end up paying more per chapter than someone who waits for the volumes.
Let's try another series. Most volumes of The Seven Deadly Sins have eight chapters. That's $7.92, but the digital volumes retail for $6.99. Another example: Magatsuki collected volumes are slightly higher at $8.99, but that's still almost a dollar cheaper than buying chapters individually. However, the first four volumes of Sweetness and Lightning retail for $8.99, but the fifth (and, I'm assuming, future volumes) are $10.99. At five chapters a volume, buying the individual chapters would actually be cheaper!
There's also the issue of comparing digital volumes to physical volumes. Most Kodansha Comics titles have an MSRP of $10.99, so digital copies are cheaper. However, Princess Jellyfish's digital and physical releases are the same at $19.99. In general, I've found physical copies to have more discounts than digital copies. Princess Jellyfish Volume 1 currently costs $19.99 on ComiXology, $12.99 on Amazon Kindle,  and $12.93 for a physical copy at Amazon or Walmart. The latest volume of Attack on Titan is $7.11 at those same stores, so it's slightly more expensive. Right Stuf offers 25% off all Kodansha Comics (and other publishers') titles every day, and even more off for Got Anime? members and during sale events. So some of the digital copies are actually about the same price — or more expensive — than physical ones.
But this isn't about digital versus physical pricing. There is another element to the pricing angle to look at though: Crunchyroll.
ComiXology and Amazon vs. Crunchyroll
Yes, all of the simulpubs are available on Crunchyroll. The latest chapters are available for a week for the much cheaper price of $0.00. If you are the type of reader who is happy just keeping up with the latest releases and don't tend to re-read them in the future, then this is a much better deal. However, if you want to read back issues, then you need a Premium membership. This costs $6.95 a month ($11.95 if you want some extra benefits like contests and convention perks). This gets you all of Kodansha Comics' simulpub titles; plus you get more manga as well as anime and drama simulcast streaming. For series like Attack on Titan, the back chapters from collected volumes are unavailable on Crunchyroll, but you can buy them on ComiXology.
If you're only interested in a single series, ComiXology subscriptions will cost you either $1.99 , $3.98, or $3.96 a month. (I am ignoring Princess Jellyfish and chapter breaks.) This is significantly cheaper than a Crunchyroll Premium membership. If you really need to read the latest chapter same-day as Japan, you can avoid paying altogether. However, ComiXology's biggest advantage is you can download the chapters for offline reading. Crunchyroll requires you to have an Internet connection in order to read chapters. So if you have certain breaks where you have your phone or tablet with you but no Wi-Fi or a data plan, ComiXology has a clear advantage in this regard. And, of course, if you want to read older back chapters of Attack on Titan, Crunchyroll won't help you.
As a bonus, Amazon also often gives out $1 digital credit for Prime members who choose slower shipping, so some fans may also be able to get chapters for free or cheap.
Final Thoughts
Overall, while I am always supportive of more options, in my opinion the ComiXology and Kindle subscriptions are not the best choices for most manga fans. If you are the type of person who really wants to keep up with the Joneses Japanese, you are also probably interested in more than one title and find Crunchyroll's Premium membership tempting. If you are only a casual fan, then I would think either a) the free option is enough or b) you don't mind waiting for collected volumes (physical or digital) to save a little money. While ComiXology and the Kindle store have offline viewing, with cell phone data becoming cheaper and Wi-Fi available at many locations, I doubt offline reading is worth a premium for most series.
So, do you plan on buying the latest chapters of Kodansha Comics on ComiXology or Kindle?