Here's some ways to avoid the prices a lot of resellers set for out-of-print items
Nintendo surprised the world with the announcement that they are suspending the NES Classic console in North America.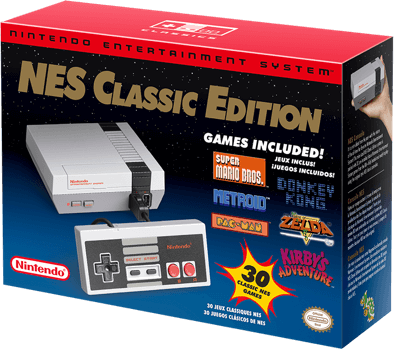 And the resellers of the world rejoiced.
Currently, this $60 console is selling for as high as $400 on Amazon and eBay. Even consoles selling on the low end will still cost you about twice the MSRP. So how can you avoid the egregious prices some sellers want to charge when an item you want goes out-of-print or discontinued?
Well, you may not have to fight monsters like in an RPG, but sometimes item hunting really makes you go Berserk.
1. Check stores in smaller areas.
I admit I get jealous of you city folks who can just hop from one Walmart/Target/GameStop/whatever to another. If something is out of stock at your nearest store, you have several other options in the nearby radius. Sometimes, however, living in a rural area has its advantages. There are a lot less people fighting over stock. In the past couple of weeks at my nearest Walmart, I found two Nintendo Switches on the shelf, and I spotted a PlayStation Vita console. You'd be surprised what languishes on smaller stores' shelves. (Who is going to buy Wii Music for $50 in 2017?!) While I probably wouldn't recommend just taking random trips and going out of your way, swing by smaller stores if you're heading out for a drive.
For online stores, search on Google. Their shopping section only lists a small number of stores, but there may be one or two with whom you are not familiar with. Use regular search as well, alternating between titles and UPC/ISBN. Sometimes stores don't always use descriptive titles, so that's where UPCs and ISBNs come in handy. As always, though, be sure you are shopping at a reputable site, and choose a form of payment that has good protection.
2. Use Internet tools.
Lots of sites will help you track down an item. The site NowInStock not only keeps track of when items come in stock, but you can also see when they were last available and set up browser alerts.
For brick and mortar stores, one of the most popular stock checkers is Brickseek. You can see what stores have an item in stock and at what price. It's not always accurate, however, but it seems to be more accurate than not.
For Amazon, there also is the Camel Camel Camel which tracks prices, and you can even have them notify you when an item drops below your target price.
Companies will also sometimes publish announcements of when they are shipping additional units. You will probably end up facing a bunch of Internet scripts and bots who will try to beat the system and people who will stand out for days, but you may still be able to get one.
3. Decide your max price.
If you do need to turn to resellers, decide how much you are willing to pay and stick to it. Don't get into a bidding war. Don't buy bundles that include extras you don't need that drive up your purchase price. Don't believe sellers who insist you'll never find a deal like this again. Figure out your price.
However, don't just say you are willing to pay $X; consider the condition. Do you care about case and manuals, or are you only looking for new copies? You should set $X for new, $Y for like new or very good, and $Z for used good or worse. If one pops up, you don't want to spend time researching whether that's a good price for the condition it's in when you only had a complete with all accessories in your budget.
4. Friends and smiles may be a secret weapon.
Sometimes, just asking people you know may go a long way. A relative may spot the item you're looking for while they are out shopping and will hold it (or buy it) until you get there. If you are a friendly, regular customer, clerks may tell you about upcoming shipments or pull one off the floor for you. (Although some chains don't allow this.) Some people will preorder a limited edition and decide they don't want it. They may decide to offer their preorder for little to no markup. Let people know you are looking, and you may get some extra help.
5. Don't get caught up in the hype.
There is a reason why companies often do limited releases: it's enticing. Shoppers like to feel they're getting something special, that they are getting something that not everybody will have. Plus limited editions feed off our tendency for impulse purchases. "Better hurry up and buy before it gets rare!" But don't get impatient. Watch. Keep track. Eventually, someone will list one at a lower price, or an auction will just not attract  a lot of attention. Check out sites during non-peak times (nights, holidays). Don't get on a local buying site and get stuck with a demanding seller. Impatience leads to bad purchases. Do you really need a Nintendo Switch now and are willing to pay $400, $500, or do you want a PS4 (which has been as low as $200) and save the extra money for a Switch and accessories later in the year?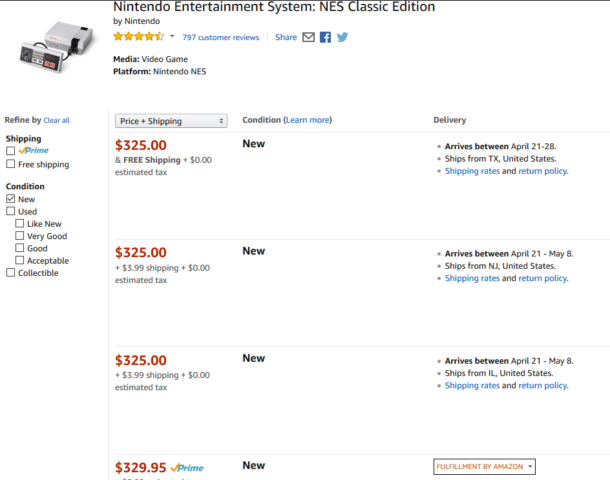 Plus you never know when there will be a new printing. I waited for years to finish RG Veda because of a missing volume, and once Dark Horse announced they had rescued the series, the TOKYOPOP versions' resale prices fell like a brick. GameStop got a new shipment of Xenoblade Chronicles. Digital versions of old games go for pennies on the dollar in some cases. In the case of the NES Classic, Nintendo just says they are "suspending" shipments, so it wouldn't be surprising to hear a new batch will be prepared in time for Christmas.
Final Thoughts
Unfortunately, a lot of products are snapped up by people hoping to make a quick buck. Sometimes, you now will never be able to afford the large markups that they charge. If you do need to find a rare item, you will need a lot of patience and luck. And may the odds be better than 1/256.
So, have you ever paid more than list price on an item because it was out of stock everywhere? Do you or someone you know do a lot of reselling? What do you think about the NES Classic being suspended? And have you ever gotten one of those darn Pink Tails?