Krystallina takes a look at a new company publishing manga digitally, and what's good and bad about it so far.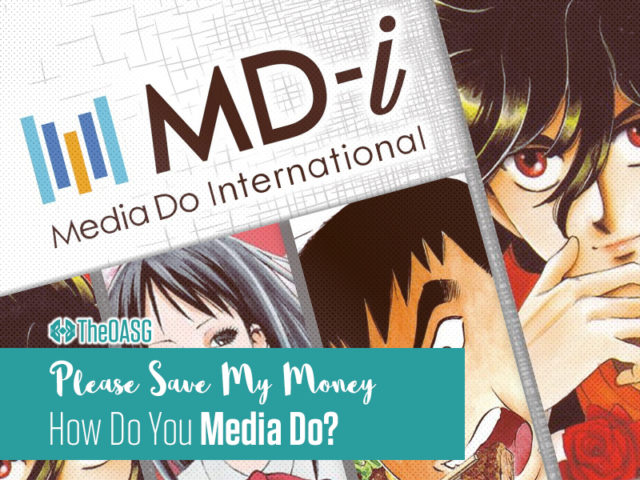 As many North American licensors merge or strengthen their connections to Japanese companies, it's nice to know there is still room for new startups. Media Do International, Inc. (MD-i) has launched a slew of manga on eBook stores like ComiXology, iBooks, and Nook. Let's take a look at their offerings and see if they can survive in this booming yet competitive marketplace.
Who is Media Do International?
In their ad-slash-press release, Media Do International says:
"MD-i is the US subsidiary of Media Do, the largest eBook distribution group in Japan that has close ties to every publisher there." Unlike most U.S. publishers who handle digital versions themselves, Japan has been slower to embrace eBooks, and so they have passed the management off to companies like Media Do. Media Do boasts that they have partnered with 600+ companies to offer their books on a wide range of outlets. They say they've released a variety of books and magazines including the manga series Giant Killing and Nodame Cantabile and the Japanese translation of Steve Jobs. While Media Do does have some company pages in English on their Japanese website, MD-i does not have its own website or social media channel.
So, what kind of manga is MD-i releasing? As of this writing, MD-i is publishing titles from six Japanese publishers:
Akita Publishing
Beaglee
Jitsugyo no Nihon Sha
Love Pop
M'z Planning
Nihonbungeisha
Most of the publishers tend to focus on one or two genres or demographics (Love Pop has mostly female-oriented adult series, Nihonbungeisha boys' love and seinen). Readers usually have the option of buying individual chapters or collected volumes with prices starting at $.99 and $2.99 respectively. Most titles have multiple volumes available and are making their first English-language debut.
MD-i launched with about 80 different series, many by the same author. A good number are older series from the 90s or so.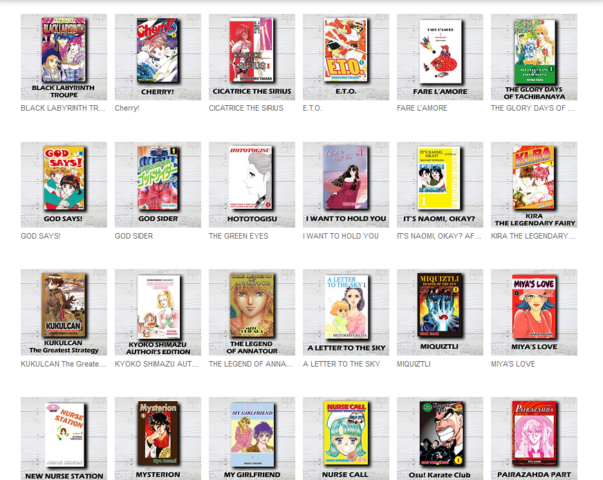 Initial Impressions
First, Media Do International needs a website. Some place where manga fans can easily browse their titles and get the latest news. The lack of a website also means that I have no idea when the next volumes are supposed to be out. Will series generally launch monthly, bi-monthly, less frequently?
The fact that so many of their series are from the 90s or so is both an advantage and a disadvantage. With all the emphasis on getting the latest manga in the hands of English readers, older, completed series have mostly fallen by the wayside (excluding the most famous manga like Death Note, Fullmetal Alchemist, Sailor Moon, and the like). There are certainly a lot of gems people have missed either because they were too young when the series was being published, the books went out-of-print too fast, or were never released in English at all. I've mentioned before I'd like to see more classic and retro manga licensed, and I'm glad MD-i is stepping up to the challenge. I don't know how well they'll do without some easily recognizable, AAA titles though.
I find it interesting that Itazura na Kiss is being re-released, albeit in digital format. The series is still pretty popular, but releasing a 23-volumed incomplete shoujo in single volumes that was already available once? Well, okay, it's out of print, but here's the truly bizarre part: they're not just using Digital Manga Publishing's version.
This slideshow requires JavaScript.
This slideshow requires JavaScript.
We could go on about the translation and whether asides/sound effects should be erased, but MD-i's version doesn't even translate all the asides. On the second image, a line about it being impossible (for her to date Irie) is missed along with Kotoko's thoughts in the bottom center panel. I imagine getting the rights to Digital Manga Publishing's version would be a pain; it's not as if MD-i actually owns any rights to the series, but it's not a great first impression when one of their first titles looks rushed. I also looked at another manga (The Lion and the Bride), but it didn't seem to have as many asides as Itazura na Kiss. As such, it didn't have these issues.
On the bright side, prices are reasonable. Readers have a choice of buying individual chapters or collected volumes, and the price difference is often minimal.
Media Do International also is releasing some josei adult series similar to what Renta often publishes. I do not like Renta's rather expensive temporary borrowing system, so I would like to see MD-i compete in this and other categories.
Also, I hope MD-i can partner with more publishers. Sure, giants like Shogakukan and Kodansha have U.S. branches and ties. However, even they have licenses that they just seem to sit on. And there a lot of smaller publishers and/or magazines who hardly have manga released in English. How nice would it be for the other Japanese publishers to have another international option?
Can Media Do International Compete?
I do believe there is room for retro and classic manga in English. 80s and 90s nostalgia is in full swing, and even series that made a splash in the 00s manga boom could be given a second chance. But I hope some of their problems (lack of information, untranslated parts) are just launch issues and not long-term problems. I'd hate for them to be similar to TOKYOPOP and overextend themselves to the point where they license only lackluster series and have poor quality adaptations.
Are you interested in any of Media Do International's titles? Have you bought or sampled any of their releases? What Japanese publishers would you like to see them partner with? Do you think they'll do well or go the way of JManga and other similar sites?