GameStop has come up with a new idea, and Krystallina wonders if it's worth looking into.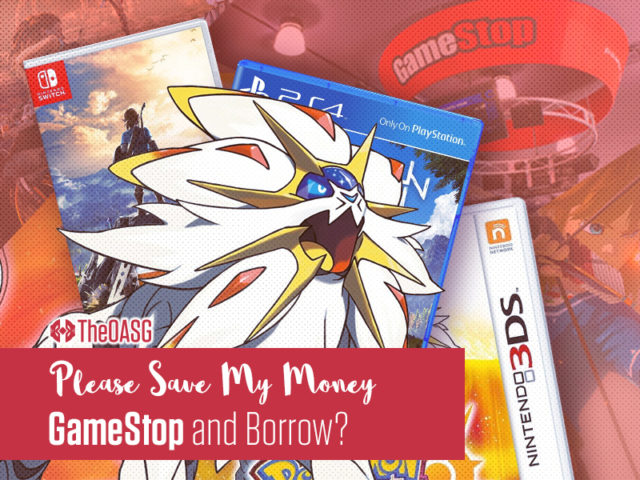 It's no secret that much of GameStop's revenue comes from used game sales. (Although arguably many of their "new" games would be considered used by many people considering they're opened and potentially played by an employee.) However, their gaming sector profits have been shrinking, and it's thanks to collectibles and the Nintendo Switch that they aren't hurting more. Best Buy and Amazon offer ways for customers to get games at a discount (20% off preorders and more), and almost all the big box retailers like Walmart and Toys R Us take game trade-ins. And even though developers are trying to extend the life of their games through DLC and add-ons, with so many games coming out each year, many players prefer to play through games once and then move on to try their next favorite. While stores can offer some very good trade-in values of about 50% the original price, that's still usually a $20 to $30 "rental fee" which can add up. It's no wonder people buy preowned games or turn to services like GameFly and Redbox to minimize their risk and out-of-pocket expenses.
And if you're the type who doesn't have to buy their media used, then you may be interested in GameStop's new idea.
The Plan
Power Pass, as GameStop's program is called, costs $60 upfront for six months. Subscribers also must be enrolled in PowerUp Rewards, which require signing up in the store. (Free and paid members are eligible.) Subscribers can then borrow one preowned game at a time from a GameStop, changing as often as they want at any GameStop. At the end of six months, players can choose any of the games they played to keep. Sign up starts November 19th, and the magazine ad says that membership must be activated by January 31st. Whether that means this is a temporary service or an extended pilot is yet to be seen.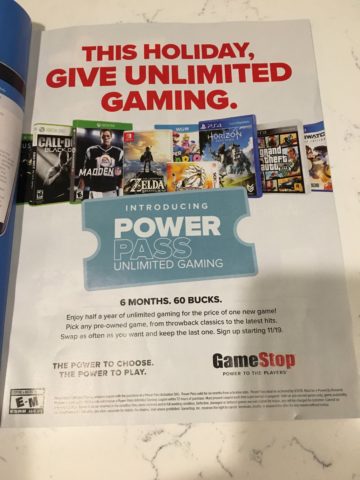 How does this compare to GameFly? Well, it's definitely cheaper. GameFly costs $15.95 a month for one game at a time or $22.95 for two. Most users report it takes about a week to get a new game after returning one, so if GameStop (or GameStops) is nearby you, you could take out more games in a month than GameFly. However, you are limited to whatever is in stock at the stores near you. If a new release is a popular, lengthy game, it could be a while before it's available on the shelves to borrow. Smaller stores or largely-populated areas may have a shortage of AAA games. Genres like visual novels are often good candidates for trade-in, as there usually isn't much to do after experiencing the story once. However, these types of games are also more niche versus sports and RPGs, so they could be harder to find.
Another question that needs answered is the terms for keeping a game. What happens if someone only borrowed a handful of games, but local GameStops don't have any more copies of them in stock because they're all rented out or being chosen by other people to keep? When — and how — can people claim their titles? Will there be any restrictions on special editions, as those obviously cost more? I can see those being in high demand, and I worry that some people may horde hard-to-find titles just so that they can be the first to claim them.
Final Thoughts
GameStop gets a lot of flack, and a lot of it is well-deserved. I was incredibly disappointed by their customer service recently when they had sent me the wrong item, and although I don't order from them often, it wasn't the first time. I go near a GameStop and play through my games so inconsistently that Power Pass will probably be rather useless for me, but I have to admit the price and benefits are alluring.
Are you interested in Power Pass? Why or why not? Do you normally buy new or used media? Do you think any other stores should launch a similar program?