Could anime boost a brick and mortar store?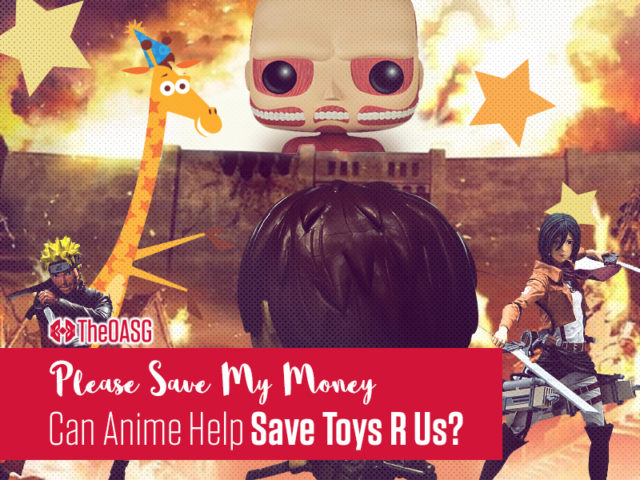 When I first got into Sailor Moon all those years ago, I remember the excitement of finding VHS tapes of the series at my local Toys R Us. After that, I went into the store constantly to see if any new Sailor Moon toys or dolls would show up. I did pick up some (and at its rival KB Toys – anybody remember that chain?), and I also remember spotting items like Sakura's wand from Cardcaptors and a Rinoa figure from Final Fantasy VIII. (Man, I'm still kicking myself for not buying that wand.)
As the days of afternoon Toonami began to fade and the crashes of the 2000s came around, these types of merchandise went by the wayside. Over the years, the toy chain has experimented with groceries, baby merchandise, and, more recently, board games. Toys R Us has also launched their own reward program and pricematch policies to compete with Amazon and other retailers. Well, all these haven't prevented Toys R Us from being the third-largest retailer to file for bankruptcy, after Kmart and Macy's parental company.
According to The Washington Post, Toys R Us owes $7.5 billion to its creditors, and it posted a second-quarter loss of $165 million. Filing for Chapter 11 protections does give Toys R Us the potential to reduce its debt, and the retailer already has some plans on how they're going to revitalize their brand. One way is the development of AR stations throughout their stores that will allow smartphone users to virtually interact with mascot Geoffrey the Giraffe or play games, and they also plan to have play-test areas for toys.
But, as ICv2 reported:
"Toys 'R' Us … is expanding and rebranding its in-store collector shop, the company announced.  The new departments will be called Fan Vault, and offer an expanded Funko assortment, and anime products from BlueFin and Bandai America."
BlueFin distributes items like Gundam models, Proplica toy replicas, Square Enix figures, and more. That's a pretty wide range of merchandise, and those are items mass market retailers like Walmart and Target don't really stock.
Fan Vault debuted at New York Comic Con this year, the first time the chain has ever gone.
But if people in general aren't shopping at Toys R Us, will stocking some Dragon Ball Z figures or One Piece Funko POPs really help the chain? Collectible merchandise has been a bright spot for other chains like GameStop whose main category has been sliding. With many GameStops located in small strip malls while Toys R Us generally has its own buildings, the latter certainly has room for a trend section. In fact, the first anime exclusive for Fan Vault appears to be this Queen Beryl Funko POP!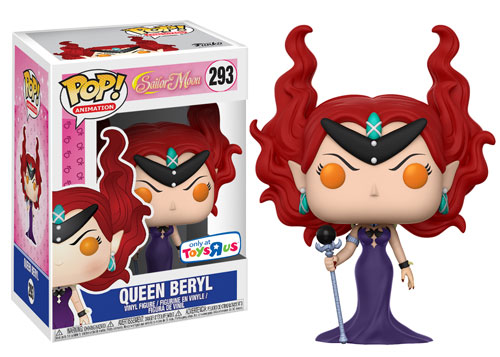 F.Y.E. and Hot Topic may also appear to have advantages over Toys R Us since mallgoers can swing by and pick up an anime lanyard or whatever, but shopping plazas are faring better than traditional malls. Exclusives can also mean bigger profits, as a store pays for exclusivity, and companies don't have to worry about a pricing war between stores on their products to undercut profit. (I just paid almost full price for the limited Sailor V POP! — eeeewwww!)
Anime is also often considered to be a teen and young adult-heavy lobby, but as the so-called Toonami generation settle down and have children of their own, they might find more reason to swing by Toys R Us. I mean, sorry, Hot Topic, but your loud music and lack of lights isn't someplace a lot of adults want to bring their young children. And unlike the aforementioned stores, Toys R Us will pricematch Amazon, Walmart, and some other retailers. Sure, for 50% of households, they could just order with Prime and get it in two days, but for the other half of Americans, Amazon can't compete with getting it at that moment, and if you change your mind, you generally have to pay for return shipping.
Final Thoughts
While most analysts don't expect Toys R Us to go the way of KB Toys, no doubt that the chain needs to make a lot of changes. Personally, I think a Fan Vault sounds better than going all the way to Toys R Us to shoot fake baskets on your iPhone or Galaxy device. I wouldn't put anime-related merchandise as their most-need update (I would say their website should be their #1 priority), but I would love to recapture the magic of when I first saw those Sailor Moon tapes all those years ago.
What do you think Toys R Us needs to do to survive? Have you been to a Toys R Us store recently? Do you think stocking products relating to Japanese media will help Toys R Us? Any particular type of merchandise you would like to see?