The guests that were left -- Ian Rubin, Tyler & Heather Walker, Brittany Lauda, Jessi Nowack, Marcus Stimac, Matt Shipman, Corine "Megami33" Sudberg, xJerry64x, & Michael Hecht -- spent a near hour answering good questions.
Podcast (cons): Play in new window | Download
Subscribe: Android | Email | RSS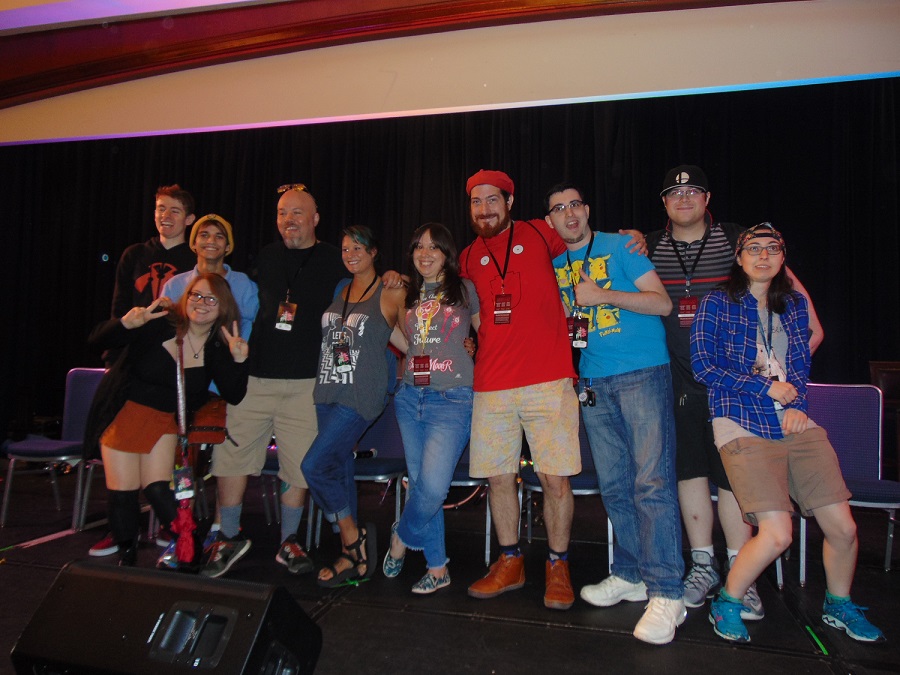 Ok, almost all the Liberty City Anime Convention guests, but a good amount in general, as a combination of anime industry voice actors and actresses, and internet personalities/voices hung out and chatted with the con goers who stopped by. Would have normally just posted the audio, but felt this particular panel was worth sharing in transcript form as well. Please note though, some words were simply unable to be captured, so…if you hear something different, please let me know and it will be corrected. Also I'm confident 97.8% of this has everyone talking lined up normally. Sorry it couldn't be 100%.
Also I added commentary in certain spots just 'cause.
---
Ian Rubin: Hi my name is Ian Rubin, I'm a stand up and improv comedian. I founded UProv Comedy, the first and only YouTube improv channel but nowadays I just come down to conventions and comic book conventions and do comedy about thaaaaaaatttttttt, Brittany!
Brittany Lauda: Hi, I'm Brittany! Brittany Lauda! *laughs* I am a voice actress, director, do some casting. I directed Ladies versus Butlers, half of Rio: Rainbow Gate, half of Holy Knight, Juden-chan, I'm going to be working on My Wife is The Student Council President next. I also directed a really cool game called YIIK: A Postmodern RPG, you can play it on PS4 Kiosks anywhere, everywhere now. Voice over wise you might know me as Audrey Belrose in Huniepop, Osana Najimi from Yandere Simulator, Mirim in Queen's Blade, Daichi in Ladies versus Butlers, and um…yeah, Pokemon! I play Charlene, Catherine, and Lily in Pokemon X/Y…
…and yeah I do the voices and stuff woo-hoo! *crowd laughs*
Matt Shipman: Hey guys, my name is Matt Shipman, I am a voice actor, ADR writer, kind of a ADR swiss army knife? I do a little dabbling in engineering and directing as well. Voice over wise I'm mostly known for my work on Yu-Gi-Oh! Arc V, I play a character named Shay Obsidian. I wrote a little over half of Juden-chan, I'm going to be in My Wife is a Student Council President as Izumi Hayato — I don't remember if that's the order you say the name but *laughs* And I do a bunch of voices in other stuff from Media Blasters like Holy Knight, Ladies versus Butlers, Rio: Rainbow Gate, and many, many more.
Corinne "Megami33" Sudberg: I'm Corinne Sudberg, Megami33, I'm a voice actress and parody artist I guess? I work for Team Four Star, I play Bulma and Chiaotzu on DBZ (Abridged), Integra Windgates on Hellsing (Ultimate Abridged), and do a bunch of voices. I've also done voices for Media Blasters and whatnot, and…yeah! That's me.
Tyler Walker: Hey guys I'm Tyler Walker. I guess I'm best known for directing the dub of Fairy Tail. I'm the head script writer on that show as well, and now I'm Bickslow and Vijeeter the "Dance Magic Guy!" and a bunch of monsters and people who get killed and guys who say, "He went that way!" I've also recently started working on Tales of Asteria X dub, I just finished Three Leaves, Three Colors, I did Ninja Slayer last year, Baccano!–*crowd whoops* I've been in business since 2002, so a lot of stuff has gone through the pipeline…oh yeah my band (Pointy Shoe Factory) was on Dragon Ball Z Movie 8, Broly yes. And a bunch of stuff, look me up.
Heather Walker: Hi guys I'm Heather Walker and I'm a voice actress for FUNimation and probably best known for doing creature voices and monsters, I do a lot of growling, kind of improv, like warbles and weird things like that with my voice. I'm also humans at times, so that would be Mary Hughes from Fairy Tail, Aki Nijou from Maken-Ki, Digger Yamamoto, I don't know if that's a human or not but she's in Wanna be The Strongest in The World, she's an awesome character actually, that was a lot of fun. I'm also the male Jimmy Celestial Spirit in Fairy Tail, Angelica the flying rat, as well as a million additional voices, um…oh, I'm Normin in Tales of Zestiria, if you want to watch that it's a great little character piece.
Cruppo in Toriko, Peggy in Tokyo ESP, and that's about all I can actually think of, I'm almost brain-dead at this point because this has been such a good con and that's all because of you guys. You guys are the best so thank you so much for being here and for supporting us and supporting the industry. We love you, I love you, and here is the wonderful Marcus!
Marcus Stimac: Hey everyone, I'm Marcus Stimac, I'm an actor, and up until recently I was a guest at this hotel *crowd laughs* I'm mostly known for my voice work at FUNimation studios, you may see me in Ghost in the Shell, I play Saito, I'm in Assassination Classroom, I play Terasaka, I'm in One Piece, I play Dr. Hogback, I'm in Fairy Tail, I play Warcry and Zoldio, I'm in Ping Pong The Animation I play Kazama "Dragon" Ryuuichi, I'm in a bunch of shows that have come out from FUNimation in the past 4 years or so. If you want to know any more about the shows I've been in you can look me up at MarcusStimac.com or follow me on Twitter. Thank you all so much for coming, it's been a real pleasure.
Michael "1KidsEntertainment" Hecht: Hi my name is Mike and I'm a Pokemon Go addict. *crowd laughs, panelists get on his case* I'm playing right now, I can't stop, somebody help me, just rip it from my hands! *he does put it down himself*
Jessi "Nowacking" Nowack: Just make sure you tell us you got something as good as the (Ed. note: yeah, not sure)
Mike: Well I did get Lord Helix (note, Omastar) literally right before this panel so uh, all hail *crowd laughs* So my name online is OneKids. I help make Pokemon 'Bridged, I'm a co-writer, voice actor, and the editor, I also edit for Jacks Films on the side, and sometimes I edit Yu-Gi-Oh! Abridged on the side.
Brittany: Mike what about your best role ever in Juden-chan?
Michael: …I don't remember what I played I'm sorry *laughs* But I was in that! I was in that. I was in the thing. I was a bear!
Brittany: You were Santa Bear!
Michael: I was a bear, yes. Santa Bear, it was nice. *crowd laughs*
Jerry: My name is Jerry, known xJerry64x online. I voice and co-write with these two fellas (Michael and Jessi) in Pokemon 'Bridged.
Michael: And he just won the Smash tournament! *Crowd woos, Jerry lifts his Smash Bros prize that I can't tell what's in it*
Jerry: That was great. *crowd laughs*
Jessi: Hi I'm Jessi Nowack, I go by Nowacking online. I'm a voice actor and writer and editor. I work on Pokemon 'Bridged, Dark Swamp, I've been in…things…I'm not hungover I'm very happy for that *crowd laughs* I'm just naturally tired because it's a con and you guys exhausted me in a good way, it was a very good weekend. Thank you. *applause*
Marcus: All right let's open it up to some Q's and we will give you some A's. Anybody has anything in particular to ask about this weekend or…?
Heather: Please don't be shy. Or we can just ramble. We can always ramble.
How have you guys liked New York City so far?
Heather: Well us personally we (Tyler & Heather) had our 10th Wedding Anniversary–*applause, cheers from crowd* on Friday, so on the very first day of the con. We came two days early and did all kind of crazy fun stuff, we went to the comedy cellar, we went to the Whitney, we saw Sleep No More, which was an amazing, immersive theater experience, we've eaten way too much food, drank way too many wonderful cocktails, and we're in love with the city, honestly. I can't wait to come back. (Turns to Tyler) How about you? Did you enjoy the city?
Tyler:…It was alright. *crowd laughs* No, we had a great time, I'm glad we came out early because since we've gotten here I don't think we've been able to get like, four blocks away from the hotel. But yeah we were in The Village, it's been great and it's much better than last year when I took a tour of Mount Sinai Emergency Room.
Here's to not going back!
Marcus: I'm not from here, I'm in Dallas but I'm originally from Milwaukee. I love being in New York. I love that there's a Sbarro across the street, that's awesome *crowd laughs* Some people are like, "Go to a real pizzeria" but I'm like, "Why would you go there if you have Sbarro right here?" Also it's cool getting in taxis and riding on trains, and like, all the buildings have commercials pulling on them, it's really crazy.
Ian: I dunno, I've been kind of obsessed with this this weekend: Have any of you guys been to the Kelloggs store yet? *crowd reacts* No, I have not been yet but it looks amazing! It's just a store across the street just for breakfast cereal. I'm amazed by it, it looks like an art gallery where you go in like, "That's a beautiful Fruit Loop right there." *crowd laughs*
Brittany: Well I looked at the menu in there and it's like $8 for a bowl of cereal *laughs*
Tyler: Well it IS Times Square.
Brittany: It's like insane, $8 for a bowl of those Fruit Loops!
Matt: Construct a bowl of all blue fruit loops from our selection! *crowd laughs*
Heather: Anybody else wanna talk about New York–
Michael: We live here so–
Brittany: Yeah, we live here (Matt, Brittany, Corrine, Michael, Jerry, Jessi) so!!!
Ian: I'm from New Jersey, does that count? Not at all *crowd laughs*
Jessi: I gotta say though there's this really cool like (Ed. note: something with an S) in Times Square, I've never done that before–
For the Pokemon.
Jessi: For the Pokemon! For Pokemon Go, absolutely!
Ian: But really, how often do we have anime conventions in NY and how often are they in Times Square?
Jessi: Right, this is crazy awesome–
Marcus: I saw an M&M climbing a building! *Crowd laughs*
Jessi: I went into Times Square and saw The Hulk having a cigarette with Elsa and I was like, "NY!" *laughs*
Marcus: I saw Heather on the street at 3:30 in the morning trying to take a picture of a rat. *crowd laughs* Seriously!
Tyler: She never got it.
Marcus: I was like, "Is that Heather? Oh my god it is!" And she's like trying to take a picture of a rat, she's like, "this is going to be so great on Instagram." *crowd laughs*
Michael: I saw some people walk into a Sbarro's for some reason. *crowd laughs* I have NO idea why. *crowd laughs* Maybe it smelled good?
This is for Mike, there's a Dragonite in Central Park right now.
Michael: ….*gets up from seat, sits back down* *crowd laughs*
Marcus: Question for you sir, I saw you playing chess earlier. Did you win that chess match?
I only lost one game because I did something really stupid for fun, but I've played like 43 games today and I won them all. *Crowd applauds*
Marcus: Awesome! Let's hear it for the chess player here!
Ian: …43 games of chess? *crowd laughs*
Brittany: Wait, are you Lelouch? (Ed.note: He is) You can't play chess, people die when that happens! *crowd laughs* Oh my god!
Marcus: If you die in the anime you die for real! *crowd laughs*
For the whole panel, what did you want to do when you were 5 and would 5 year old you be proud or disappointed?
Tyler: Actualllyyyyyy, I kind of wanted to do this, when I was like 5 and 6 and young, me and my friends would make these silly tapes of like, making voices and then we would play records and watch like, Battleship Yamato, Star Blazers, and try and make it match up, try to time up the songs, and we'd watch Superfriends and try and get the records timed up with that and like…it's kinda weird that's how it worked out!
Brittany: Yeah I remember 5 year old me wanting to actually be a cartoon character so I think I accomplished that. I think that is what my profession is, so I think 5 year old me would be slightly confused by the concept, but ok with it.
Matt: I think 5 year old me wanted to be a Power Ranger? *crowd woos* And I'm not a Power Ranger so I'd be very disappointed. *crowd laughs* (Brittany mentions his current roles in Yu-Gi-Oh!) Yeah, I guess yelling is pretty similar. I get to sound ridiculous. Maybe one day I'll be in a show that has a Power Rangers joke in it.
Did you say Yaoi? *crowd and panelists react*
Brittany: No, I said Yu-Gi-Oh!, she thought I said Yaoi.
Matt: Yu-Gi-Oh!. Card game–
Isn't it the same thing? Really? *crowd laughs*
Matt: There's a lot of both. *crowd laughs*
Corrine: I either wanted to be in animation, acting, or a vet. And I found out when I was 5 that I pass out at the sight of blood so that didn't work out *laughs* But I did really like animals! But yeah, I guess I wanted to do some type of acting, so, yeah.
Heather: I guess 5 year old me wanted to actually be a story teller. I was always writing creative stories and always doing crazy impersonations. I was the little child dressed as a witch at Halloween that would scare every other child like cackling and I loved it. I was dressed as Annie in real life all the time, with the wig, like I literally wanted to be Annie. So yeah, 5 year old me would be very, very surprised and very, very happy. Like even happier than she thought she would be because I thought I'd be writing more crazy stories that — oh never mind I dunno what I'm saying. I would've been writing about tiny pink elephants and now I'm a tiny pink elephant. *crowd laughs*
Marcus: Awesome! When I was 5 I was just trying to survive, trying to–*crowd, panelists laugh* No, I loved video stores, I always wanted to have a video store and we would go rent like Fraggle Rock and Dinosaurs, great cartoons, and I always loved watching videos and doing voices, but I wanted to be an actor. I found out when I started doing the school plays and like, when you're a kid you don't necessarily know you want to be an actor, but I always loved playing with swords and wandering around in the woods with a bunch of people. Like, "We're gonna take over this castle and like scare our neighbors," it's really pretending with big groups of people and living it up. I think a lot of that adventurous spirit carries into some of the classical acting I've done but also like, my 5 year old self would be very happy that I'm in cartoons. I've always loved cartoons, and I've always loved watching them.
Ian: 5 year old me would have terrible, terrible stage fright. I would not have been, I can't even — thinking back on it, like, being a comedian and being an actor and performing in front of people on a stage is just something I couldn't do until middle school, and then I played "Milky White the Cow!" in Into The Woods *crowd woos* yeah, I stole the show, and enjoyed it. I have very Jewish parents and my parents would be just like — *does continuous waving motion* and I hated it. I just had terrible stage fright because I didn't want my parents to make fun of me after the show, and I still don't like it when they do–
Corrine: Now you basically make a living making fun of them.
Ian: Yeah, *laughs* exactly. It's a defense mechanism.
Michael: 5 year old me probably just wanted to meet Barney, which did happen in a nightmare once and you tell me that didn't happen. *crowd laughs* I'm not joking! *more laughter*
Jerry: Everyone has those aspirations in life. Uh, 5 year old me loved playing video games all the time, I'm not gonna lie, I love playing video games, I love going outside, it's awesome, it's–
Michael: How can you do both? *crowd laughs*
Half the panelists say Pokemon Go
Jessi: Your dream came true!
Jerry: Yeah, I know right? But yeah I would just climb hills, trees, and just like sword fight and it's really awesome to just explore stuff.
Michael: You can actually do that in Pokemon Go—
Jerry: Yeah, don't climb trees just to catch a Spearow because it's not worth it for a Spearow. Dragonite? Maybe.
Jessi: It's worth it for a Dragonite.
5 year old me wanted to go into marketing. So I dunno, I think she'd be happy but she'd also be "what happened to marketing?" And I'd be like, "Oh no sweetie it's too much math." *crowd laughs*
Ian: Did 5 year old you have a business plan, like a strategy?
Jessi: Yeah I was way too, like, serious. *laughs*
Brittany: Jerry, would 5 year old you be proud of you winning the Smash Tournament today?
Jerry: Oh, yeah. Instead he would run around in circles and then like fall over, pass out on the floor.
Jessi: But that's exactly what you did though!
Jerry: Yeah I know! *crowd laughs*
Marcus: The booth selling loose cigarettes in the K-Mart parking lot. It was real when you were 5 *panelists laugh*
Heather: That was an excellent question.
Yo, who's your main?
Jerry: Mario.
Ok, that's a very standard answer.
Marcus: I like King Dedede and Baby Bowser.
Ian: Little Mac and Duck Hunt. It's the way to go. Duck Hunt is such a troll. B B B B B B B B B–
Marcus: Oh no no no no no no no no no–*laughs*
Corrine: Pikachu's my main. Yoshi and Kirby are my next ones.
Tyler: …I've never played Smash–
Heather: We've never played Smash–
Jessi: Just say a random name.
Tyler: That guy that wins all the time.
Heather: Michael Jackson! *crowd laughs*
Matt: Every Fire Emblem character.
Jessi: Captain Falcon! If anyone who cares!!! No you don't!
What's the best moment you've had at the convention?
Tyler: Oh the best moment was Opening Ceremonies because we're like, "Hey, it's our 10th Anniversary!" we got a big selfie with the whole crowd, everybody made hearts…it was like the most precious moment in my life.
Heather: It was just really beautiful to know that we could share love with everyone, it was just like, "Ah!" So positive, there was nothing we would have wanted to do other than that. When we talked about it and found out the con was starting on the 10th Anniversary, you know, everyone wants to make that, "Oh, you need diamonds!" and all this. We're like, "No, we need fans and anime friends." *applause* Yeah that was definitely one of the best moments!
Ian: A dream of mine came true last night during the fiasco show — we basically improvised a movie. My character got to die a dramatic death! At the moment I realized I could die I was like, "Yes! Time to make this amazing! *crowd laughs* And a fire poker came through my chest and I was like, "ARGHHURGGGGHH!!" I gave a monologue, it was beautiful.
Brittany: Matt and I had a panel yesterday called Nerdin' Out with Brit and Matt, and shout out to Zach who brought us cupcakes because in our panel description it said you could bring us cupcakes — Zach followed through. Zach followed through. Second place moment is probably the uncensored panel last night where I watched Billy Bob Thompson give his first autograph and he was like, "What do I do? What do I do?" and I'm like, "You just write your name." "Alright, alright. Who's name?" and I'm like, "Y-YOUR name!" *laughs* So that was pretty funny.
Marcus: I say the best moment for me when I got here was like, "What is going on, this is so awesome!" And there's a Sbarro–*crowd laughs* But meeting the fans was #1 for me. I'm all about the fans, I've see some of my friends here from last year, all the White Plains crew, and everyone that came to my panels, talking about what they liked in the anime, and we were talking about great anime history, classic characters, taking pictures, signing autographs, hear from everyone who loves the shows, I mean…that's what I love the most.
Michael: I got a whole panel room of people to say the word "Succulent" at the same time so–*crowd laughs* that's pretty much the best thing that could ever happen.
Jerry: Um, I dunno what is my best moment–*he says this while lifting his Smash Bros prize* *applause* *Chants of Jerry, Jerry, Jerry*

Jessi: My best moment was definitely when Jerry won the Smash competition–*crowd laughs* There's a lot of really — I love meeting the people who come and see us. That's like, super incredible. Legit, one of the coolest moments actually happened like half an hour ago. There was a band here before us, I've never seen them perform before, I don't want to say their name wrong–
I like, cried. I never cried listening to music before, but like, I was tearing up with every song. And I don't even watch anime! It was just really, really incredible. I played drums for 11 or 12 years so I guess I kind of missed it and I didn't know. I'm like, "Oh my god, I'm tearing up listening to ANIMAL music (Ed. Note: probably said A-ni-mu)" This is like, it was incredible.
…But it was mostly when Jerry won the Smash competition. I wasn't even there but I heard it was good. *crowd laughs*
Corrine: Basically everything Marcus said, just meeting the fans and old friends and catching up with these guys because yeah, I don't get to see all of them too often other than conventions so–
White Plains crew!
Corrine: Yeah! Woooo!
Marcus: We were much busier this year.
Corrine: Yeah we were.
Marcus: But next year…we're gonna slow down time and we're gonna su–succulent every moment–*crowd laughs*
Michael: That was my favorite moment right there.
Matt: This is actually my first con, so I've never met any of my fans in person, and I don't see him here and even if I did I wouldn't want to embarrass him, but there's this one younger, big Yu-Gi-Oh! fan who's cosplaying today. He's just so excited to talk about this kind of stuff and it's really like, a surreal experience to tell him, "Oh yeah, the guy who plays Dennis is gonna be here, the guy who plays Devon is gonna be here," and he's like flipping out! He's so excited, and it's very different than the kind of interaction you have with people online.
Ian: And for me, I'm such an aco-taco. When I'm not at conventions I feel like I really can't be myself when I'm anywhere else, and–
Six months in Disney.
Ian: Yeah six months in Disney *laughs* will make you realize how grateful you can be, because from my kind of stand up shows people are just like, you know, they can just be themselves, I can be myself, and it's really just a lovely experience, and you guys are all so great and so wonderful and warm and welcoming.
Tyler: It's also cool for me to see. I came to NYCC in 2011 and that's when I met these guys (Brittany and Matt), and they were working there, now we're like doing our first con together. Like all these years ago–
Brittany: And I got to work with you in November!
Tyler: Yeah, we worked together, and it's cool, and you were there and–
YOU were there! *crowd laughs* (Ed. Note: actually not sure if this was from the crowd or Heather)
Tyler: Yeah you still got the T-shirt from then you know? So it's cool, it's not only people we saw last year but from even for me, 5 years ago.
Brittany: Yeah, when you were signing my timesheet for Fairy Tail and you were like, "Isn't it crazy how 5 years go? We just started the show and you were there, and like 5 years later, 230 episodes in, and now you're in it?" I was like, "Oh! Yeah!" *laughs*
Tyler: You were dressed as Natsu and Lucy too, that's pretty crazy *laughs*
In the Smash competition, why did you only attack me?!? *crowd laughs*
Jerry: Aw come on, people were also like going against me two VS one man! I–
Jessi: ANSWER THE QUESTION JERRY! *crowd laughs*
Jerry: Oh come on, just 'cause Harambe killed me like 3 times, oh no, 2 times–
Ian: Don't blame Harambe! *crowd laughs*
Marcus: Powerful triggery afoot!
Ian: We had a moment of silence last night for Harambe during my stand up show. Everyone wanted it.
This is for the abridged voice actors: if you were forced to do voice work for either Astro Boy or Kimba the White Lion, what character would want to play? (It's kind of low)
Jessi: …I heard the word "forced" so…*crowd laughs*
Michael: Oh geez. Am I shackled to a wall?!?
He said if you were forced to voice something, like Astro Boy or Kimba The White Lion—
Corrine: What's wrong with those two!?? *crowd laughs*
Like if you were forced to an abridged series of that–
Corrine: I mean if I was forced, I guess…I guess maybe Kimba the White Lion. I dunno, it's basically Lion King, it's like–yeah, I know *crowd laughs* I mean both shows are great.
I mean he means a character would you guys pick if–
Corrine: Oh. Well I don't remember everyone from Kimba the White Lion other than Kimba so–*laughs* So the…the…lion? Kimba, yeah, Kimba. I guess.
Michael: Probably have to force me to watch the show first because I have no idea what any of those things are–*crowd laughs*  so sorry.
Jerry: I would be lion #3. He's the best one.
Jessi: I don't, I've never seen them. I would voice the Astro Boy. *crowd whoops*
Are you guys coming back to next year's convention?
Ian: (Ed.Note: I'm convincing myself he's looking at a LCAC staffer, he probably looked at the panelists) Are we coming back?
Jessi: Are we? ARE WE?
Heather: It will be up to you to make sure you tell them that you want us! Tell them on the forums–
(Ed Note: Think it's a LCAC staffer) If there's ever a guest you want at your convention always look for the forums and suggest a guest it's up to you guys!
Ian: Every year we eliminate one guest. *crowd laughs*
Brittany: This year it's Ian. Goodbye Ian. *laughs* Door's that way!
Heather: He's been voted off the island!
Ian: There's like a montage of me from like, years past *crowd laughs* Well you know it was a good experience–
Brittany: Like Saw. *Crowd laughs* If you want to see us back next year or at any cons in your area the best thing to do is tweet, email, post on the forums, post on Facebook, tell the staff, tell everyone you like us and you want to see us back and that's the best way for us to come back. You bet all of us would want to be here again one year from now so–
Heather: There's really nothing I would want more than to see all of y'all again.
(They look at one of the LCAC staffers)
Brittany: Ok, everyone at the count of 3, say bring them back.
Brittany & Heather: 1, 2, 3–
Bring them back/Michael: Succulent!
Michael: Oh, sorry. *crowd laughs* It means the same thing! I was just gonna say show up to Ryan Kopf's house and that will make sure that we get invited.
Marcus: Go to Home Depot, get a big bucket of red paint– *crowd laughs* Go to the side of a vacant building and write, "Marcus Stimac is great actor," *laughs*
Michael: And say Brittany Lowda sent me.
Brittany: Uh, maybe you can say my name right, FRIEND of several years. *crowd ooohs*
Marcus: I will say that using cursive helps–
Brittany: Baka!!! *crowd laughs*
Heather: We gotta get Austin back here too.
shouts of yeah take place
Brittany: Austin who? Who is he? Don't see him here!
Matt: He had pizza with him right?
Brittany: Yeah, Austin had Pizza last year, don't see pizzas so…maybe we do need Austin back!
Jerry: He already got voted off.
Marcus: They didn't have enough for the insurance policy. *laughs*
Michael: Somebody needs to blackmail Purple Eyes to make sure he comes back next year.
(After about 30 minutes, attendees are finally handed a mic.)
Oooh, I have a mic now! I have the microphone roarrwrrghh! So my original question before was going to ask about your careers, but I guess I'll piggyback off a previous question, what was some of the greatest moments in your careers?
Brittany: When I got to go in and voice Pokemon characters, and the 3rd one I played, I got to be the referee, lay down the rules and be like, "Welcome to the Anistar Gym" and give the whole speech, and say "battle begin!" It was just really cool and I was like, "Yeah!" Plus Fairy Pokemon and Psychic Pokemon are two of my favorite types, so getting to be in both gyms was (Ed.Note: not sure, started with a P). Close second's probably working with Tyler and Fairy Tail, which was a show I've loved for years. So that's pretty full circle, Pokemon and Fairy Tail: once a fan, always a fan.
Ian: Gosh, oh man…I'm just such a dork, "MEETING MIKE POLLOCK!" uh, no. Um, a couple years ago I got to be in a cosplay pro wrestling show, which was pretty cool, and the show ended with me getting thrown 15 feet into the air and then dropping face first onto a very large mezzanine. I mean, I'm not ok, but that didn't change anything *crowd laughs* That was pretty cool.
Marcus: Well I have a couple of great moments, but it depends. Like the first anime I ever got in was good. Tyler hooked me up after a lot of years of nothing. So that was awesome. But when I tried out for One Piece, I got a text that asked me to try out for One Piece on a Wednesday. I was in Milwaukee helping my parents move out of their house and all this stuff had happened. I was not gonna be able to make it to the audition. But I didn't want to say, "Oh I can't audition because I've been waiting to be asked to try out for One Piece like my whole life." So I flew in to Dallas because all of my neighbors and people I was working with had helped me (he starts to break down a bit) go down there, and uh, yeah, I know right? Well I got a really huge part and it was worth going down there, and uh *applause* I don't why I'm crying, but *laughs*
Anyway I was a huge fan and I was like, "Oh I'm not gonna be able to try out" and everyone was like, "I get paid all my money to keep my apartment going in Dallas," but I was living with my mom, helping her move out, but I wasn't making any money like helping her, and I was helping all my friends so I was like that weird adult who helps your mom take shit out of her attic, whatever. I was like, "I can't afford to fly back," and they go, "We will help you." And I got a huge part. Which helped. *applause*
Matt: I feel like all of my answers have to do with Yu-Gi-Oh!, but I was a big Yu-Gi-Oh! fan as a kid, I got back into playing the card game in high school and again in college, and then when I got to try out for Arc V, I was auditioning for the main core cast members for the first few episodes. I didn't get any of those. I was like, "Ok, cool. You know. You don't get an audition it's no big deal." But I was thinking that Yu-Gi-Oh! has this third major cool guy in it, and I don't know who that is in this show yet but I wonder if I could be him? And then months later I got an audition that was like, "Hey we need to cast this major character today, we'll know who it is by tomorrow, you have to come in the next day. Record on your phone." And then I did and I got that character, so…*laughs*
*crowd claps*
Corrine: Probably my coolest experience was working with Henry Rollins on a–
Brittany: No way!
Corrine: Yeah, um, *laughs*
Heather: My coolest experience now is that you worked with Henry Rollins *crowd laughs*
Corrine: It just goes to show you like, the friends you make can just give you some great opportunities 'cause I went to school for Visual Arts in Animating, and I realized I loved acting more than animating, and…credit to you animators, geez! But they got back to me when they were working on a pilot for an Adventure Time comic creator. He wanted to work on a pilot and he got Henry Rollins for it, and I got to perform right next to him. That was probably the proudest moment of my career so far. *laughs* The best part was I got to sing in front of him too. But the worst part was they told me to do it like 14 times so it's just like, by the end of it he's just like, "You got good chops there lady," and I'm like, *makes a face*
Heather: He likes tenacity.
Corrine: But yeah, that was pretty exciting. Look for that pilot on Youtube, it's called Welcome to the Showside" if it gets enough views…you never know, ok?
Heather: I guess mine's kind of cheesy because I dunno, I'm a people person in a lot of ways, and so for me it was really being invited to my first con or any con. Like being able to do this is something that's transformed me as a human being, and not in a snotty way like, "Oh I'm so cool!" Instead I just feel a real connection with people, and that has been literally one of the coolest experiences of my life, and I feel like I may be one of the luckiest people on Earth and I'm not even like a big deal like these guys. But you know I can't believe that I'm here!
Corrine: You're like the Frank Wheeler of anime, you do all the awesome creature noises *laughs*
Heather: *laughs* Thank you!
Ian: This might actually be the highlight of my career, being grouped with these group of people up on this stage right now, like…I feel awful that my–(all the lights come on at this point for some reason) oh. Oh yeah. Very special moment indeed. *laughs*
(I think the lights get fully turned on at this point)
Marcus: It's the missing neighbor boy! He's hit the lights! *crowd laughs* The weegie board on the wall! *laughs*
Brittany: All of a sudden the lights go out and the lights turn back on and red paint in the back and it says, "Marcus Stimac is great–" *crowd laughs*
Ian: Enemies of the air beware!
Heather: Seriously though, being amongst this group of people is like, how did this happen?
Ian: It's unreal. I feel bad that my name is first in the program. *crowd laughs*
Tyler: Actually, bringing up NYCC again, I wasn't originally invited, and Todd Haberkorn, he's one of my closest friends, we got tattoos together, he organized that the cast fly me out for that and they got me as a guest and they paid my way. I got to sleep next to Newt Pittman for a couple days *laughs* I met Hiro Mashima. I made my promise that I would do the best job possible with his show, and it was real emotional. I tried not to cry in front of him and all this stuff. And he signed and drew her character (Heather) Angelica in the first edition of Fairy Tail, and that was really cool, and I was like, "She was Angelica," he was like, *nods motion* And he just draws her right there and it's like, "Oh! I'll do such a good job with the show!" and hey, 277 episodes, so I guess it worked! *Crowd woos*
Jerry: You're looking at me like you're expecting something.
Michael: Well I did get a whole panel room to say succulent at the same time so there's that.
Um, I moved a lot in my lifetime. Like probably around 10 times and I'm not that old so that's a lot. Because of that I kept having to make new friends, and as you get older those friends already have their cliques so they don't really get that close. You weren't there for "that one moment, you remember dude? That one time when that thing happened," you weren't there for that. So after I graduated high school, I moved back to NY, and I got to know some people online. Mainly these two (Jerry and Jessi), and they are now my best friends, and also I live with them. So that's a recent development this past year we just moved in together so that's–*applauds* I can't ask for anything more than that really.
Jerry: I was gonna piggyback on that one, but uh, I mean, just me, with you two guys it changed everything. It's transformed my whole view point of things. I got to go to cons which I never do, I've lived in the middle of nowhere–
Michael: You lived in something.
Jerry: Well yeah–
Ian: You lived in something?
(panelists say about the same thing)
Jerry: We'll talk about that later! But it's really awesome! I lived in the middle of nowhere, in the mountains somewhere — *crowd laughs* but just meeting these two online, just online, and then to just meet up in real life, everything just exploded, and now I'm here and…hey I didn't expect it to be this far.
Jessi: You guys are going to make me cry oh my god–
Ian: Like so much love on this stage right now.
Brittany: We need a group hug now.
Ian: Oh definitely.
Jessi: …Should we hug–
Ian: Not–uh, I mean not now.
Jessi: Not now. I wasn't talking to you, I was talking to Mike and Jerry! God you can be in it too if you want! No you can't anymore because you said we couldn't hug! Anyway–
Michael: *looks at Ian* You don't control us! *group hug between Mike, Jerry, and Jessi*
Ian: I'm…I'm sad now, really–
Jessi: You wanted in on the hug didn't you? WELL TOO BAD 'CAUSE YOU SAID NO! You said 'Oh not now' NOT YOU OK–*crowd laughs*
Ian: I'm just being abused!
Jessi: I will hug you later.
Ian: Awwwwww.
Jerry: Awwwwww.
Jessi: Not you Jerry! You got one already!
I feel bad because my answer wasn't gonna be you two. Anyway screw these guys *crowd laughs*
There's so many like, amazing moments that I can't even name of all of them. Like people who have flown in from like Germany just to meet me, and people who have really serious health conditions. Like I had someone who only had a year to live, and they got to meet me and they were like, "I'm so happy I got to meet you because you're like my favorite voice actor," and I just like, cried and hugged them — man, I'm gonna cry. Don't cry Jessi, don't do it! Keep strong!
But I think the one moment where I really started to like, realize that I'm doing something cool was I got to voice direct (Ed.Note: Yeah not sure) in a little animation thing, that was like, you know, "What???" *laughs* I was like, "Be cool Jessi be cool, don't like freak out or anything," and then like, I get a little nervous over Skype, and I get a call, and she's like, "Hi Jessi–" and I'm like, "Hnngh!" *laughs* But yeah, I think these two are cool as well, whatever, it's not like I like them or anything. B-B-Baka. *crowd laughs*
I recently heard that FUNimation will release the live action Rurouni Kenshin?
Tyler: Yeah. I think I was like, 20 guys who died, because there's like, a million people in that movie. I think that just came out right?
Marcus: It's coming out in theaters, it's getting a limited theatrical release, they have three Rurouni Kenshin live action movies, they are all gonna be dubbed, but the subtitles are going to be on there. So if you go on FUNimation Films or funimation.com they will have all the information about when the releases of each of those movies are coming out.
First, side note, Brittany, I really love your work.
Brittany: Thank you!
Your role as um…uh what's her name–*crowd laughs*
Brittany: Yeah wow, what's her name!!!
Your role as the mega…
Brittany: Audrey!
Yeah Audrey from Huniepop. Even though I hate her character, I love you.
Brittany: Thank you! Thank you very much! I love being the one everyone loves to hate! But seriously though, it's such a dividing character. There's so many people who like, are so in love with her, and there are so many people who are like, "Ugh, I hate her but I love her!" And I'm like, "I know. Me too." *crowd laughs*
My question for all the voice actors in the room, as an aspiring actor I have trouble delivering some lines, so my question is, is there a line in any anime or show that was hard to pronounce or say?
Tyler: Yes, all the time.
Brittany, Matt, Heather: All the time!
Tyler: You just summed up anime voice acting with five syllable names that you've never heard of before.
Heather: I have a weird, embarrassing thing where I don't say the word "Sword" right, I say "SWORED", I do the W. I dunno, in the small place in Fort Worth, TX, that's what people said and I did, so I messed that up so much that it's quite embarrassing. That's an easy word! They don't expect you to stumble on that one. Yes, you stumble all the time.
Marcus:….Reading is hard. *crowd laughs*
Brittany: I think we really have awkward bloopers where all of a sudden it just evolves into us speaking nonsense and blah-blah blarg, blah blerghlalalagrgh *laughs*
Marcus: We are gonna have to wrap it up. Thank you all so much for coming–*crowd claps*
Heather: We love you!!!
---
The Panelists (from picture order):

Matt Shipman is a New York based Voice Actor, ADR Writer and all around nerd-guy. He is best known for voicing Shay Obsidian in Yu-Gi-Oh Arc V, which is currently airing on NickToons. Additionally, he can be heard in Holy Knight, Ladies Versus Butlers, Juden-Chan: Recharged, Rio: Rainbow Gate Reshuffle, and the upcoming title My Wife is the Student Council President and works as Assistant Director for Media Blasters titles.
Ian Rubin is a comedian, actor, sexy Hobbit. From NJ, Ian Rubin has been traveling all around the East Coast, entertaining crowds of geeks, and expressing what it's like to be a nerd when no one around him understands! His stand-up focuses around the important issues such as: Why can't he find any Little Mac Amiibo's? Why does the song "Tank!" groove so hard? And for the love of everything, why do some people think it is okay to just pick someone up? (I MAY BE HOBBIT SIZED BUT THAT IS NOT AN INVITATION TO "TAKE ME TO ISENGARD.") An Improviser, Ian will often divert from his regular comedy show and rant about something more interesting, more frustrating, or sometimes he'll just get distracted by something shiny. He's the greatest comedian ever*
Brittany Lauda is a voice actress, casting director and voice director. Her voices can be heard in anime, video games, and even in education apps by Hasbro like My Little Pony and Transformers. Additionally, Brittany is the head ADR Director at Media Blasters, working on titles like Ladies versus Butlers, Holy Knight, Juden Chan (which she wrote half of), My Wife is Student Council President, and Rio: Rainbow Gate. Brittany has also directed and cast a handful of games, with the largest game project being YIIK: A Postmodern RPG which is coming to consoles this summer. Her most notable voice over roles are Audrey Belrose in HuniePop/Huniecam, Osana Najimi in Yandere Simulator, Kaoru Daichi in Ladies versus Butlers, Plug Cryostat in Juden-Chan and Mirim in Queen's Blade.
Tyler Walker is an ADR director, script writer and voice actor for FUNimation Entertainment. A native of East Texas, he grew up spending equal time playing in the woods, playing Atari, and watching cartoons like Scooby Doo, Superfriends, Star Blazers, and Battle of the Planets. After graduating from the University of North Texas with a BA in Radio, Television, and Film, he spent time playing in bands and eventually started working as an ADR engineer and production assistant at FUNimation in 2002. Since then, he has worked as ADR Director on around six hundred episodes of such series as Baccano!, Toriko, Dragon Ball Z, Ghost Hunt, Negima, and 175 episodes of Fairy Tail. He has also written numerous scripts for titles such as Fairy Tail, One Piece, Bamboo Blade, Hero Tales, and both seasons of Is This a Zombie?.
Heather Walker is a voice actress whose roles include Hiruko from Shangri-La, Mary Hughes in Fairy Tail, and Aki from Maken-Ki. She studied creative writing at the University of North Texas and besides voice acting, Heather is a stylist, poet, birdwatcher, and environmentalist, and is currently being certified as a Texas Master Naturalist.
Corrine "Megami33" Sudberg is one of the leading ladies representing Team Four Star, Corinne "Megami33" Sudberg is a voice actress, singer, and parody maker from the wide world of the internet. Joining the abridging world with Sailor Moon Abridged back in 2007, she's become involved in providing voices for many other abridged/parody shows, but is mostly known for providing the voice of Bulma, Chiaotzu, Paur, and Baby Trunks in Team Four Star's Dragonball Z Abridged. She has worked with Media Blasters providing additional voices for shows such as Holy Knight OVA and Ladies versus Butlers.
Marcus Stimac is a voice, theater, and film actor currently living in Dallas, Texas. Originally from Milwaukee, Marcus moved to Dallas to study theater at Southern Methodist University, and after graduating stayed in Dallas to pursue other acting opportunities. Marcus is mostly known for his voice work at FUNimation where he has played Dr. Hogback in One Piece, Saito in Ghost in the Shell: Arise, Terasaka in Assassination Classroom, Kazama "Dragon" Ryuichi in Ping Pong the Animation, and Warcry in Fairy Tail.
Michael "1KidsEntertainment" Hecht is a founding member of the group Elite3 (creators of Pokemon 'Bridged" "Dark Swamp," Elite3 animations). He is editor/co-writer of "Pokemon 'Bridged" and provides the voices of Ash, James, Pikachu, and many others. He is the current editor of Yu-Gi-Oh! Abridged by LittleKuriboh, and works for the YouTube channel JacksFilms on the side. He can also be heard as Benny in "Dark Swamp," Kakuja in TeamFourStar's "Lord Slug Abridged," the bully in "Naruto: The Abridged Comedy Fandub Spoof Series Show" by LittleKuriboh, and Elescope in "TOME" by Kirbopher.
xJerry64x is a founding member of Elite3 and is known for voice Rock in "Dark Swamp," as well as a jillion characters in "Pokemon 'Bridged." He is also the new voice of Jaden in "Yu-Gi-Oh! GX Abridged" by XTheDarkOne, a Millennium Item Support Technician in "Yu-Gi-Oh Abridged", and Zeeun in "Lord Slug Abridged" by Team Four Star.
Jessi "Nowacking" Nowack is an actor and writer, just like everyone else in New York City. A founding member of Elite3, she oversees all of their video production. She has lent her voice to songs, video games, advertisements, anime, radio plays, animations, and a bunch of other stuff she can't remember. She is co-writer of "Pokemon 'Bridged" and is the writer/editor of "Dark Swamp". She plays Dark Magician Girl in "Yu-Gi-Oh! The Abridged Series" and Hyprelynx in "TOME" by Kirbopher. She can be heard as Sanke in Ladies versus Butlers, Izumi in Queen's Blade Rebellion, and Sokko in Juden-Chan.