This is a pretty fantastic manga that combines a strong narrative with satisfying action.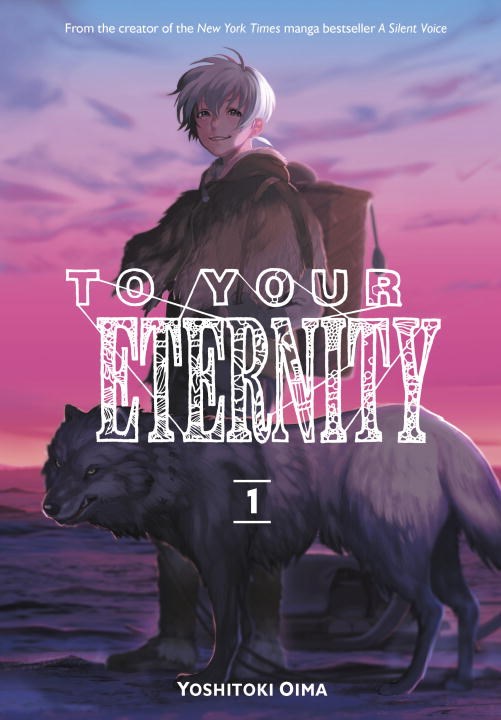 Title: To Your Eternity (Fumetsu no Anata e)
Genre: Drama, Supernatural
Publisher: Kodansha (JP), Kodansha Comics (US)
Creator: Yoshitoki Oima
Serialized in: Weekly Shonen Magazine
Translation: Steven LeCroy
Original Release Date: January 24, 2017 (First Chapter)
Physical Release Date: October 31, 2017
In the history of manga, there aren't too many artists who can follow up one successful title with another. You think of Toriyama going from Dr. Slump to Dragon Ball, Togashi from Yu Yu Hakusho to Hunter x Hunter, Takahashi from Ranma 1/2 to Inuyasha — and then you think of artists who created a hit title, only for that to be their one calling card. It doesn't reflect poorly on them — it's simply a case where it's not that easy to create great works.
So prior to reading To Your Eternity, Yoshitoki Oima's got the cards stacked against her. A Silent Voice is one of the best received manga in the past few years. Now you come up with a story that's nowhere in the same ballpark. This is a fantasy, a story that's in some ways aimless, and is hard to project where it will go from here. If you were expecting not something like A Silent Voice, but close to it, you'll have to open your mind because this is completely different.
You may also have to prepare for the fact that it…might be better than A Silent Voice.
Serialized in Weekly Shonen Magazine, To Your Eternity started its run in Japan last year. The English version is being worked on by a number of different people — it is being translated by Steven LeCroy, lettered by Darren Smith, and has two editors on it (Haruko Hashimoto and Alexandra Swanson) alongside help from Japan.
The manga's pretty simple in narrative: A god — I'm assuming it's a god — creates an orb. This orb descends upon the Earth and turns into a rock. Some time later a wounded wolf dies in that orb's space. The rock turns into the wolf. It then goes back home to its owner, a young plucky kid who dreams of traveling to see new sights. After months of waiting for his family, he chooses to go and journey to catch them. He fails. The wolf then turns into the kid, and decides to go on his journey for him.
Note: that is very much the beginning of this story.
This has to be one of the more unique titles out in the manga market today. There's no name or attribution to the main protagonists, the evolving orb and the god who dropped said orb to earth, yet it manages to be fascinating because of how life is shown. It starts off with discovering someone who desires to see what's out there. It then brings us a story involving a tribe's backward rituals and a girl who wants to grow into an adult. The words aren't too much and it gets to the point very quickly.
But the biggest standout is the action in To Your Eternity. A huge scene takes place in the second half of volume 1, which was thrilling to read and flip the page for. Let's just say it involves a massive bear and someone finally discovering things it didn't know before. This cuts into the heart of what the manga's all about — learning, growing, and evolving. You see different cultures express what it means to live, whether that revolves around making a sacrifice or desiring what's best for others.
We watch this through the eyes of someone mysterious, however. For me, the question is what is the end goal? This creation can't die. So, will we watch it grow into something strong? Terrifyingly evil? Will the god who dropped the orb unto the Earth reveal who or what it is? So many questions and zero answers. And yet, I don't need any. It could just be a straight up exploration around the world where the orb just takes many forms, sees many things, and does what it needs to do to learn. I'm looking forward to finding out where the story will go next.