Only unnecessary commentary and poor relationship building with its main character stop Volume 11 from being an excellent manga read.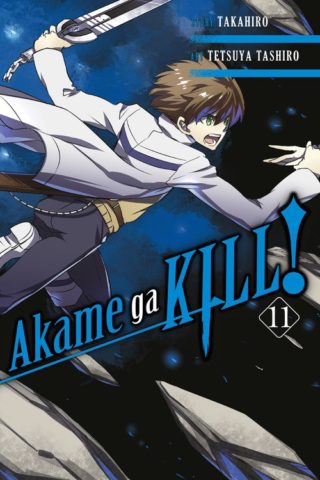 Title: Akame ga Kill! (Akame ga Kiru!)
Genre: Action
Publisher: Square Enix (JP), Yen Press (US)
Story: Takahiro
Artist: Tetsuya Tashiro
Serialized in: Gangan Joker
Translation: Christine Dashiell
Original Release Date: July 18, 2017
Review copy provided by Yen Press.
Oh, look who finally made it on to the cover. Congrats, Tatsumi!
Or should I say, "Condolences, Tatsumi!"?
Considering he's lost to both Esdeath and Mine twice in the battle to be featured on the cover of Akame ga KILL!, this means either a) the story is coming to its conclusion or b) he's about to be put in a horrible, near-death experience.
Spoiler alert: it's both.
It feels like it has been so long since Night Raid has really shined. The manga has spent a long time following the Jaegers, and the appearance of the special troop Wild Hunt means that Night Raid's dwindling numbers have been mostly sidelined. Well, Volume 11 looks to finally return Night Raid to their rightful status as the main characters. Unfortunately, the titular character is still mostly reduced to a supporting role.
As I said, Tatsumi on the cover means bad news for him: he and Lubbock are captured by the Empire while on a recon mission. With Esdeath, Budo, and Syura all in the capital along with the other high-ranking Imperial soldiers, their situation appears hopeless. Thanks to Esdeath, Tatsumi manages to avoid the extreme torture that Lubbock faces, but she is none-too-thrilled to learn Tatsumi is neither interested in dating Esdeath nor joining her team.
Volume 11 has all the makings of an epic volume: a gathering of antagonists, an attempted rescue/escape mission, betrayal, love, death — everything a dark fantasy should be. Akame ga KILL! still doesn't shy away from violence, and with the number of people killed in this series so far, readers have to find out for themselves if the pair survive. But the manga is so much better when the action focuses small group of assassins versus a much larger Empire instead of just showing how horrid and vile the Empire is.
Unfortunately, though, volume 11 suffers from two fatal flaws: needless narration and a poorly crafted love story. As Tatsumi tries to escape, the manga suddenly gives us a play-by-play of all his actions. Last time I checked, manga was classified as a graphic novel, not a light novel. The art should show readers that Tatsumi is using Incursio's vanishing trick and is kicking off the wall! It's one thing to provide some information about what's going around the kingdom, but not while the protagonist is fleeing for his life.
Seriously, narrator: shut up!!
The other issue involves Tatsumi and Mine's relationship. I remember reading that it would take months for the injured members of Night Raid to recover, so obviously quite a bit of time has passed since the two have started dating. But outside of some comments by Tatsumi, I really don't feel like we've seen him start to like Mine romantically. Heck, I feel like Akame ga KILL! has spent more time focusing on Wave and Kurome than Tatsumi and Mine. I wish we could have seen Tatsumi's feelings change from viewing Mine as a teammate versus a lover — and strong emotions, not just obligatory "because-I'm-your-boyfriend" sentiment. Even Lubbock's feelings for Najenda come across more strongly than Tatsumi's.
The art, as I hinted before, is strong enough not to need exposition. One particular scene is incredibly power, reaching for the sun in a visual reminiscent of Fullmetal Alchemist. I also have to be grateful another scene found here is not in Akame ga KILL! Zero: Zero's art is far more graphic, and I'd rather not get an up-close look at sexual mutilation. But Akame ga KILL! still provides plenty of blood and fanservice for those interested, but, more importantly, the action flows smoothly. Whether it's Adramelch being fired or Incursio being summoned, the art remains strong as the final battles approach.
In short, Akame ga KILL! Volume 11 should have been a near-perfect return for the heroes of Night Raid with the capture of two of its heroes and the setup for the final showdown. Too bad the overburdensome color commentary and the lack of Tatsumi x Mine keep this from being a home run.